Panfried Leberkäse with Crispy Potatoes, Wilted Spinach & Fried Egg
Published 6th December, 2019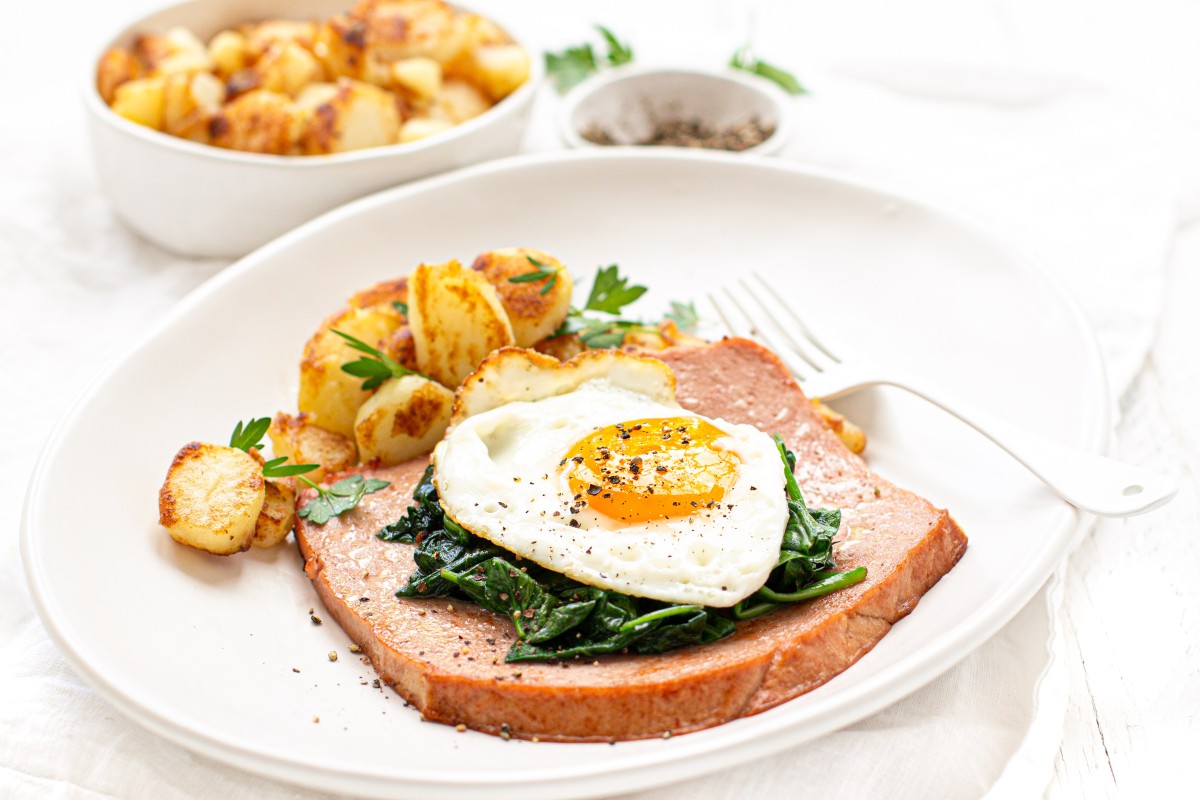 Cuisine: German Serves: 4
Preparation: 15 Mins Cooking: 10 Mins
Ingredients
4 x (1cm) Slices Barossa Fine Foods Leberkäse
4 Free Range Eggs
600 gm Small Potatoes
2 Cups Baby Spinach
Vegetable Oil
Sea Salt
Black Pepper
2 tbls Parsley Fronds
Method
To prepare the potatoes, place the potatoes, skin on, in a large pot with a pinch of sea salt. Fill the pot with cold water, bring to the boil and cook until the potatoes are tender, drain. While the potatoes are still warm remove the skins and roughly chop into pieces.
Heat a large heavy based frying pan over a medium heat, add a little vegetable and fry the potatoes until they are golden and crispy, season with sea salt and keep warm.
Heat a little oil in a fry pan over medium heat, add the slices of leberkäse and crack the eggs into the pan, cook the leberkäse for 1-2 minutes on the first side, turn and cook for the same amount of time on the second side. Remove from the pan onto warmed plates, add the baby spinach to the pan and cook for a minute or two or until wilted, season with sea salt. Serve the wilted spinach on the leberkäse, top with the egg and serve with the crispy potatoes. Garnish with the parsley fronds and cracked black pepper.
COOK'S TIP
Leberkäse is also delicious sliced thin and served in crusty rolls or in sandwiches.