Vanilla Cupcakes with Bacon Crumb, Wafers, & Maple Butter Cream
Published 25th November, 2019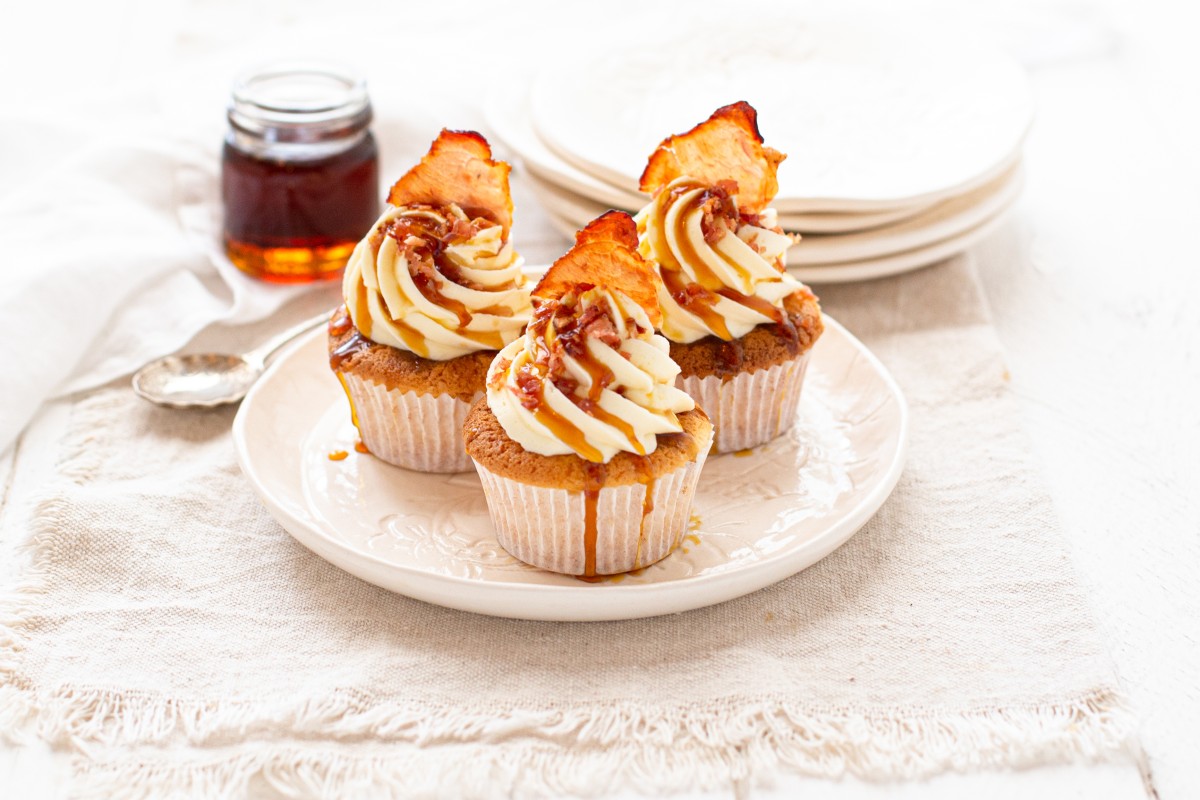 Cuisine: Australian Serves: 12
Preparation: 10 Mins Cooking: 30 Mins
Ingredients
200gm Barossa Fine Foods Gourmet Bacon
Canadian Maple Syrup
VANILLA CUPCAKES
200 gm Butter, softened
1 + ½ Cups Caster Sugar
1 tbls Vanilla Extract
2 Eggs
3 cups Self Raising Flour, sifted
1 +½ Cups Milk
MAPLE BUTTER CREAM
¾ Cup Unsalted Butter, softened
3 Cups Icing Sugar
4 tbls Maple Syrup
3 tbls Milk
Method
To prepare the bacon, preheat the oven to 180℃, line a baking tray with baking paper, remove the rind from the bacon with a small sharp knife then arrange the bacon on the tray in a single layer. Place in the oven and allow to cook until crispy, turning once whilst cooking. Drain on paper towel once cooked. Once the bacon wafers have cooled cut half the bacon into very small pieces and the other half into larger pieces for garnish.
To make the vanilla cup cakes, line a 12 hole muffin tray with patty pans and preheat the oven to 180℃.
Using an electric mixer, cream together the butter and sugar until light and fluffy, with the mixer running add the eggs one at a time, mix until well combined after adding each egg. Add the vanilla extract and mix.
Fold in the flour and milk alternately, a little at a time until all combined.
Spoon the mixture evenly into the 12 patty pans and bake in the oven for 20 minutes or until cooked and golden in colour. Remove from the oven & allow to cool on a cake rack before icing.
For the frosting, in a mixing bowl using an electric mixer and whisk attachment, cream the softened butter on a low speed for 3 minutes, slowly add the icing sugar one cup at a time, scraping down the sides of the bowl as required. Add the maple syrup and milk and continue to whisk until light and fluffy.
Using a piping bag and a star nozzle, ice the cooled cupcakes, drizzle with maple syrup, sprinkle with the finely chopped bacon & garnish with one of the larger pieces.