Smoked Kransky, Ricotta, Mushroom & Thyme Galette
Published 24th February, 2021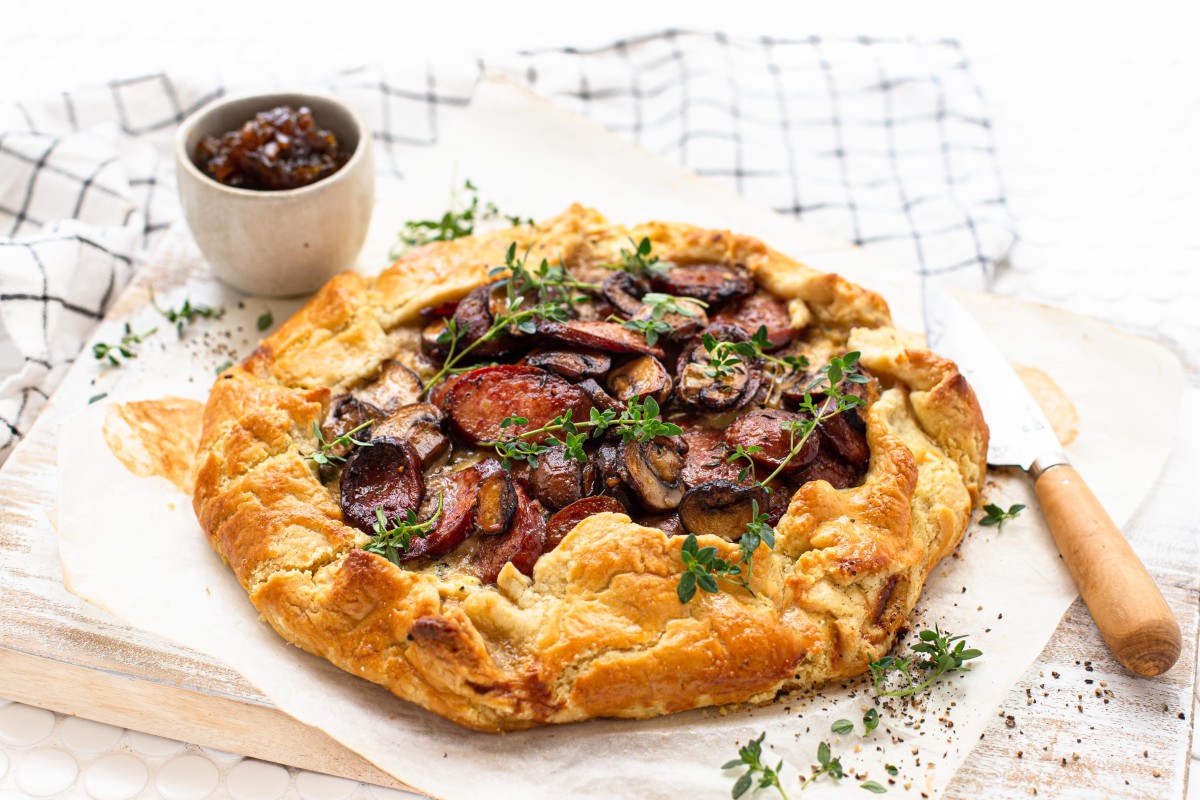 Cuisine: French Serves: 4
Preparation: 40 Mins Cooking: 30 Mins
Ingredients
2 Barossa Fine Foods Double Smoked Kransky
150gm Swiss Brown Mushrooms, thickly sliced
1 Clove of Garlic, finely chopped
1 tbls Olive Oil
30gm Butter
1 Egg, beaten
Extra Thyme, to serve
Pastry
250gm Plain Flour
200gm Butter, chilled & cut into cubes
½ tsp Sea Salt
1-2 tbls Cold Water
Ricotta Filling
250gm Ricotta
80gm Grated Cheddar Cheese
1 tbls Finely Chopped Parsley
1 tbls Finely Chopped Thyme Leaves
Sea Salt
Cracked Black Pepper
Method
To make the galette pastry, combine the plain flour and sea salt in a bowl. Add the chilled butter, using your finger tips rub the butter into the flour until it resembles coarse bread crumbs. Add the water and gently mix until the pastry starts to form a ball. Turn out onto a floured board and very gently knead to bring the dough together.
Roll the dough out on a piece of baking paper dusted with plain flour into a circle approximately 30-32 centimetres in diameter, place on a tray and into the fridge for 15 minutes.
Preheat oven to 200℃
To prepare the filling, slice the kranskys on an angle. Heat a frypan over a medium heat, add the olive oil and pan fry the kranskys until they start to turn golden brown, remove from the pan and set aside. Leaving the pan on the heat, add the butter, garlic and mushrooms, fry until golden brown, return the kranskys to the pan and toss together with the mushrooms. Season with black pepper. Allow to cool.
In a bowl combine the ricotta, cheddar cheese, parsley and thyme, season with sea salt and pepper. Mix well.
Remove the pastry from the fridge, spread an even layer of the ricotta mix on the base of the pastry keeping it 3 centimetres from the edge.
Place the cooked kransky and mushroom mixture evenly over the top of the ricotta, sprinkle with a few thyme sprigs. Gently fold in the pastry edges, pleating as you go. Brush the pastry with the beaten egg and place in the oven for 25-30 minutes or the pastry is cooked and golden brown.
Remove from the oven, allow to cool slightly before serving. Garnish with fresh thyme and serve on its own or with a fresh green salad and caramelised onion jam.