Smoked Chicken & Zucchini Croquettes with Aioli
Published 12th December, 2019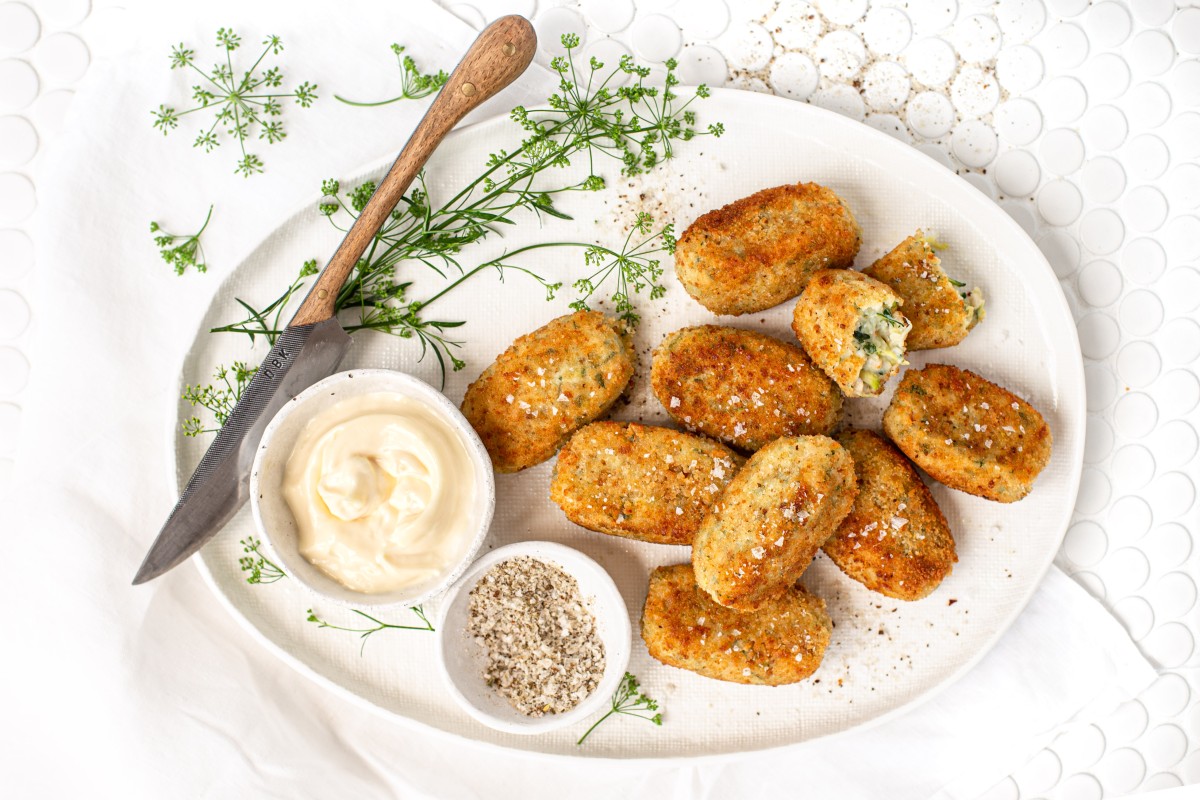 Cuisine: Australian Serves: 4
Preparation: 2 Hrs Cooking: 30 Mins
Ingredients
1 Barossa Fine Foods Smoked Chicken Breast Single, finely chopped
600 gm Large White Potatoes
1 Large Zucchini
½ Cup Grated Parmesan
2 tbls Parsley, finely chopped
1 Egg, lightly beaten
½ Cup Plain Flour
Sea Salt
Black Pepper
Vegetable Oil, for shallow frying
CRUMBING
1 Cup Plain Flour
3 Eggs, lightly beaten
2 Cups Breadcrumbs
Method
Steam or bake the potatoes with the skin on until they are well cooked, allow to cool slightly then peel and mash, allow to cool.
While the potatoes are cooking prepare the rest of the mix. Coarsely grate the zucchini, place the grated zucchini in a clean towel and squeeze out all of the excess moisture, place in a large mixing bowl.
Add the finely chopped smoked chicken, parmesan cheese, parsley, beaten egg, flour and the cooled mashed potato. Season well with sea salt and black pepper. Mix all of the ingredients together gently taking care not to over mix.
With your hands, make small oval shaped logs (approximately 24) with the mixture and place on a tray lined with baking paper. Refrigerate for one hour.
Time to crumb the croquettes, place the plain flour, beaten eggs & breadcrumbs in seperate bowls, crumb the croquettes one at a time then place on a tray lined with baking paper and return to the fridge for one hour.
Preheat oven to 170℃
In a large frypan over a medium heat, shallow fry the croquettes in batches, turning them as they cook. Once all sides are golden brown place them on a baking tray lined with paper and place in the oven for 10 minutes.
Remove from the oven and allow to cool slightly before serving, sprinkle with sea salt & cracked black pepper and serve with Aioli.
COOK'S TIP
Steaming or baking the potatoes in their skin will prevent the mashed potato from becoming to wet.