Fried Rice with Vienna Sausage
Published 4th February, 2021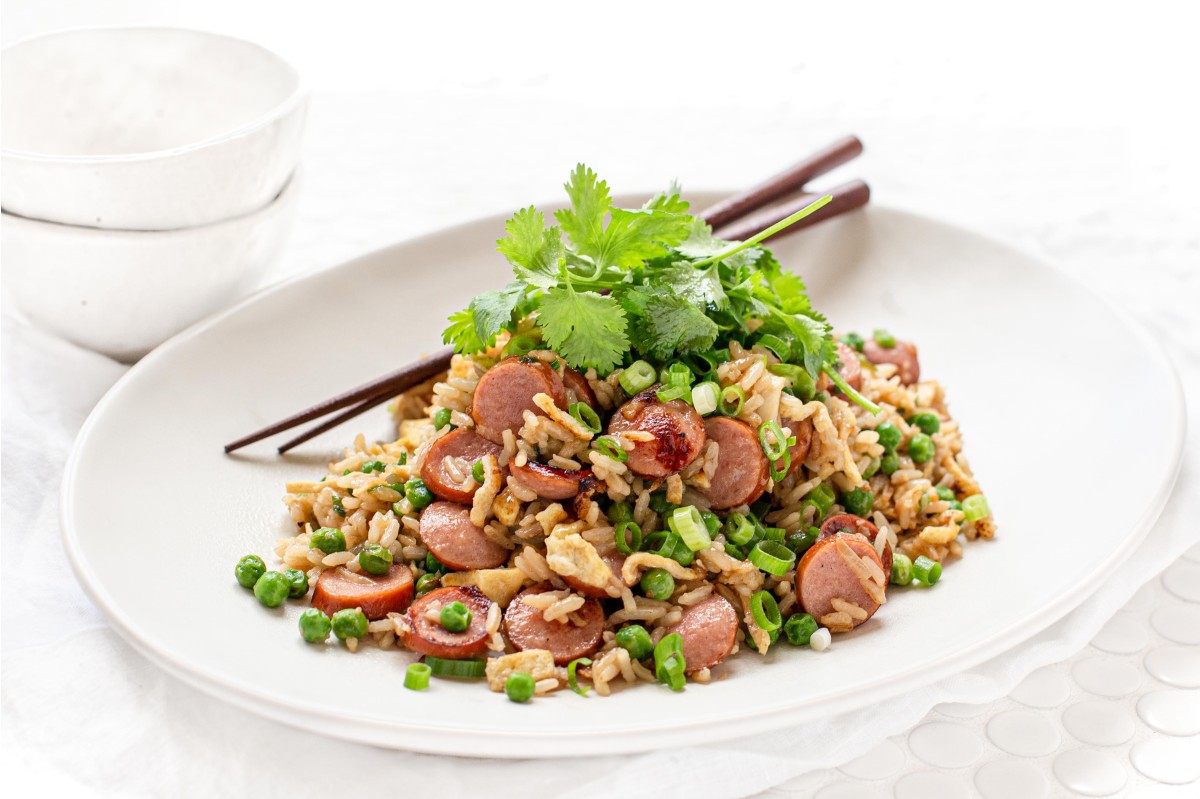 Cuisine: Chinese Serves: 4
Preparation: 20 Mins Cooking: 10 Mins
Ingredients
2 Cups (cooked) White Rice
2 Barossa Fine Foods Vienna Sausages, sliced
1 Cup Frozen Baby Peas or Edamame Beans
1 ½ tbls Vegetable Oil
2 Eggs
1 tbls Shaoxing Wine
1 tsp Sesame Oil
2 tbls Soy
¼ tsp Ground White Pepper
½ Brown Onion, finely chopped
2 Cloves Garlic, minced
3-4 Spring onions, finely chopped
Coriander, to serve
Method
In a small bowl whisk together the Shaoxing wine, sesame oil, soy and ground white pepper.
Heat a large non-stick fry pan over a medium heat, add the vegetable oil. Lightly beat the eggs and pour into the pan, swirl the pan so the egg covers the bottom of the pan. Allow to cook for a minute or two then gently remove from the pan, cool slightly then roll up and slice, set aside.
Return the same pan to the heat and add the sliced Vienna sausage, cook for a few minutes until it starts to brown then add the onion and garlic, cook the onion and garlic until soft and fragrant.
Add the peas, half of the spring onion and the cooked rice to the pan. Stirring gently cook for a couple of minutes, add the sauce mixture. Keep stirring the rice until all of the liquid has evaporated (1-2 minutes)
Return the cooked egg to the pan and stir through to heat
Serve immediately, sprinkle over the rest of the spring onion and garnish with some fresh coriander leaves.
Cook's Tip
Shaoxing wine is available from Asian grocers. If the Shaoxing (Chinese cooking wine) is not available substitute with mirin.