Crispy Gypsy Speck, Roasted Root Vegetable Salad with Persian Feta & Sage
Published 20th November, 2019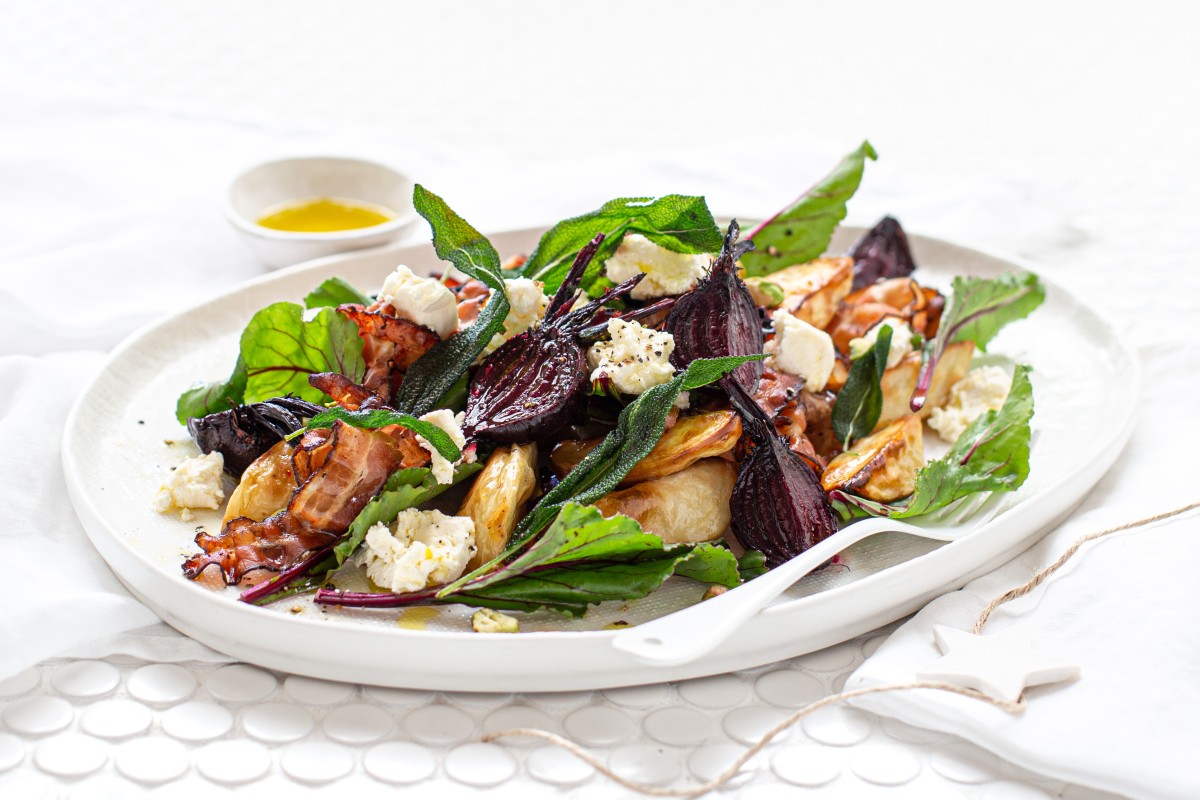 Cuisine: Australian Serves: 4
Preparation: 30 Mins Cooking: 30 Mins
Ingredients
150gm Barossa Fine Foods Gypsy Speck, thinly sliced
400gm Baby Potatoes
400gm (1 Bunch) Baby Beetroot
1-2 Cups Mixed Salad Leaves
180gm Persian Feta
Handful of Sage Leaves
30gm Pistachios
Olive Oil
Sea Salt
Cracked Black Pepper
Method
Preheat the oven to 180℃
Wash the beetroot well, trim the ends (reserving some of the smaller leaves for the salad) Cut the baby potatoes & beetroot into halves, leaving skin on, drizzle with a little olive oil & sprinkle with sea salt, place on a tray lined with baking paper and roast in the oven until cooked through. Allow to cool.
While the potatoes & beetroot are cooking, heat a large pan over a medium heat, add a very small amount of olive oil to the pan and cook the gypsy speck for a few minutes on each side until crispy, drain on paper towel. Using the oil remaining in the pan, fry the sage leaves for a minute on each side and drain on the paper towel
To assemble the salad, place the salad leaves on a serving platter, layer with the roasted potato, beetroot & gypsy speck. Crumble over the Persian feta, sprinkle with the pistachios and sage leaves, grind over some black pepper and drizzle with olive oil.
COOK'S TIP
Roasted baby carrots and pumpkin would also work really well in this salad