Smoked Wagyu Beef with Apple, Fennel, Walnut Salad & Wholegrain Mustard Mayonnaise
Published 25th November, 2019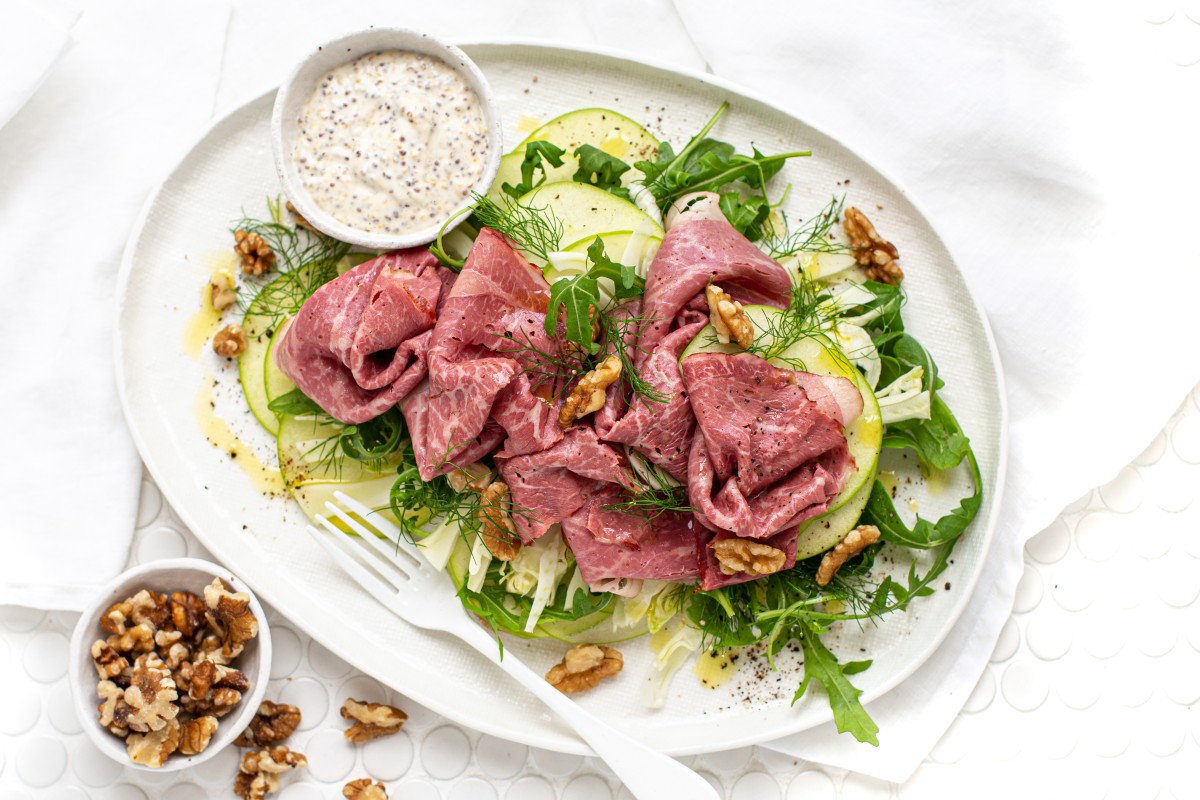 Cuisine: Australian Serves: 4
Preparation: 25 Mins Cooking:
Ingredients
200gm Barossa Fine Foods Smoked Wagyu, thinly sliced
2 Granny Smith Apples
2 Fennel Bulbs, small
1 Lemon
2 Cups Rocket Leaves
50gm Walnuts
Olive Oil
Black Pepper
MAYONNAISE DRESSING
1 Cup Mayonnaise
2 tbls Wholegrain Mustard
Method
Wash and slice the Granny Smith apples very thinly, crossways with a sharp knife or mandolin. Place the apples slices into a small bowl of water with the juice of half a lemon, set aside.
Wash the fennel bulbs and remove the outer leaves, keep the fennel leaves (fronds) to garnish the salad, slice the bulbs very thinly with sharp knife or mandolin. Repeat the same process with the fennel and place in a small bowl of water with the juice of half a lemon.
To assemble the salad, drain the apple slices and fennel well, pat dry with paper towel. On a serving platter layer the apple, fennel and rocket, lay the smoked wagyu beef over the salad, drizzle with a small amount of olive oil, sprinkle over the walnuts and fennel fronds, grind over some black pepper & serve with the mustard mayonnaise.
To make the mayonnaise, whisk together the mayonnaise & wholegrain mustard.