Smoked Chorizo & Roasted Tomato Soup
Published 5th December, 2019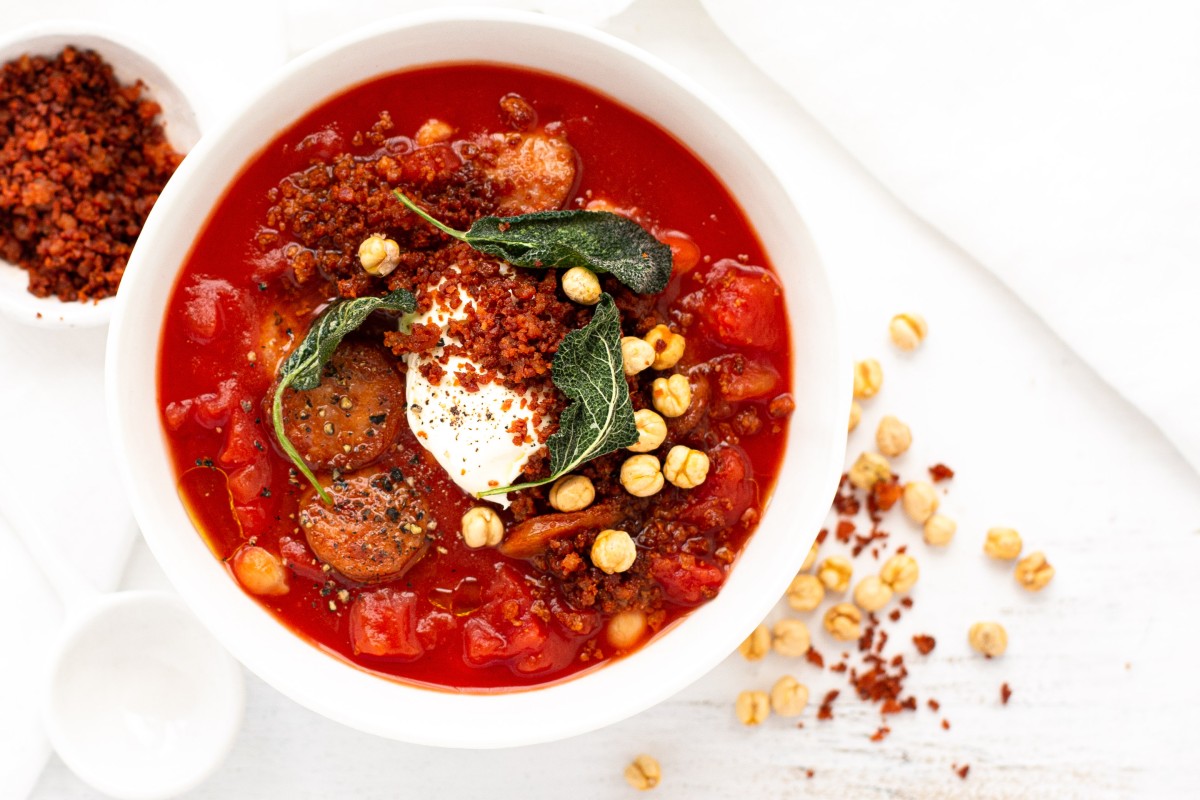 Cuisine: Australian Serves: 4
Preparation: 20 Mins Cooking: 45 Mins
Ingredients
1 kg Ripe Roma Tomatoes
2 tbls Olive Oil
1 Whole Bulb Garlic
Sea Salt
3 Barossa Fine Foods Smoked Chorizo
1 small brown onion, finely chopped
1 can (400gm) Chickpeas
2 tsp sugar
Black Pepper
3 cups Chicken Stock
1 Cup Sour Cream
½ Cup sage leaves
½ Cup Roasted Chickpeas (optional)
Method
Preheat the oven to 180℃, line a baking tray with paper, place the tomatoes & garlic bulb on the tray, drizzle with half the olive oil and bake in the oven for 40 minutes or until soft, move from the oven and allow to cool a little.
Squeeze the garlic flesh from the skin add to the tomatoes along with any juice from the baking trays and process in a food processor in batches, leaving it a little chunky if you like a little more texture in your soup.
In a saucepan, add the remaining olive oil, over a medium heat cook the onion until transparent & fragrant. Slice two of the chorizo and add to the onions, fry until golden brown.
Add the tomato mixture to the saucepan along with the drained & rinsed chickpeas, sugar and chicken stock, simmer for 10 minutes stirring occasionally. Taste and season.
To make the chorizo crumb, roughly chop the remaining chorizo. Place in a food processor & pulse until the chorizo is a medium crumb. In a frypan, fry the chorizo over a medium heat until crispy, drain on paper towel.
To serve, place the soup in a bowl, top with sour cream, chorizo crumble, roasted chickpeas & fried sage leaves. Serve with crusty bread.
COOK'S TIP
Roasted chickpeas are available in speciality grocery stores