Smoked Chicken Caesar Salad
Published 10th December, 2019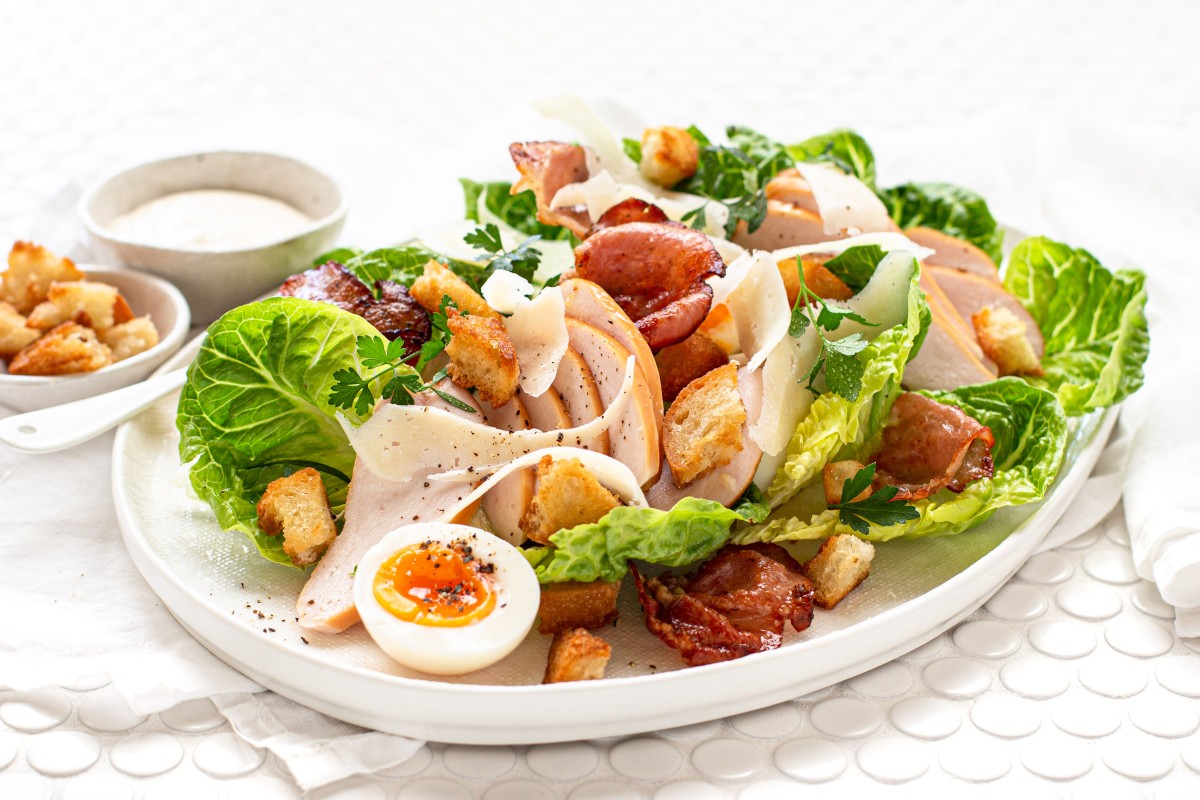 Cuisine: Australian Serves: 4
Preparation: 15 Mins Cooking: 20 Mins
Ingredients
2 Barossa Fine Foods Chicken Breast Singles
16 Slices Gourmet Bacon, thin
4 Eggs, soft boiled
4 Thick Slices Sour Dough Bread
2 Baby Cos Lettuce
80gm Parmesan, shaved
3 tbls Vegetable Oil
¼ Cup Parsley Leaves
Cracked Black Pepper
CAESAR DRESSING
½ Cup Good Quality Mayonnaise
¼ Cup Sour Cream
4 Anchovies, finely chopped
1 tbls Parsley, finely chopped
2 Cloves Garlic, finely chopped
1 tbls Dijon Mustard
2 tbls Olive Oil
1 tbls Lemon Juice
1 tsp Worcestershire Sauce
2 tbls Grated Parmesan, fine
Sea Salt & Black Pepper
Method
To make the dressing, in a bowl add the mayonnaise, sour cream, anchovies, parsley, garlic, Dijon mustard, olive oil, lemon juice, Worcestershire sauce and grated parmesan. Gently whisk together, taste and season with the sea salt & black pepper. Store in the refrigerator until required.
Seperate the lettuce leaves and wash thoroughly, drain in a colander.
Make the croutons by slicing or tearing the sourdough bread into small pieces about 1.5 cm in size. Heat a heavy based frypan over a medium heat, add the vegetable oil & cook the croutons in batches until golden and crispy, drain on paper towel.
Drain the oil from the pan and cook the gourmet bacon until crispy, drain on paper towel.
To assemble the salad, place the lettuce leaves on a platter, slice the smoked chicken breast and place on the leaves, scatter over the bacon & croutons. Peel the eggs and cut in halves, place on the salad, sprinkle with the shaved parmesan and parsley leaves then finish with a little cracked black pepper.
Serve with the Caesar dressing.