Roast Pork Loin with Porcini Quinoa & Roasted Pears
Published 21st April, 2020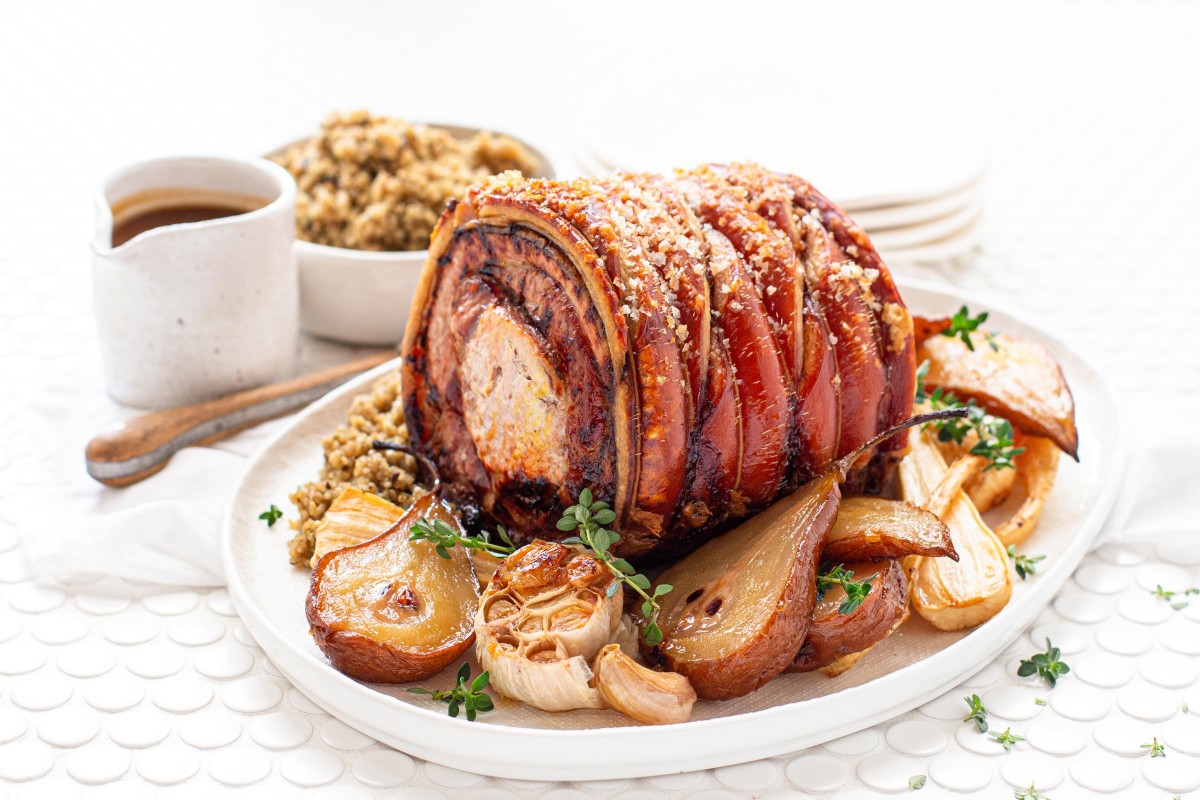 Cuisine: Australian Serves: 4
Preparation: 45 Mins Cooking: 1 Hr 30 Mins
Ingredients
1.5 kg Barossa Fine Foods Rolled Pork Loin Roast
1 (225gm) 'Thistle Be Good' Quinoa with Porcini, Roasted Garlic & Thyme
Vegetable Oil
Currawong Garlic Olive Oil
Sea Salt
3 Buerré Bosc Pears
6-8 Baby Parsnips
2 Bulbs Garlic
Fresh Thyme Sprigs
Method
Remove the Pork Loin roast from the packaging, pat dry with paper towel. With a small sharp knife score the skin at 1 cm intervals being careful not to cut into the meat. Place roast on a wire rack in the sink, pour a jug of boiling water over the rind, pat dry with paper towel. If time allows, leave the roast uncovered in the fridge for one hour before cooking.
Rub the rind with vegetable oil and sea salt, massaging well into the scored areas. Place the roast on a wire rack inside a deep roasting tray & cook at 240℃ in a preheated oven for 40 minutes. Do not open the oven door during this time.
Reduce the oven temperature to 180℃, cook for 30-35 minutes per kg. Alternatively use a meat thermometer, cook the pork loin roast until the internal temperature reaches 63-65℃. Allow to rest for 7-10 minutes before carving.
While the pork is cooking prepare the pears & quinoa. Cut the pears and parsnips into thick slices and cut the tops off the garlic bulbs, drizzle with the 'Currawong Olive Oil' and place on a baking tray lined with baking paper. Roast in the oven for 30 minutes or until golden brown and cooked through.
For the quinoa, place the contents into a pan, add 450 ml of boiling water. Stir, cover, bring to the boil then reduce heat to a simmer. Cook for 18-20 minutes, stirring occasionally.
To serve, place the quinoa and roasted pears on a large platter scatter over the thyme sprigs, add the carved roast pork loin, serve with gravy and steamed green vegetables.