Porterhouse Steak with Tobacco Onions & Chipotle Sauce
Published 8th September, 2021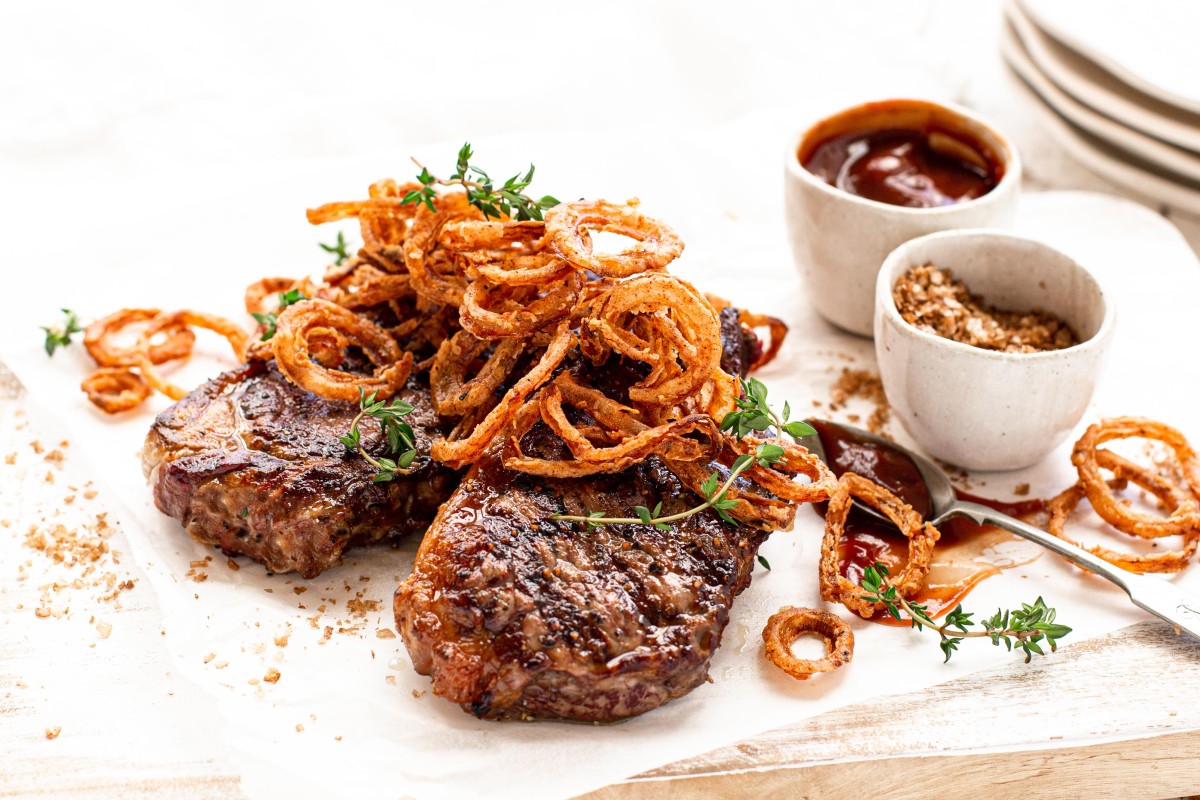 Cuisine: American Serves: 2
Preparation: 20 Mins Cooking: 20 Mins
Ingredients
2 Porterhouse Steaks
Vegetable Oil, for Deep-frying
1 Cup Buttermilk
3 Brown Onions
1 ½ Cups Plain Flour
2 tbls Smoked Paprika
1 tsp Ground Chilli
1 tbls Garlic Powder
1 tsp Sea Salt
1 tsp Ground Black Pepper
Fresh Thyme, to serve
Olsson's Smoked Sea Salt, to serve
Grunds Smoked Chipotle BBQ Sauce, to serve
Method
To prepare the tobacco onions, peel the onions and cut into slices a half a centimetre wide or cut the onions in halves and slice into slices a half a centimetre wide, seperate the rings / slices. Place the slices in the buttermilk and leave to marinate for 30 minutes.
In a large bowl combine the plain flour, paprika, ground chilli, garlic powder, sea salt and ground black pepper, mix well to combine.
Preheat a deep fryer to 180℃
Drain the onions well in a colander, toss in the flour, shake off the excess and deep fry until a deep golden brown colour, season with the Olsson's sea salt and garnish with fresh thyme leaves. Keep warm.
Season the Porterhouse steaks with sea salt and black pepper
Heat a heavy based grill pan over a high heat or a barbecue, cook the porterhouse steaks for 3-4 minutes on each side (for medium rare) Remove from the pan and allow to rest for 5 minutes before serving.
Serve with the tobacco onions and Grunds smoked chipotle BBQ sauce.
Cook's Tip
If buttermilk is unavailable, substitute with a cup of whole milk with 1 tablespoon of vinegar added.
Allow the steaks to come to room temperature before cooking.