Pork Mince Cheese Burger Sliders with Caramelised Onion Relish
Published 8th December, 2021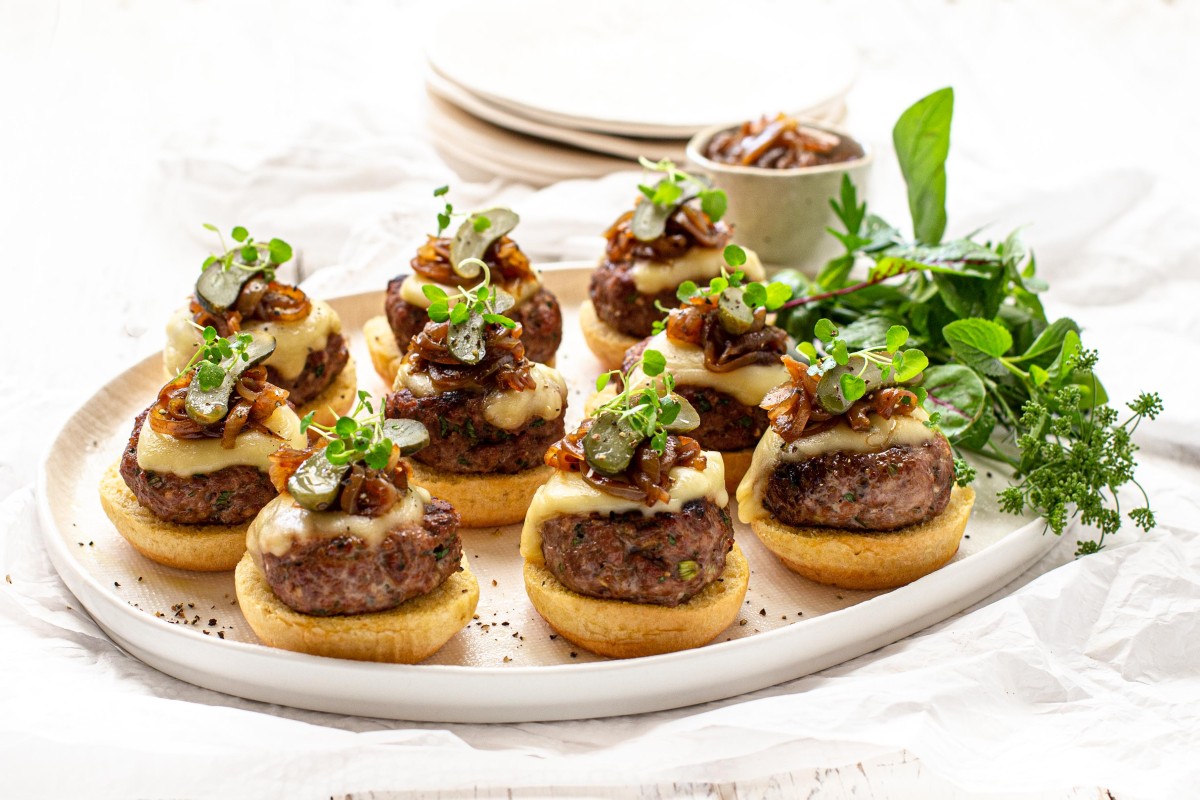 Cuisine: Australian Serves: 4
Preparation: 45 Mins Cooking: 30 Mins
Ingredients
700 gm Pork Mince
½ Cup Bread Crumbs
1 Egg, lightly beaten
3 Spring Onions, finely sliced
¼ Cup Chopped Parsley
3 Cloves Garlic, minced
1 tsp Sea Salt
1 tsp Smoked Paprika
½ tsp Cracked Black Pepper
Vegetable Oil
Mini Brioche Buns
Mozzarella Cheese, sliced
Cornichons
Baby Herbs (optional)
Mayonnaise
Caramelised Onion Relish
1 kg Brown onions, sliced
2 tbls Olive Oil
⅓ cup Brown Sugar
⅓ cup Balsamic Vinegar
1 tsp Sea Salt
Black Pepper, cracked
Method
Place the pork mince in a large bowl, add the spring onion, breadcrumbs, beaten egg, chopped parsley, garlic, sea salt, black pepper and smoked paprika. Mix well to combine.
Using a spoon or your hands take 65-70 gm of the pork mince mixture and roll into balls then gently flatten, place on a tray lined with baking paper, cover with cling wrap and refrigerate for one hour before cooking.
To make the caramelised onion relish, heat the olive oil in a heavy based saucepan over a medium heat, add the onions, cook for 10-15 minutes, stirring frequently until the onion is soft. Reduce the heat to low, add the sugar and balsamic vinegar, season with sea salt and pepper. Cook for 15 minutes or until the onions are caramelised and the sauce thick. Store in sterilised jars, the relish will keep for 2 weeks in the fridge.
In a large frypan over a medium heat, cook the burgers in batches until golden brown on both sides in a little vegetable oil, transfer to a tray lined with baking paper, top each burger with a slice of mozzarella, finish in the oven for 5-7 minutes or until cooked through and the cheese melted.
To assemble, heat the brioche buns for a few minutes in the oven, spread the base with mayonnaise, top with the burger and garnish with the caramelised onion jam, cornichons and the baby herbs. Pop the lids on, sprinkle with some cracked black pepper.