Moroccan Barbecued Chicken Thighs with Chickpea Salad
Published 12th October, 2020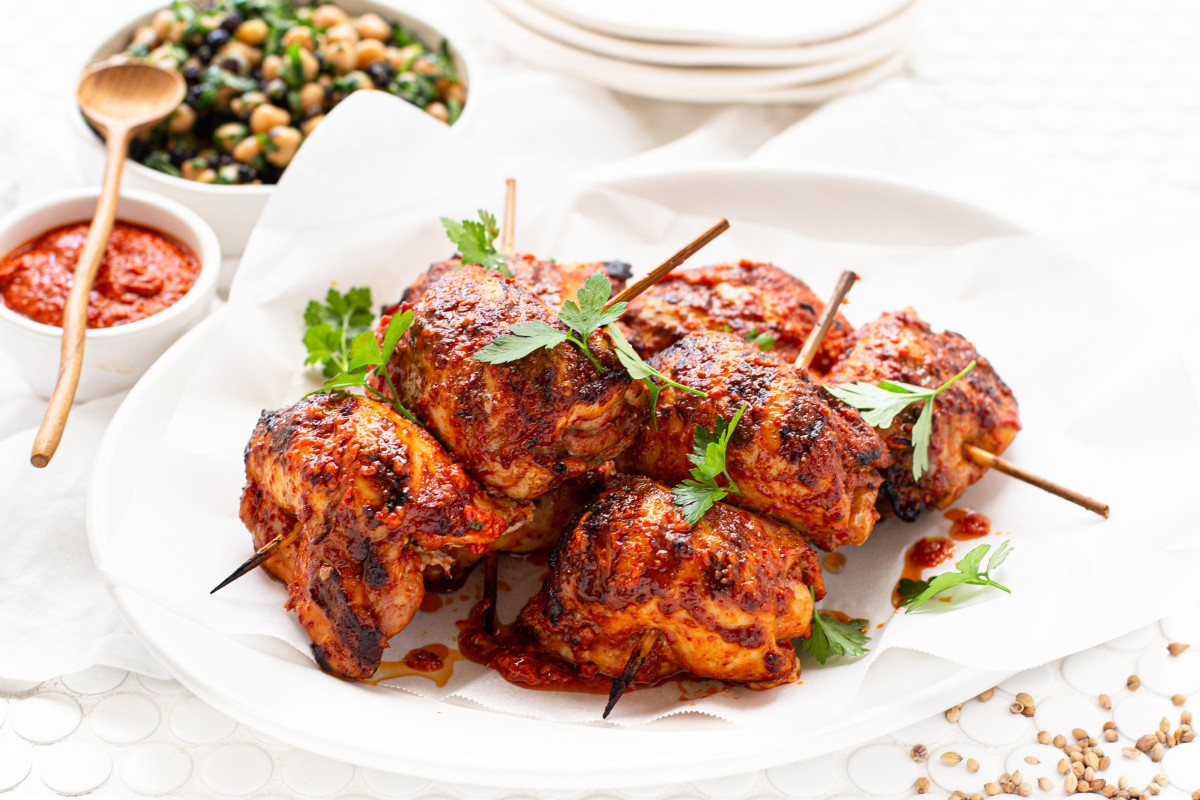 Cuisine: Morrocan Serves: 4
Preparation: 30 Mins Cooking: 30 Mins
Ingredients
1 kg Barossa Fine Foods Chicken Thighs
3 tbls Harissa Paste (See Below)
2 tbls Olive Oil
Chickpea Salad
1 (400 gm) Can of Chickpeas
¼ Cup Currants
½ Cup Parsley, chopped
½ Cup Coriander, chopped
Juice of ½ Lemon
2 tbls Olive Oil
½ tsp Ground Coriander
Sea Salt
Black Pepper
Harissa Paste
300gm Roasted Capsicums
1 tbls Smoked Paprika
1 tsp Sweet Paprika
1 tsp Sea Salt
1 tsp Dried Chilli Flakes
5 Cloves Garlic
1 Fresh Red Chilli (optional)
2 tbls Olive Oil
2 Lemon Juice
Spice Mix
1 tbls Coriander Seeds
1 tbls Cumin Seeds
1 tsp Caraway Seeds
1 tsp Fennel Seeds
Method
For the spice mix, gently dry toast the coriander, cumin, caraway & fennel seeds in a small pan over a low heat, allow to cool then grind in a spice grinder or mortar and pestle.
Drain the roasted capsicums on paper towel, in a food processor blend together the capsicum, smoked and sweet paprika, peeled garlic cloves, sea salt, chilli flakes, fresh chilli (optional) spice mix, olive oil & lemon juice. Process until all ingredients are well combined.
In a large bowl place 3 tablespoons of the harissa paste, add the chicken thighs and toss well to coat, marinate for 3-4 hours or overnight in the refrigerator if possible. Remove the chicken from the marinade and thread onto skewers, drizzle with the olive oil and barbecue the chicken over a medium heat until cooked through.
To make the salad, drain the chickpeas and place in a large bowl. Add the chopped parsley & coriander, currants, lemon juice, olive oil and ground coriander. Mix well, season with sea salt and black pepper.
Cook's Tip
Harissa paste will keep in the fridge for up to 10 days, it's delicious served with chicken, seafood & Beef.