Hervey Bay Scallops with Pea Puree & Chorizo
Published 8th December, 2021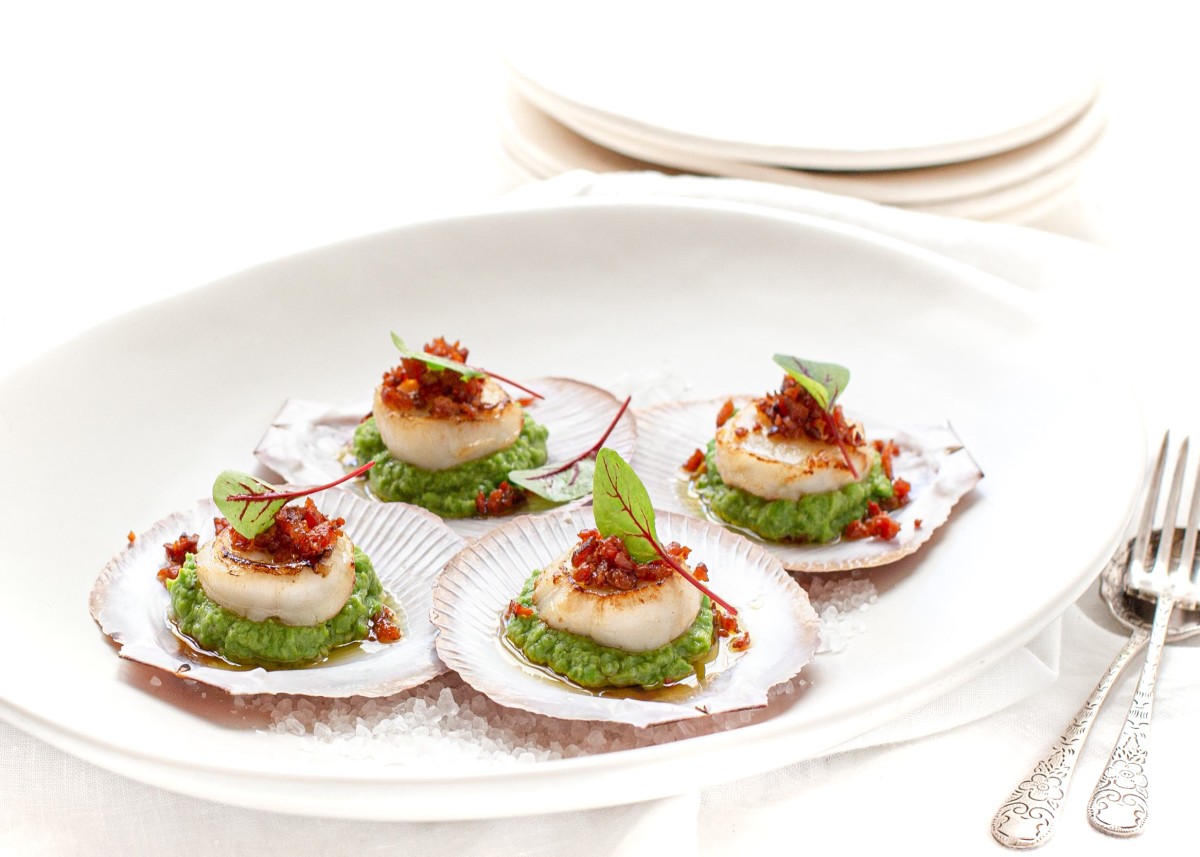 Cuisine: Australian Serves: 4
Preparation: 30 Mins Cooking: 15 Mins
Ingredients
2 Dozen Hervey Bay Scallops (in the shell)
1 Barossa Fine Foods Chorizo
2 Cups Frozen Baby Peas
Sea Salt
Black Pepper
2 Cups Chicken Stock
1 tbls Butter
1 tbls Cream
Olive Oil
Micro Red Sorrel leaves or Baby Herbs, to serve
Method
Gently remove the skin from the chorizo, cut into pieces. Place in the bowl of a small food processor and pulse until the chorizo is roughly chopped into small pieces.
Heat a frypan over a medium heat, add the olive oil and chorizo, stirring regularly with a wooden spoon, fry until golden and crispy, set aside and keep warm.
To prepare the pea puree, place the chicken stock in a saucepan and bring to the boil. Add a pinch of sea salt and the peas, cook for a couple of minutes until the peas are tender.
Drain the peas and very well then place in a small food processor with the butter, process until the puree is smooth, stir in the cream and season with sea salt and black pepper. Return the pea puree to a clean saucepan, keep warm while you cook the scallops.
Gently remove the scallops from their shells, pat the shells dry with paper towel, place on a tray and keep warm in a low oven.
To cook the scallops, season lightly with sea salt, heat a frypan over a medium heat. Once hot add a little olive oil, place scallops in the pan for one minute on each side, remove from the pan
To serve, place a little of the warm pea puree on each shell, top with a scallop and the Chorizo crumb, drizzle with olive oil and garnish with the micro sorrel leaves or baby herbs.
Cook's Tip
Serve 3-4 scallops per person as an appetiser or 6 per person as an entree.