Grilled Pork Loin Steaks with Brazilian Lobster Tails
Published 3rd December, 2019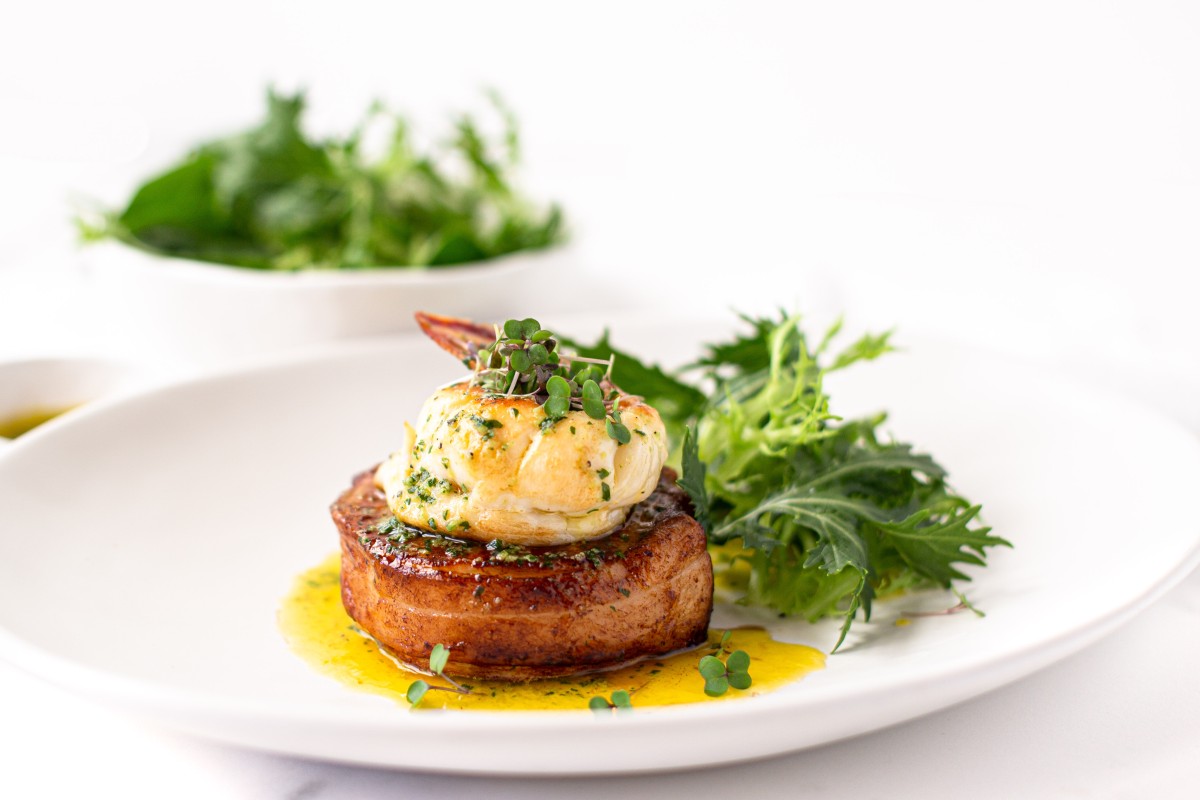 Cuisine: Australian Serves: 4
Preparation: 30 Mins Cooking: 20 Mins
Ingredients
4 (180gm) Barossa Fine Foods Pork Loin Steaks
2 Angelakis Whole Brazilian Lobster tails
150gm Butter
2 Garlic cloves, finely chopped
¼ Bunch Italian parsley, finely chopped
¼ Cup white wine
1 tsp Lemon juice
Sea Salt
Black pepper, cracked
Olive Oil
Micro Herbs to garnish (optional
Method
To prepare the Lobster tails, turn the lobster tails over so that the underside of the lobster tail is facing up, with a sharp pair of kitchen scissors cut and along both sides of the thin shell on the underside of the lobster tail. Cut until you reach the base of the tail, then cut across (leaving tail on) Gently remove shell, Lay the tail on a chopping board & cut in half length ways.
Season the Pork loin steaks with sea salt, black pepper, then drizzle with olive oil. Preheat a heavy based grill pan or BBQ. Cook the steaks for six minutes on the first side, turn and cook for a further two minutes, allow to rest for two minutes before serving.
To cook the lobster tails, heat a frypan over a medium heat, add half of the the butter to the pan, sauté the garlic, then add the lobster tails, cook for one minute on each side. Add the white wine, lemon juice & remaining butter, cook for a further two minutes, add the chopped parley & to coat lobster tails, season with a pinch of sea salt.
To serve place the Pork Loin steak on to a warmed plate, put the lobster tail on top & pour over the garlic butter sauce, garnish with micro herbs. Serve with a green salad.