Southern Fried Chicken Chops
Published 19th June, 2020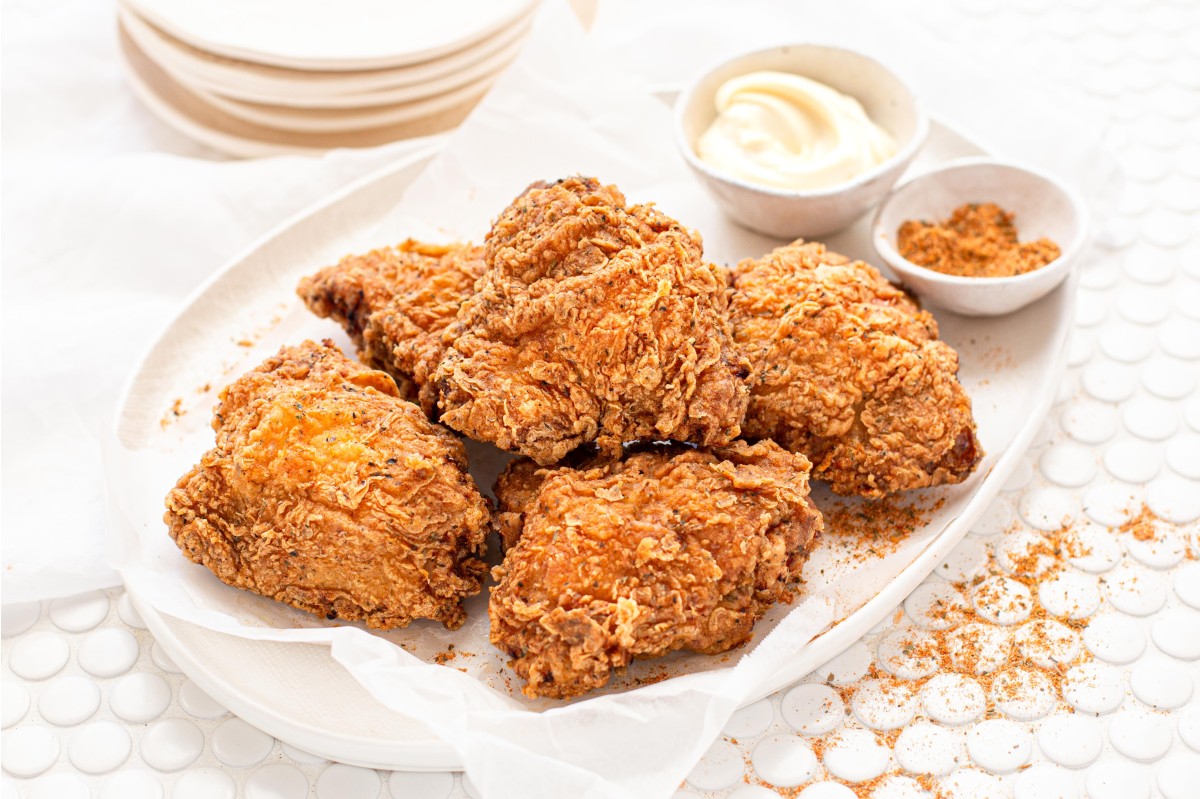 Cuisine: American Serves: 4
Preparation: 40 Mins Cooking: 15 Mins
Ingredients
8-12 Barossa Fine Foods Chicken Chops
2 Cups Buttermilk
1 tbls Spice Mix
3 Egg Whites
2 Cups Plain Flour
2 tbls Corn Flour
Vegetable Oil
Mayonnaise, to serve
Spice Mix
1 tbls Smoked Paprika
1 tbls Garlic Powder
1 tbls Onion Powder
1 tbls Mustard Powder
2 tsp Sea Salt
1 tsp Celery Salt
2 tsp Oregano Leaves (dried)
2 tsp Thyme Leaves (dried)
2 tsp Basil Leaves (dried)
1 tsp White Pepper
1 tsp Ground Ginger
Method
Combine all of the ingredients for the spice mix in a small bowl and mix together well.
In a large bowl place the buttermilk and 1 table spoon of the spice mix, mix well. Pat the chicken chops dry with paper towel and place in the buttermilk, refrigerate overnight.
Preheat the oven to 140℃ and the Deep Fryer to 165℃ (If using a pot on the stove to heat the oil, use a candy thermometer to measure the oil temperature)
Combine the remaining spice mix with the plain flour & mix well, place in a large bowl. In a seperate bowl, place the egg whites and whisk slightly. Remove the chicken from the buttermilk and drain well on a cake rack over a tray.
One at a time dip the chicken pieces into the flour mix, shake of the excess, then dip into the egg whites and then back into the flour mix. Place on a large plate or tray lined with baking paper, do not allow the chicken pieces to touch each other. Once all the chicken is coated, refrigerate for 20 minutes, this allows a beautiful crust to form on the chicken.
Working in small batches deep fry the chicken pieces in the oil at 165℃ for 12-14 minutes, place on a tray and pop into the oven while you cook the remaining chicken. The internal temperature of the chicken needs to be 75℃.
Serve on a platter with mayonnaise or hot sauce.
Cook's Tip
If buttermilk is not available, use 1 tsp of vinegar or lemon juice per cup of regular milk.
This chicken is delicious served hot or cold.