Smokey Chicken Tenderloin & Chorizo Fajitas
Published 18th May, 2020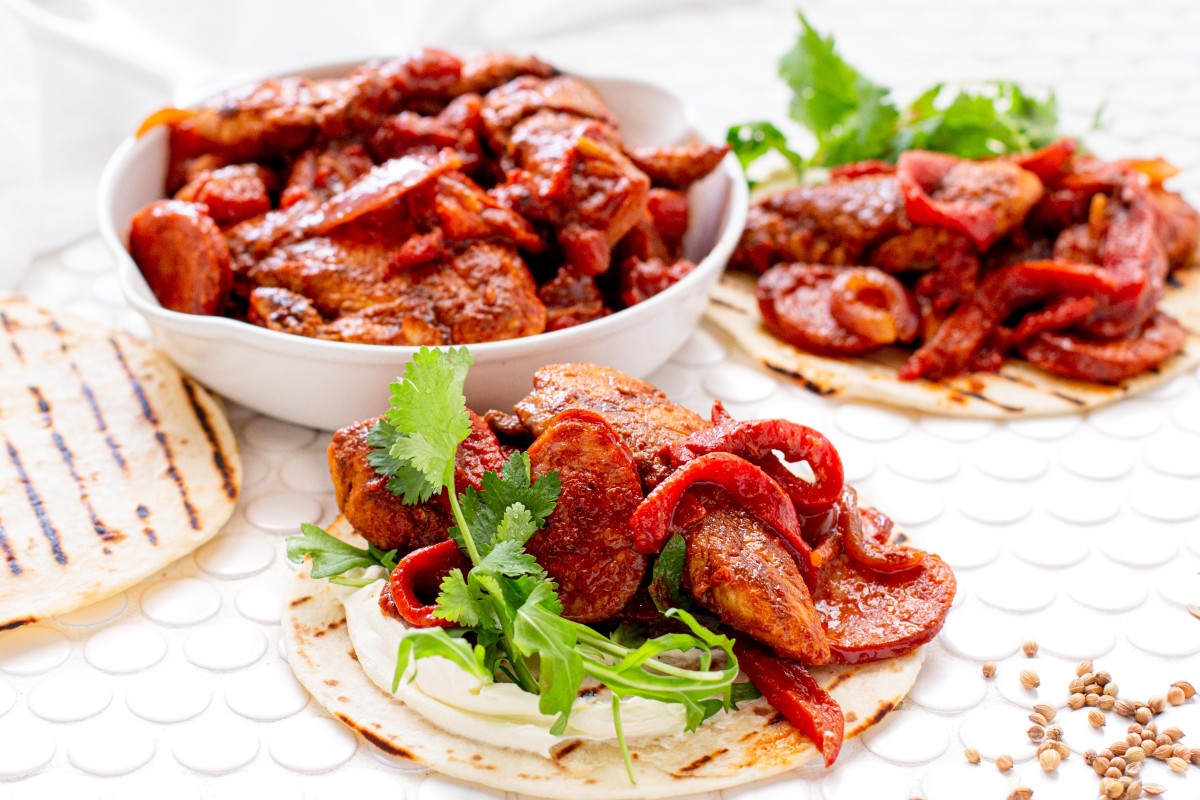 Cuisine: Mexican Serves: 4
Preparation: 30 Mins Cooking: 15 Mins
Ingredients
500gm Free Range Chicken Tenderloins
1 Barossa Fine Foods Chorizo
1 Small Red Onion
200gm Roasted Capsicums
1 tsp Ground Coriander
1 tsp Ground Cumin
1 tbls Smoked Paprika
2 tsp Garlic Powder
½ tsp Sea Salt
4 tbls Olive Oil
Juice of half a Lime
1 Cup Chicken Stock
200gm (Tinned) Chopped Tomatoes
Method
To prepare the chicken, place the ground coriander, ground cumin, smoked paprika, garlic powder, sea salt, three table spoons of olive oil and the juice of half a lime into a bowl and whisk to combine. Toss the chicken tenderloins in this mixture and allow to marinate for 30 minutes.
Slice the chorizo, onions and roasted capsicum.
Heat a large heavy based frying pan over a high heat, add the remaining olive oil and fry the chorizo slices until golden brown on both sides, remove from the pan and set aside. Add the chicken tenderloins to the pan and cook for 3-4 minutes on each side or until brown and cooked through, add the onions and roasted capsicum and cook for a further few minutes.
Add the chicken stock and chopped tomatoes to the pan, add the chorizo back to the pan and allow to simmer for five minutes or until the sauce is thick.
Serve the chicken with grilled tortillas, sour cream, mixed salad leaves, fresh coriander, lime wedges & guacamole.