Smoked Hock, Tomato & Lentil Soup with Cavolo Nero
Published 24th June, 2020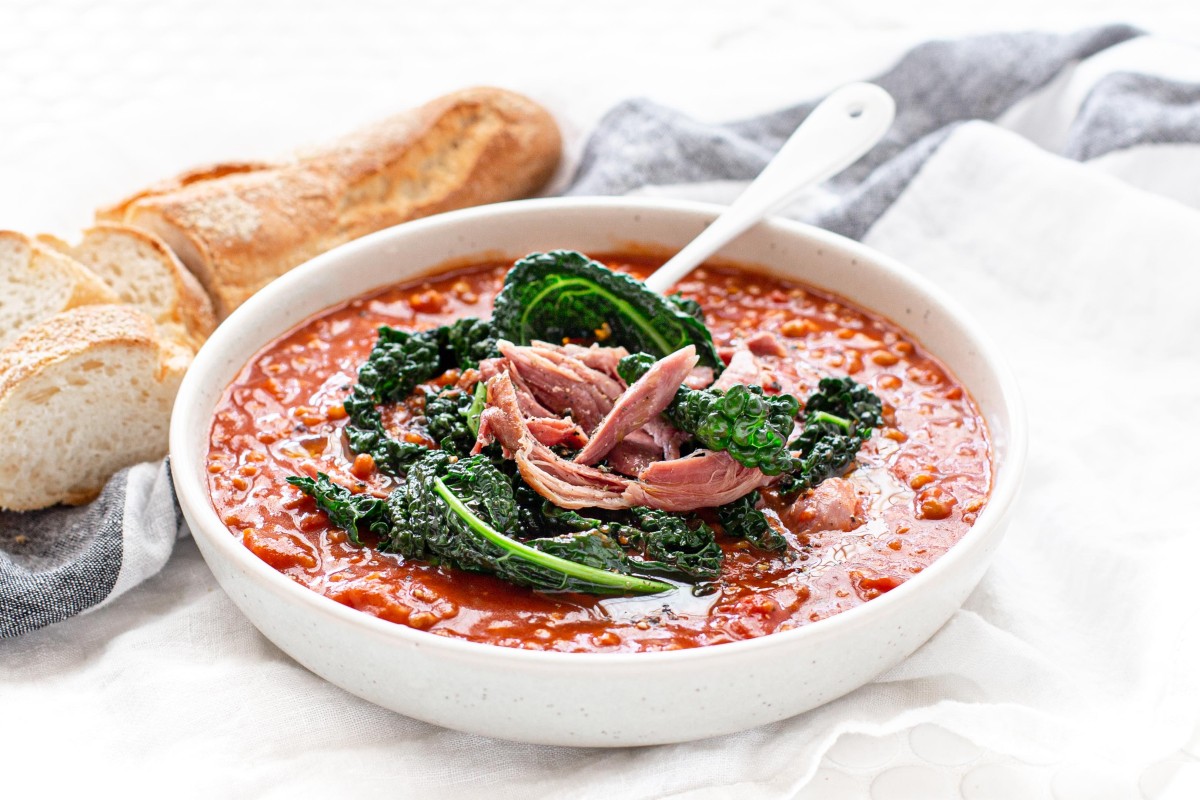 Cuisine: Italian Serves: 4
Preparation: 2 Hrs Cooking: 35 Mins
Ingredients
Olive Oil
1 Brown Onion, finely chopped
2 Cloves Garlic, finely chopped
1 tsp Smoked Paprika
2 tbls Tomato Paste
1 (400 gm) Can Chopped Tomatoes
200 gm Brown Lentils
1 litre Smoked Hock Stock
Sea Salt
Black Pepper
1 Bunch Cavolo Nero
STOCK
1 Barossa Fine Foods Smoked Hock
4 litres cold water
5 Sprigs Thyme
2 Bay Leaves
1 Brown Onion, chopped
2 Whole Cloves Garlic
Method
To prepare the stock for the soup, place all ingredients in a large pot & bring to the boil, reduce heat & simmer partially covered for 1¾ hours. Remove hock from stock and strain, reserving the stock. Allow the hock to cool, then remove skin & shred meat, set aside.
In a large saucepan over a medium heat sauté the onion and garlic in 2 tbls of olive oil until soft and fragrant. Add the smoked paprika and tomato paste, cook for a further minute, add the ham stock, chopped tomatoes and the brown lentils. Allow to simmer with the lid on until the lentils are cooked. Add the shredded ham hock meat and simmer for another few minutes.
Taste the soup and season with sea salt and black pepper.
Wash and roughly chop the cavolo nero, heat a frypan over a high heat and sauté the spinach in olive oil until just cooked.
To serve, pour the soup into bowls, garnish with the cavolo nero, drizzle with olive oil sprinkle with cracked black pepper. Serve with crusty bread.