Scottish Pork Sausage, Thyme & Cherry Tomato Pasta
Published 3rd December, 2019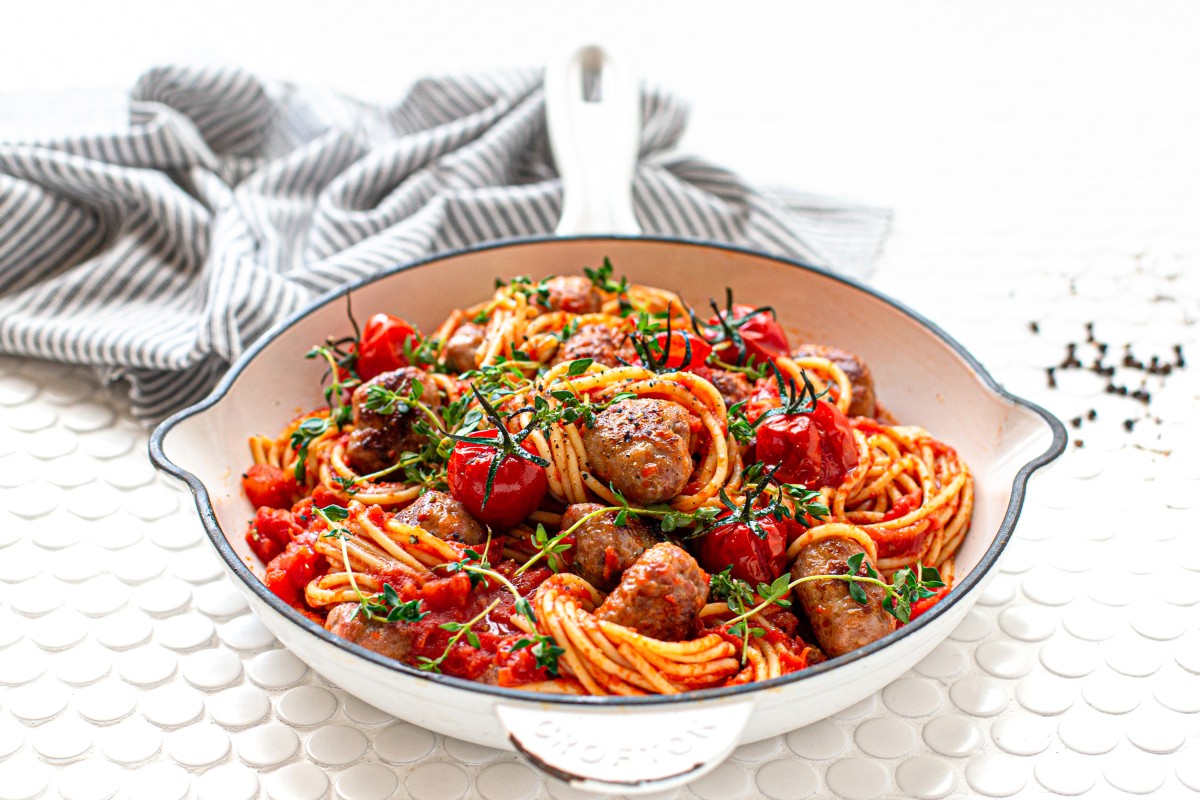 Cuisine: Italian Serves: 4
Preparation: 15 Mins Cooking: 15 Mins
Ingredients
6 Barossa Fine Foods Scottish Pork Sausages
1 Brown Onion, finely diced
4 Cloves Garlic, finely chopped
2 tbls Olive Oil
1 (440gm) Tin Chopped Tomatoes
1 Cup White Wine
2 tbls Tomato Paste
1 tbls Thyme Leaves, finely chopped + Extra Thyme to garnish
Sea Salt
Black Pepper
1 Punnet Cherry Tomatoes
Spaghetti, cooked as per packet directions
Method
To prepare the sausages, using a small sharp knife slit the skins and remove the skins from the sausages, once skinned cut each sausage into four equal portions. With wet hands roll the pieces of sausages into balls.
Place the cherry tomatoes in the oven at 180℃ and roast until cooked through, set aside.
Heat a large deep sided frypan over medium heat, add the olive oil and cook the meatballs until golden brown and cooked through, remove from pan and keep warm. Add the onion and garlic, cook until soft and fragrant. Add the white wine, tomatoes and tomato paste. Return the meatballs back to the sauce, add the thyme and allow the sauce to simmer for five minutes.
Add the cooked spaghetti to the pan, season with the sea salt & black pepper, toss until combined. Serve into deep pasta bowls, garnish with the roast cherry tomatoes and the extra thyme leaves.