Pork Fillet Souvlaki Stir Fry with Tzatziki
Published 2nd November, 2021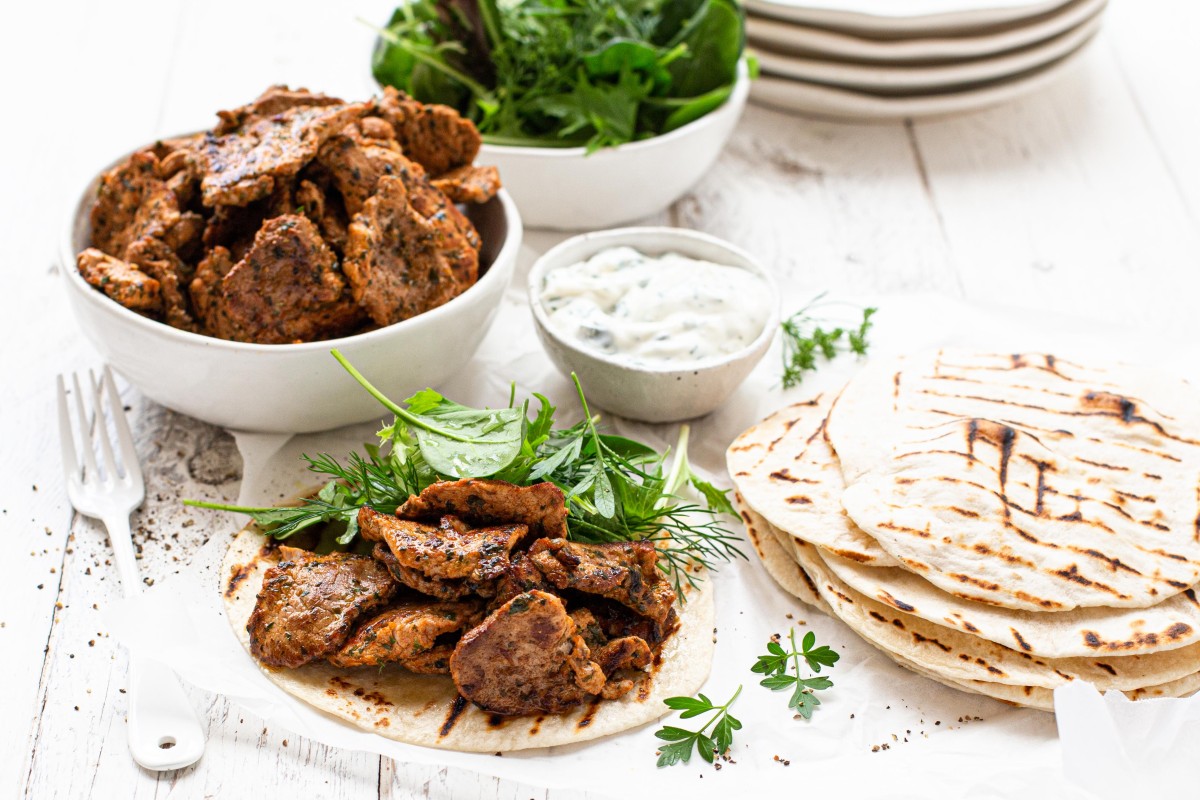 Cuisine: Greek Serves: 4
Preparation: 20 Mins Cooking: 20 Mins
Ingredients
1kg Pork Fillet
1 tbls Dried Oregano
1 tbls Dried Parsley Leaves
1 tbls Paprika
2 tsp Minced Garlic
½ tsp Sea Salt
¼ Cup Vegetable Oil
Juice of one Lemon or 2 tbls Lemon Juice
Pita Bread, to serve
Mixed Lettuce Leaves, to serve
Tzatziki
500 gm Greek Style Yogurt
1 Continental Cucumber, halved & deseeded
2 Cloves Garlic, crushed
2 tbls Chopped Dill
1 ½ tbls Lemon Juice
1 tsp sugar
Sea Salt
Black Pepper
Method
To make the tzatziki, coarsely grate the cucumber and squeeze out as much juice as you can with your hands. Combine the cucumber, yoghurt, garlic, dill, lemon juice and sugar, mix well, season with sea salt and black pepper, taste, adjust seasoning if required.
To prepare the pork fillets, with a sharp knife trim the sinew from the pork fillet and cut into slices about half a centimetre thick.
In a large bowl place the dried oregano, dried parsley, paprika, minced garlic, sea salt, vegetable oil and lemon juice, mix well to combine. Add the sliced pork fillet to the marinade and mix well to coat. Allow to marinate in the fridge for 30 minutes.
Heat a large fry pan over a medium heat and add a small amount of vegetable oil. Once to the pan is hot cook the pork fillet in batches until browned and cooked through.
Heat the pita bread in a pan or in the oven, serve with the Souvlaki stir fry and tzatziki, garnish with fresh parsley and dill leaves.
Cook's Tip
Look out for our pre marinated Souvlaki Pork Fillet Stir Fry in store.