Pork Cutlets with Sage, Walnut & Roasted Garlic Butter
Published 20th November, 2019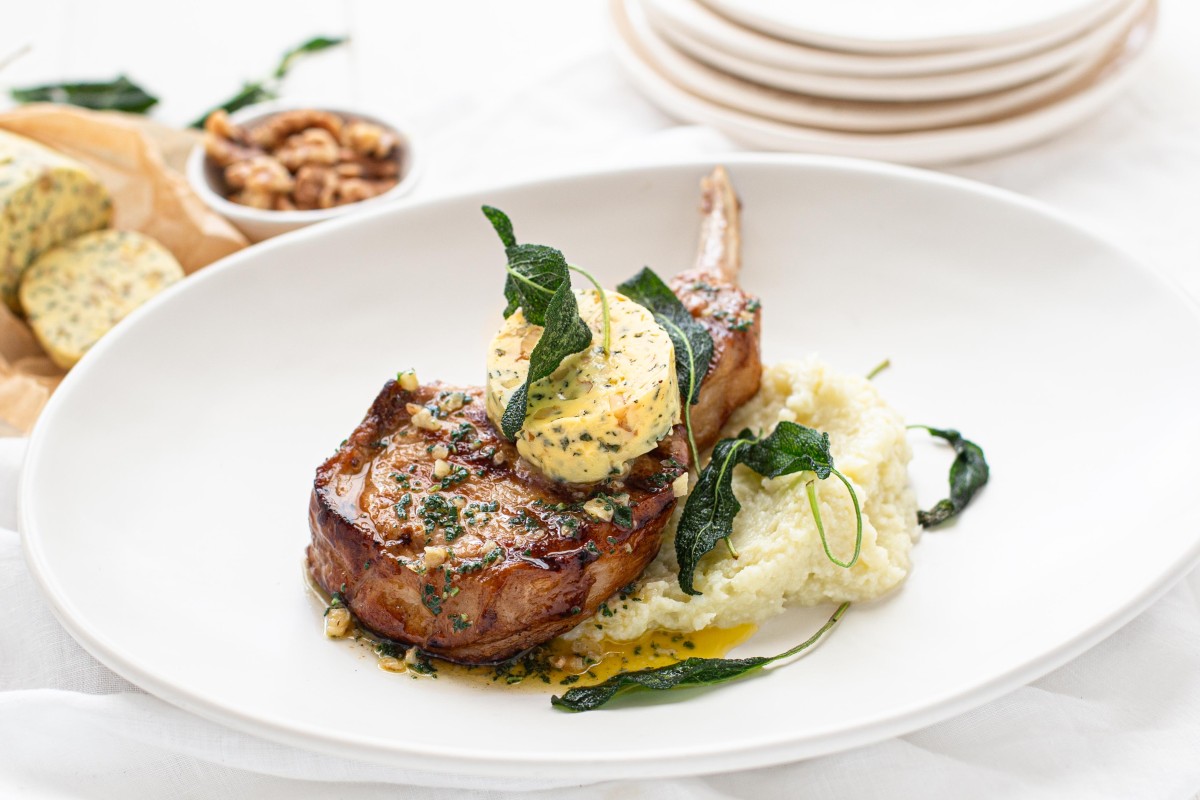 Cuisine: Australian Serves: 4
Preparation: 30 Mins Cooking: 30 Mins
Ingredients
4 Barossa Fine Foods Pork Cutlets
Sea Salt
Cracked Black Pepper
Olive Oil
3 Large Potatoes
1 Celeriac Bulb
1 Clove Garlic
⅓ Cup Rich Cream
1 tbls Butter
½ Bunch Sage, to garnish
SAGE, WALNUT & ROASTED GARLIC BUTTER
250gm Salted Butter
1 Large bulb Garlic
2 tbls Sage, finely chopped
½ tsp Sea Salt
Cracked Black Pepper
¼ Cup Walnuts, chopped
Method
For the butter, wrap a large bulb of Garlic in foil & roast in a medium oven till soft, allow to cool completely. Squeeze the flesh from the bulb of garlic & place in a mixing bowl.
Allow the butter to soften (room temperature is perfect) Combine Butter, Garlic, Sage, chopped walnuts, Sea Salt & Black pepper in a bowl. Mix ingredients together till combined & the butter is light & fluffy
On a sheet of baking paper shape the butter into a log, roll up the paper and twist ends to secure. Refrigerate till the butter is firm.
Peel the potatoes, celeriac & garlic, roughly chop and place in a saucepan with a pinch of sea salt. Cover with cold water, bring to the boil, reduce heat and simmer until tender. Drain and return to the pan. Using a potato masher, mash until smooth. Add the cream and butter and mix until well combined, taste and season with sea salt.
Preheat BBQ or grill pan, season Pork Cutlets with sea salt, pepper & a drizzle of olive oil. Cook Pork cutlets over a medium heat for five minutes on one side, turn & cook for a further 4 minutes on the other side, remove from heat and allow to rest for 2 minutes before serving.
Fry the sage leaves in a little oil and drain on paper towel, serve the cutlets with the mash, a slice of butter and top with the fried sage leaves.