Marinated Calamari & Pork Belly Noodle Salad
Published 4th March, 2020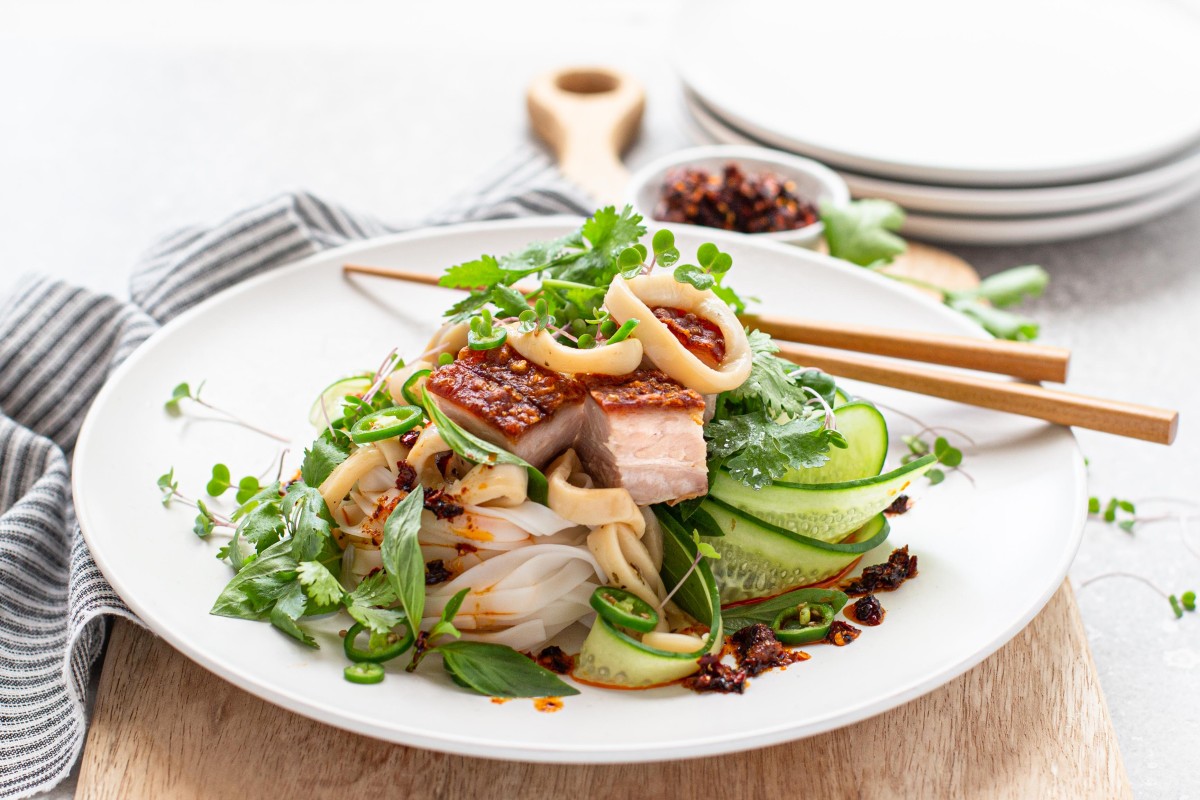 Cuisine: Asian Serves: 4
Preparation: 20 Mins Cooking: 40 Mins
Ingredients
1 (200gm) Angelakis Marinated Calamari
300gm Barossa Fine Foods Sous Vide Pork Belly
Cooked Rice Stick Noodles
1 Lebanese Cucumber
¼ Bunch Thai Basil
¼ Bunch Coriander
1 Green Chilli, sliced
Dried Chilli in Oil, to Serve
Method
To prepare the pork belly, preheat the oven to 235℃, remove the Sous Vide Pork Belly from the packaging, place on a wire rack over a deep tray. Rinse the Pork Loin with boiling water, pat dry with paper towel (this is best prepared the day before to allow the pork skin to dry, ensuring a good crackle, store in refrigerator, uncovered)
Score the rind with a sharp knife in one centimetre intervals, making sure not to cut into the meat, rub with a small amount of vegetable oil, sprinkle with sea salt. Place on a wire rack over a tray and cook in the oven for 35-40 minutes, remove from the oven and allow to cool. Cut into 2 centimetre cubes.
To make the salad, drain the marinated calamari, very thinly slice the Lebanese cucumbers lengthways. Place the cooked noodles on plates, top with the sliced cucumbers, the pork belly and pickled calamari.
Wash the coriander and Thai basil well and place on top of the salad, garnish with the sliced green chilli and serve with the chilli in oil.
COOK'S TIP
Chilli in oil is available in asian grocers