Maple & Cinnamon Bacon with Pancakes, Pecans and Maple Syrup
Published 25th November, 2019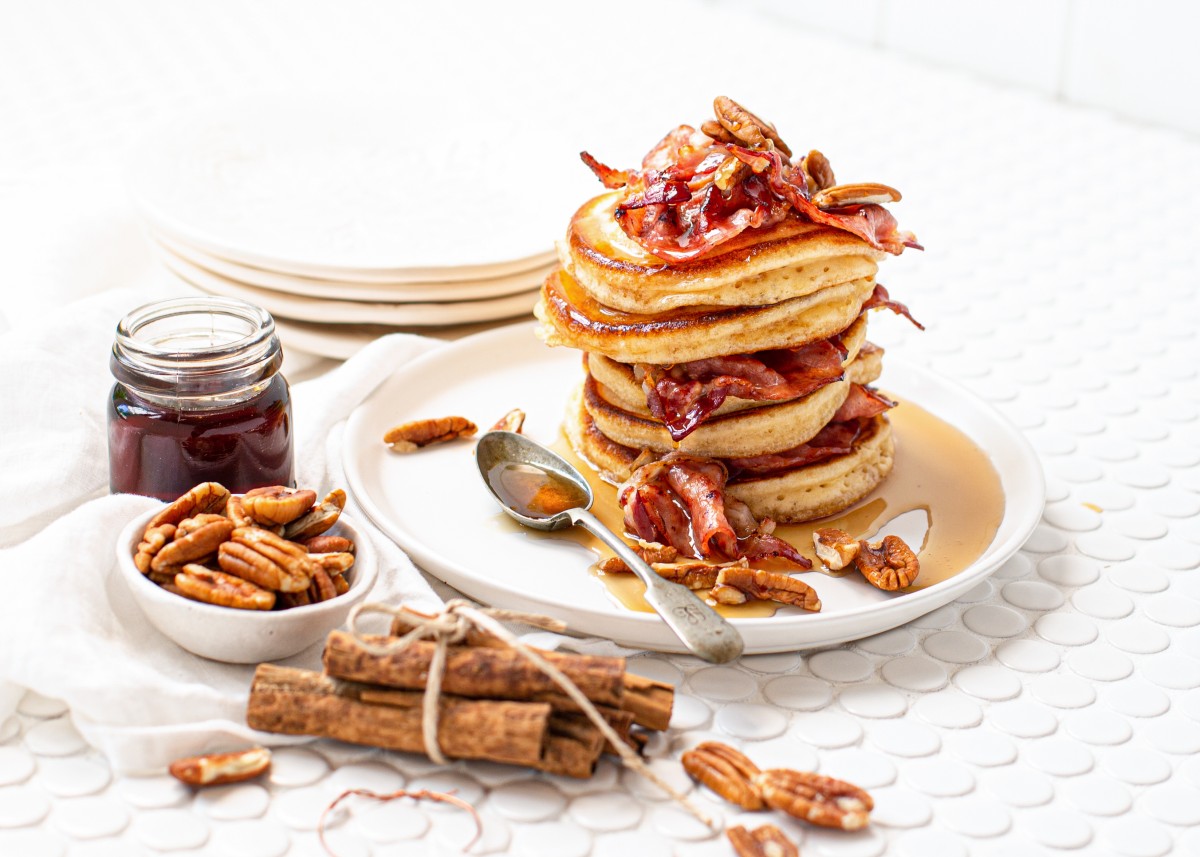 Cuisine: Australian Serves: 4
Preparation: 15 Mins Cooking: 15 Mins
Ingredients
1 Packet Barossa Fine Foods Maple & Cinnamon Bacon
100 gm Pecan Nuts
Maple Syrup
Vegetable Oil or Butter, for cooking pancakes
PANCAKE BATTER
2 Cups Self Raising Flour
1 ¾ Cups Milk
2 Eggs
1 tbls Butter, melted
¼ Cup Caster Sugar
Pinch of Sea Salt
Method
To make the pancake batter, sift the flour into a large bowl, stir in the caster sugar and sea salt. In a seperate bowl whisk together the milk, eggs and melted butter. Make a well in the centre of the flour and whisk in the milk mixture, continue whisking until the batter is combined and free from lumps.
Heat a non stick frypan over a medium heat, reduce the heat slightly and grease pan with butter or oil. Add approximately ¼ cup (or less depending on the size pancakes you would like) Make two pancakes at a time, cook for two minutes on the first side or until bubbles appear, turn & cook for a further two minutes on the other side. Remove from pan and cook the rest of the pancakes, greasing the pan each time.
Cook the bacon in a frypan over medium heat, place the pancakes on warmed plates, layer with the cooked bacon, pour over the maple syrup and sprinkle with roughly chopped pecans.