Lachschinken, Grilled Peach, bocconcini & Pecan Salad with Honey Dressing
Published 20th November, 2019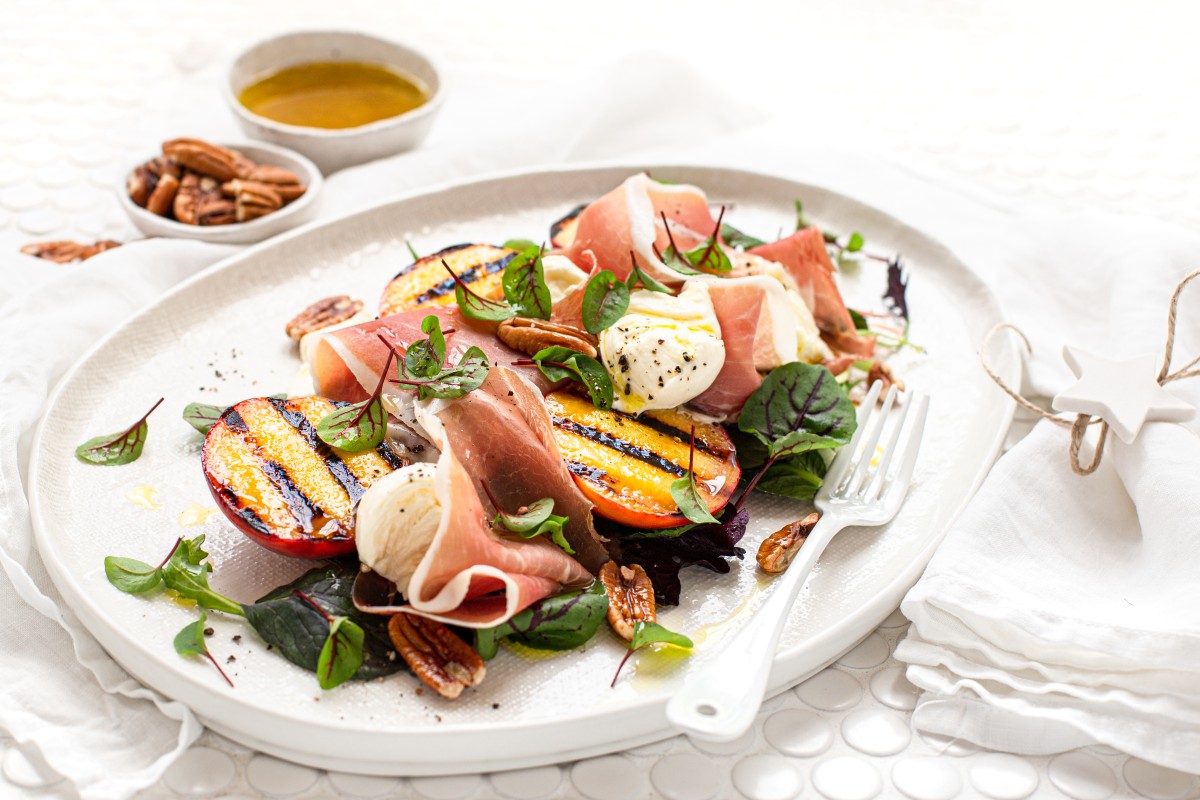 Cuisine: Australian Serves: 4
Preparation: 20 Mins Cooking: 10 Mins
Ingredients
12 Slices Barossa Fine Foods Lachschinken or Proscuitto
4 Yellow Peaches
220gm Bocconcini
2 Cups Salad Leaves
80gm Pecans
1 tbls Olive Oil
Black Pepper, to serve
HONEY DRESSING
5 tbls Olive Oil
1 tbls Balsamic Vinegar
1 tsp Dijon Mustard
1 tsp Dijon Mustard
Sea Salt & Black Pepper
Method
Preheat the barbecue grill plate or a heavy based grill pan over medium heat, cut the cheeks from the peaches and drizzle with olive oil. Place cut side down on the hot plate and grill for 3-4 minutes, turn over and cook for a further 2 minutes.
To assemble the salad, place the salad leaves on a large plate or serving platter, layer the grilled peaches with the Jamon Serrano. Tear the bocconcini in halves and place on top, sprinkle the pecans over the top along with a little cracked black pepper. Serve with the honey dressing
For the honey dressing, in a bowl whisk together the olive oil, Dijon mustard, balsamic vinegar & the honey, taste and season as required with the sea salt & cracked black pepper. This dressing can also be made by placing all of the ingredients in a jar with a screw top lid, shake well until combined.