Hervey Bay Scallops with Black Pudding, Cauliflower Puree & Truffle Oil
Published 30th March, 2021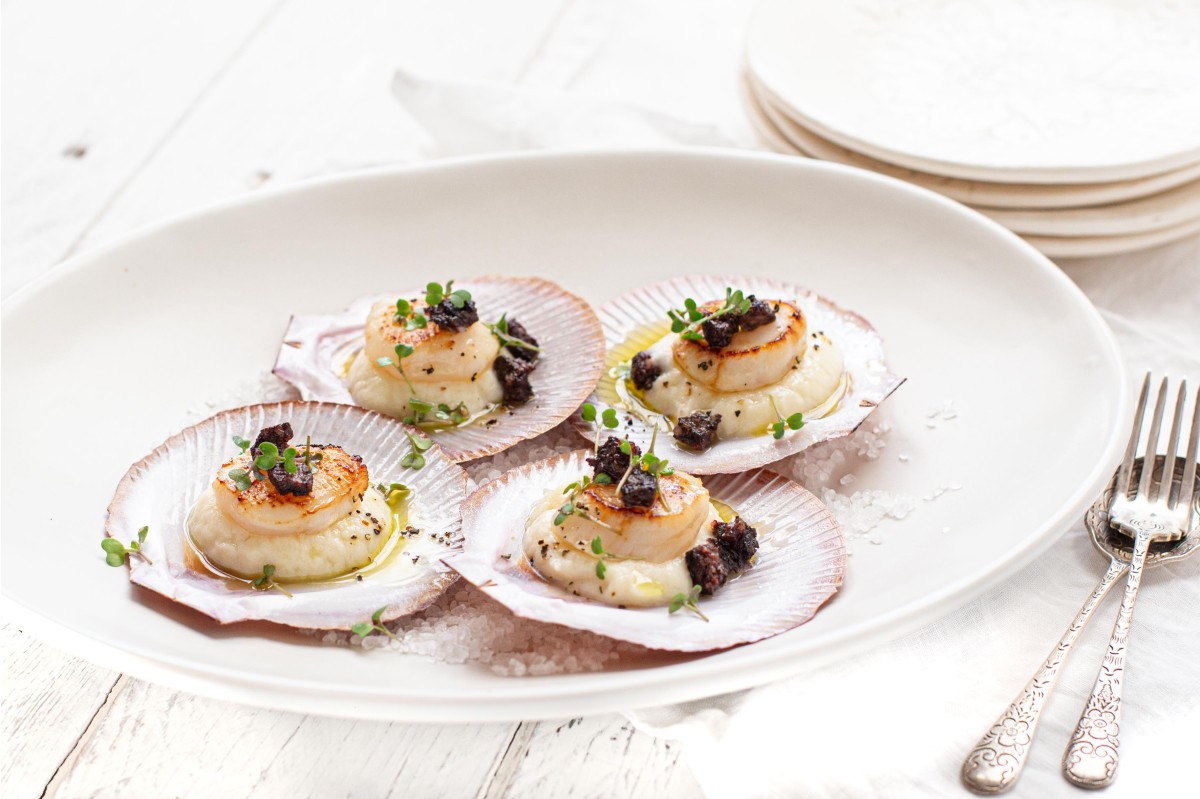 Cuisine: Australian Serves: 4
Preparation: 30 Mins Cooking: 15 Mins
Ingredients
2 Dozen Hervey Bay Scallops (in the shell)
½ Cauliflower
Sea Salt
½ Small Brown Onion, finely chopped
2 Cloves Garlic, finely chopped
2 Cups Milk
1 tbls Butter
1 Cup Chicken Stock
1-2 tbls Cream
Olive Oil
Black Pudding
Truffle Oil
Micro Herbs, to serve
Method
To prepare the cauliflower puree, roughly chop the cauliflower into florets, in a saucepan over a medium heat sauté the onions and garlic in the butter until soft and fragrant. Add the cauliflower, milk and chicken stock, season with sea salt. Bring to the boil then reduce to a simmer. Cook until the cauliflower is very tender.
Drain the cauliflower very well then place in a small food processor, process until the puree is smooth, stir in the cream and season with sea salt. Return the cauliflower puree to a clean sauce pan, keep warm while you cook the scallops.
Gently remove the scallops from their shells, pat the shells dry with paper towel, place on a tray and keep warm in a low oven.
Heat a frypan over a medium heat, add the olive oil and cook the slices of black pudding on both sides until crispy, remove from the pan, drain on paper towel and keep warm until the scallops are cooked.
Cook the scallops in the pan for one minute on each side, remove from the pan.
To serve, place a little of the warm cauliflower puree on each shell, top with a scallop and the black pudding, drizzle with the truffle oil and garnish with the micro herbs.
Cook's Tip
Serve 3-4 scallops per person as an appetiser or 6 per person as an entree.