Grilled ChickenThighs with Wild Mushroom & Tarragon Risotto
Published 16th April, 2020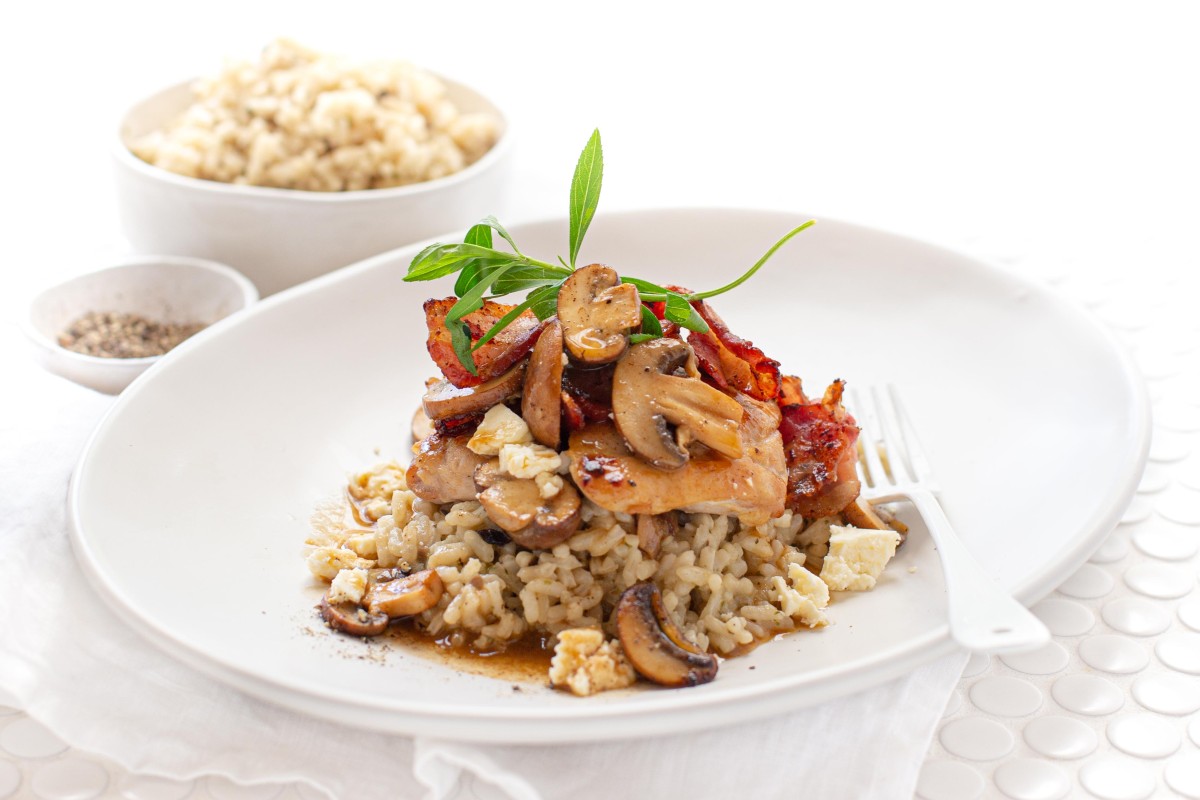 Cuisine: Italian Serves: 4
Preparation: 20 Mins Cooking: 30 Mins
Ingredients
500gm Barossa Fine Foods Chicken Thighs
1 (300gm) 'Thistle Be Good' Wild Mushroom Risotto
Olive Oil
200gm Barossa Fine Foods Pancetta, sliced
200gm Swiss Brown Mushrooms, sliced
80gm Butter
Juice of Half a Lemon
1 tbls Tarragon, finely chopped
Extra Tarragon Sprigs to garnish
150gm Barossa Feta
Currawong Truffle Oil
Sea Salt
Cracked Black Pepper
Method
To prepare the risotto, add risotto and 1tbls of olive oil to a saucepan with 800 ml of boiling water. Cover, bring to the boil stirring occasionally. Reduce to a simmer, cover for 15 minutes, stir occasionally. Remove from heat, cover, sit for 5 minutes, stir well before serving.
For the chicken, heat a large frypan over a high heat, drizzle the chicken thighs with olive oil and season with sea salt, place in the frying pan and cook on the first side until golden brown, once brown reduce the heat a little & turn the chicken thighs over, continue to grill until cooked through. Remove from the pan, set aside & keep warm.
Add the pancetta to the pan and cook until it starts to brown and turn crispy, add the mushrooms and butter to the pan, cook for a few minutes then season with sea salt, black pepper, a squeeze of lemon juice and the chopped tarragon.
To serve, place some of the risotto on the plate, add the chicken thighs and top with the mushrooms and pancetta, crumble over some feta cheese and drizzle with the Currawong truffle oil, garnish with a sprig of tarragon.