Coq Au Vin
Published 22nd June, 2021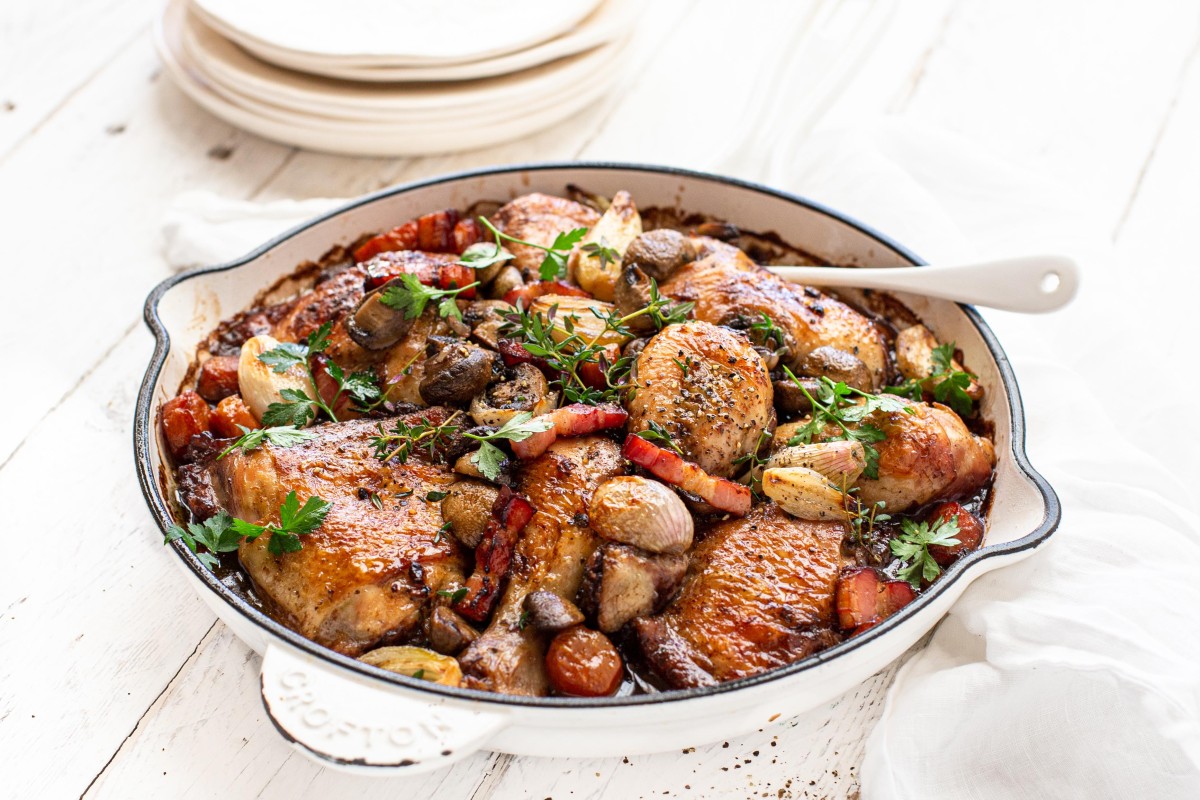 Serves: 4
Preparation: 45 Mins Cooking: 59 Mins
Ingredients
200 gm Meaty Speck
4 Chicken Marylands
2 tbls Olive Oil
1 Brown Onion
2 Carrots
6 Cloves Garlic
8 Sprigs of Thyme
1 Cup Chicken Stock
1 Cup Red Wine
100 gm Golden Shallots
200 gm Mushrooms
1 tbls Plain Flour
Butter
Sea Salt
Cracked Black Pepper
Extra Thyme, to serve
Chopped Parsley, to serve
Method
Remove the rind from the meaty speck, slice into strips about half a centimetre wide, then cut these strips into batons a half centimetre thick. Peel and cut the carrots into pieces one centimetre thick and finely chop the onion and garlic. Peel the golden shallots.
Pat the chicken Marylands dry with paper towel, cut through the joint with a sharp knife to seperate the drumstick from the thigh, season with sea salt and black pepper.
Preheat oven to 175℃
Heat a large casserole dish or deep sided frypan over a medium heat, add the olive oil and fry the meaty speck until golden brown. Remove the speck from the pan and drain on paper towel. Leaving the oil in the pan brown the chicken (skin side down first) until it is golden brown, remove from the pan.
Drain most of the oil from the pan, return to the heat and add 2 tablespoon of butter, add the carrots, golden shallots, onions, garlic and thyme sprigs, cook until the chopped onions are soft and fragrant.
Add the red wine and chicken stock. Return the chicken pieces to the pan (skin side up) along with the meaty speck. Place a lid on or cover tightly with foil, place in the oven and cook for one hour.
While the chicken is cooking prepare the mushrooms. Slice the mushrooms into thick slices, in a frypan over a medium heat add 1 tablespoon of butter and sauté the mushrooms until golden brown, season and set aside.
In a small bowl combine the plain flour with one tablespoon of softened butter. After one hour remove the chicken from the oven, gently stir the roux (butter and flour mixture) into the sauce to thicken it. Add the mushrooms and return to the oven, uncovered for 10 minutes.
Remove from the oven, sprinkle with the chopped parsley and extra thyme and serve with creamy mashed potatoes.