Continental Pork Sausage, Chickpea & Cavolo Nero Casserole
Published 17th August, 2020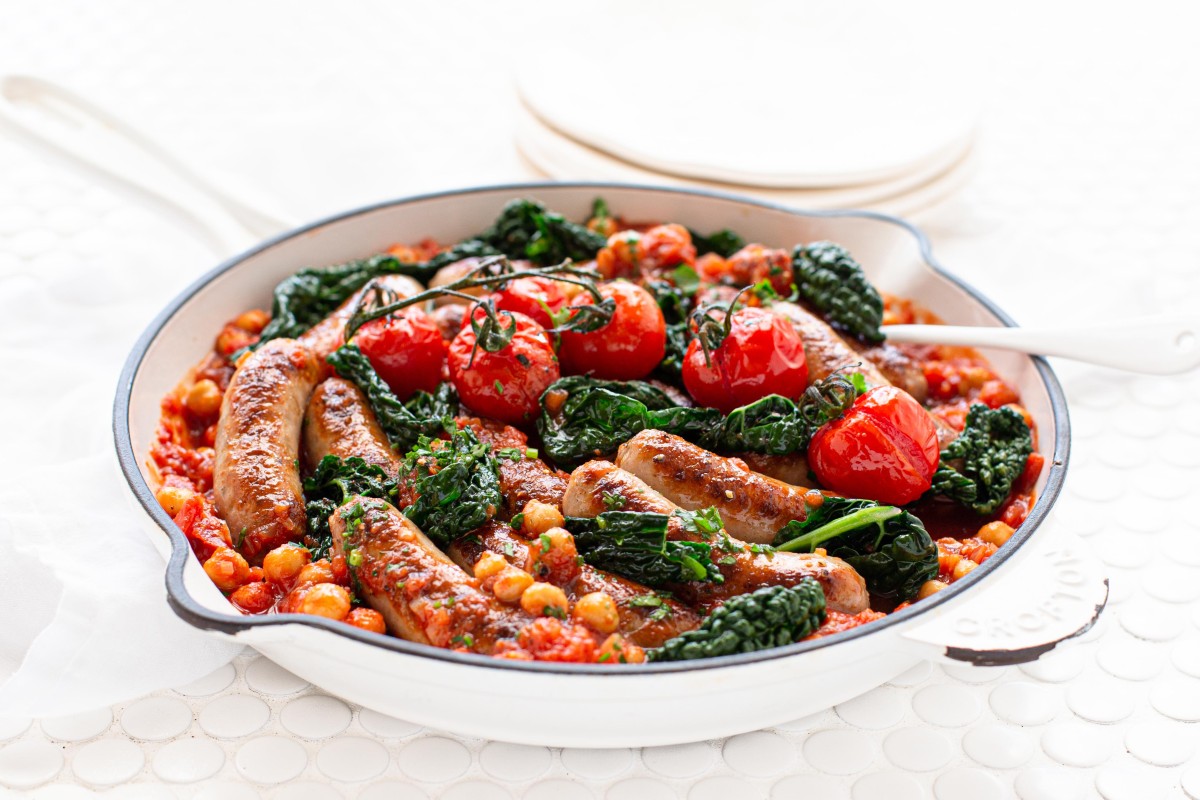 Cuisine: Italian Serves: 4
Preparation: 20 Mins Cooking: 50 Mins
Ingredients
8 Continental Pork Sausages
1 tbls Olive Oil
½ Red Onion, finely chopped
3 Cloves Garlic, finely chopped
1 Cup Chicken Stock
1 (400gm) Can Crushed Tomatoes
1 (400gm) Can Chickpeas
2 tbls Tomato Paste
Sea Salt
BlackPepper
¼ Bunch Cavolo Nero
1 Punnet Cherry Tomatoes
Italian Parsley, finely chopped
Method
First to make the sausages into smaller pieces (you can omit this step if required and leave sausages whole) using your thumb and forefinger, gently pinch the sausages in half and twist a few times to secure, cut with a small sharp knife into two pieces.
Wash the cavolo nero well under running water, remove the stems and roughly chop into large pieces, set aside.
Heat a large deep frypan over a medium heat, add the olive oil and cook the sausages until browned but not cooked all the way through. Remove the sausages from the pan and set aside.
Add the onion and garlic to the pan and sauté until soft and fragrant, add the chicken stock, crushed tomatoes and tomato paste, stir well to combine.
Rinse the chickpeas with cold water and add to the tomato, return the sausages to the pan along with any juices, season with a little salt and black pepper.
Gently simmer, with a lid on for 10-15 minutes, remove the lid and stir in the cavolo nero and cherry tomatoes, simmer for a further 5 minutes or until the cavolo nero is cooked.
To serve, sprinkle with the chopped parsley.
Cook's Tip
The cavolo nero (Tuscan spinach) may be substituted for kale, spinach or baby spinach.