Chinese Five Spice Pork Fillet with Oyster Sauce & Asian Herb Salad
Published 20th November, 2019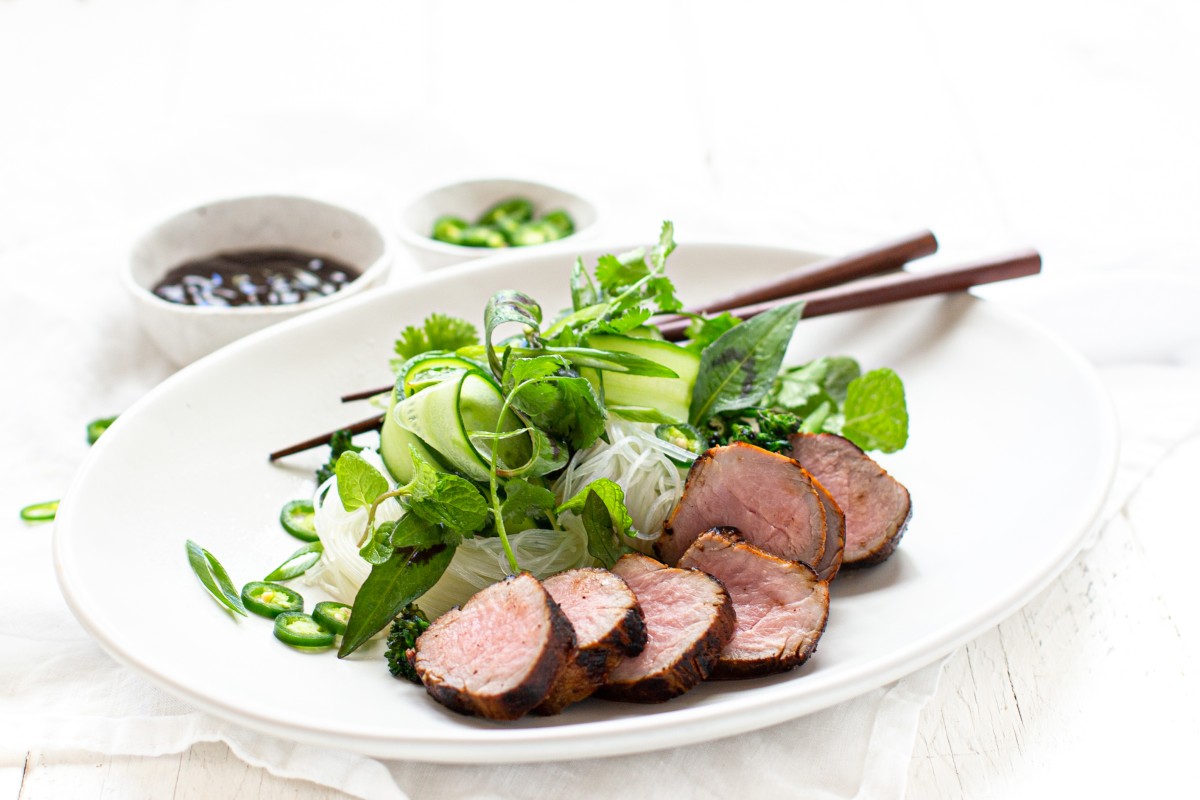 Cuisine: Asian Serves: 4
Preparation: 30 Mins Cooking: 15 Mins
Ingredients
2 Barossa Fine Foods Pork Fillets
1 tsp Chinese Five Spice
1 Clove Garlic, minced
1 tbls Sesame Oil
½ Cup Oyster Sauce + extra sauce to serve
2 tbls Honey
2 tbls Rice Wine Vinegar
1 tbls vegetable oil
1 packet bean thread vermicelli noodles
½ Bunch Coriander
½ Cup Mint Leaves
1 Cup Laksa Mint Leaves
2 Spring Onions, finely sliced
2 Bunches Broccolini
1 Green Chilli, sliced
Method
To prepare the pork fillets, trim the sinew from the top of the pork fillet with a sharp knife. In a large bowl combine the Chinese five spice, garlic, sesame oil, oyster sauce, honey & rice wine vinegar, add the pork fillets and toss to coat. Refrigerate for two hours.
While the pork is marinading prepare the herb and noodle salad. Prepare the noodles by placing in a heat proof bowl & cover with boiling water for 5-8 minutes, drain & set aside. Steam the broccolini, allow to cool. Wash and pick the coriander, mint and laksa mint, toss the noodles with herbs and broccolini & place in the fridge until required.
To cook the pork fillets, preheat the oven to 180℃, then heat a heavy based oven proof frypan over a medium heat, add the vegetable oil, brown the pork fillets on all sides, turning frequently so that the marinade does not burn. Place the pan in the oven and cook for seven minutes, remove from the oven and allow to rest for five minutes before slicing and serving.
Serve the pork fillet with the salad, garnish with the sliced spring onion and chilli & extra oyster sauce on the side.