Chicken Breast in Gourmet Bacon with Maple, Dijon & Thyme
Published 17th August, 2020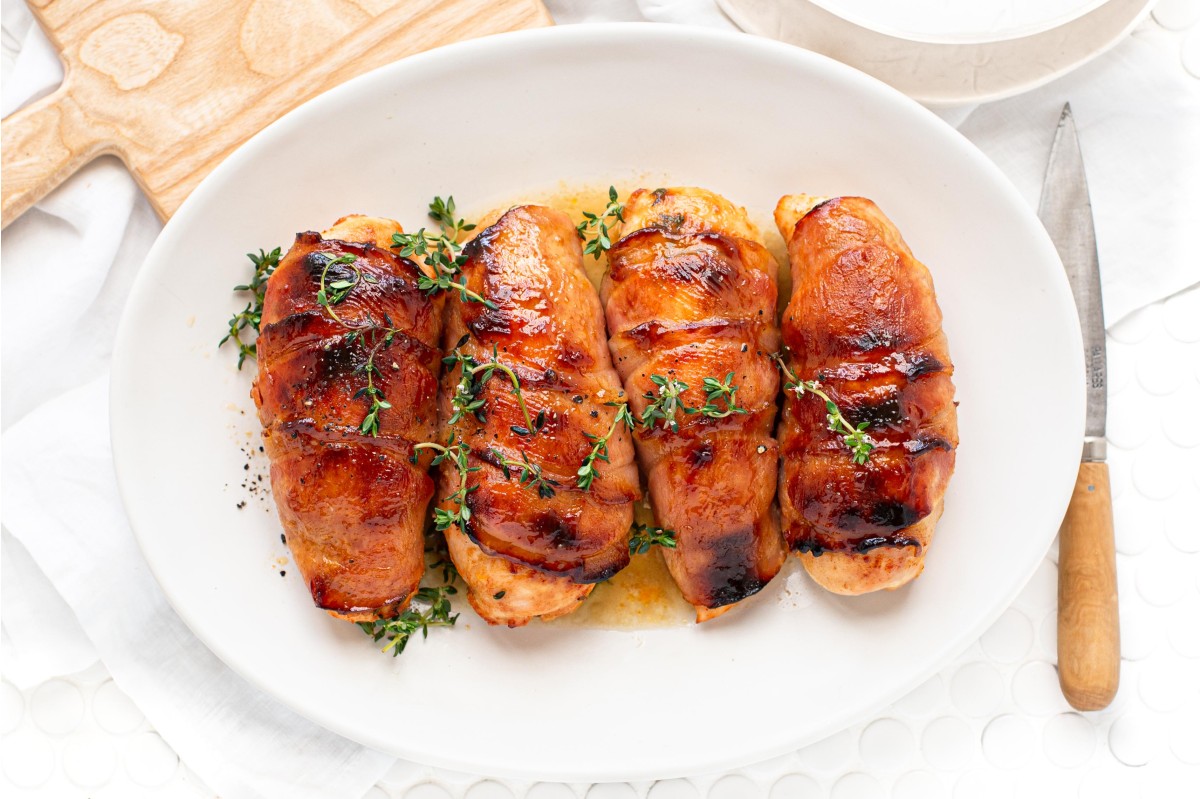 Cuisine: Australian Serves: 4
Preparation: 25 Mins Cooking: 45 Mins
Ingredients
4 Barossa Fine Foods Chicken Breasts
12 Slices Gourmet Bacon, thin
½ tsp Smoked Paprika
1 tsp 'Kangaroo Island Fresh Garlic' Garlic Granules
1 tbls Thyme Leaves
2 tbls Butter, melted
2 tbls Dijon Mustard
¼ Cup Maple Syrup
Black Pepper
Extra Thyme, to serve
Method
Preheat oven to 180℃
In a small bowl combine the melted butter, Dijon mustard and maple syrup, mix well.
Sprinkle the chicken breasts with the smoked paprika, garlic granules and thyme leaves, grind over a little black pepper, press on with your finger tips.
Lay three slices of the thinly sliced gourmet bacon on the bench and place one chicken breast in the centre, fold over the bacon and place in a baking dish (ensure that the edges of the bacon are underneath, this will keep them secure as the chicken cooks) Repeat with each chicken breast.
Brush the tops of the chicken with the glaze and place in the oven. Bake in the oven for approximately 45 minutes, basting generously every 15 minutes with the glaze. Check the internal temperature of the chicken with a meat thermometer to ensure that it is fully cooked. The temperature needs to be 75℃
If the bacon needs crisping, place under the griller for a minute or two. Allow to rest for 5 minutes before serving.
To serve, sprinkle with fresh thyme leaves and serve with a green salad with avocado.