Char Sui Pork Belly with Chinese Broccoli & Mushrooms
Published 9th September, 2020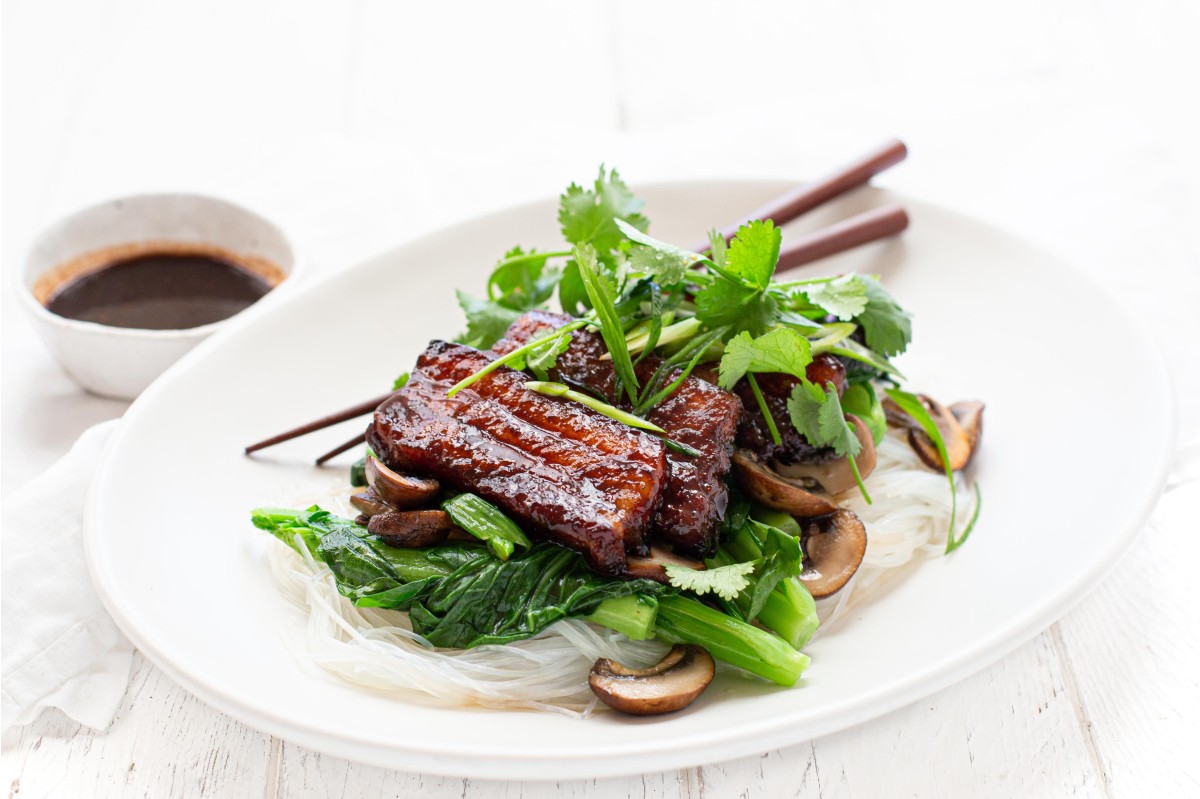 Cuisine: Asian Serves: 4
Preparation: 30 Mins Cooking: 59 Mins
Ingredients
8-10 Pieces of Sliced Barossa Fine Foods Pork Belly
½ Cup Soy
½ Cup Hoisin Sauce
¼ Cup Shaoxing Cooking Wine
¼ Cup Brown Sugar
2 tbls Honey
3 Cloves Garlic, minced
1 tsp Chinese Five Spice
1 tsp Coriander, ground
1 Packet Bean Thread Vermicelli Noodles
200gm Shiitake Mushrooms, sliced
2 Bunches Chinese Broccoli
2 Cloves of Garlic
1 tbls Sesame Oil
2 Spring Onions, sliced
Coriander
Method
In a large bowl combine the soy, hoisin, Shaoxing cooking wine, brown sugar, honey, garlic, Chinese five spice and ground coriander, whisk well and reserve half of the marinade.
Slice the pork belly ribs in half and place in the marinade, toss well to coat and refrigerate for 3-4 hours or overnight if possible.
Pre heat oven to 170℃ , Remove the pork from the marinade and drain well, discard marinade.
Line one or two baking trays with baking paper, evenly space the pieces of pork belly, baste with the reserved marinade and place in the oven. Cook on one side for approximately 30 minutes, basting a couple of times with the reserved marinade, turn after 30 minutes and cook the other side for a further 30 minutes, also basting a few times.
While the pork belly is cooking prepare the noodles and vegetables. Prepare the noodles by placing in a heat proof bowl & cover with boiling water for 5-8 minutes, drain & set aside.
Wash and trim the Chinese broccoli, heat the sesame oil in a large fry pan, sauté the garlic, add the mushrooms and cook for a few minutes. Toss through the Chinese broccoli and add a small amount of water and place a lid on the pan to steam the greens, for a minute or two.
Serve the noodles on a plate, top with the mushrooms and broccoli, add the grilled pork and garnish with the sliced spring onions and coriander leaves, serve with soy.