Casalingo Bresaola, Tomato & Bocconcini Salad with Pesto
Published 12th October, 2021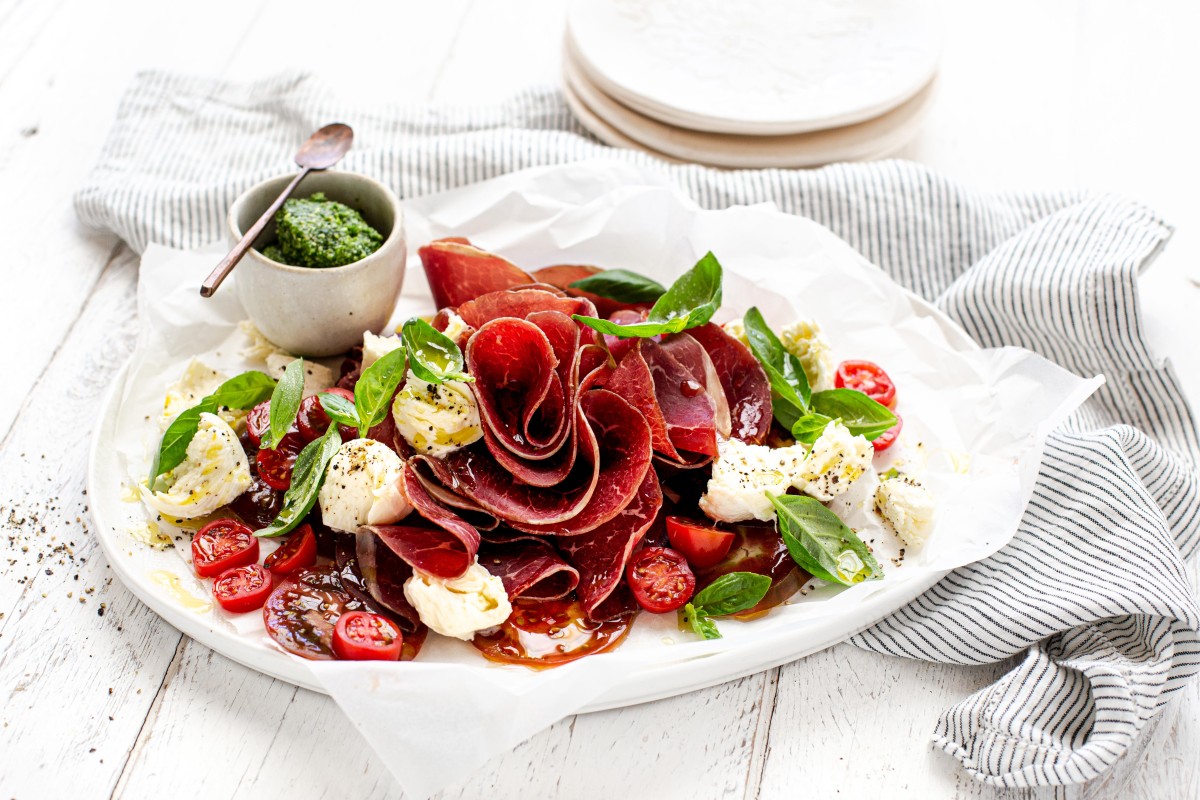 Cuisine: Italian Serves: 4
Preparation: 20 Mins
Ingredients
250gm Casalingo Bresaola, thinly sliced
220gm Bocconcini
1 Bunch Basil
1 Punnet Cherry Tomatoes
2-3 Kumato or Chocolate Tomatoes
Olive Oil
Cracked Black Pepper
Basil Pesto
30gm Parmesan, grated
¼ Cup Toasted Pinenuts
2 Cloves Garlic
Sea Salt
Black Pepper
1 ½ Cups Basil Leaves, roughly chopped
½ Cup Parsley Leaves
½ Cup Olive Oil
Method
To make the basil pesto, in the bowl of a food processor, process the parmesan, pinenuts, garlic, basil and flat leaf parsley until everything is finely chopped. With the motor running drizzle in the olive oil until well combined. Season with sea salt & black pepper.
Slice the Kumato tomatoes and cut the cherry tomatoes into halves, place on a serving platter. Gently fold the bresaola slices and place on top of the tomatoes. Tear the bocconcini into pieces and place in and around the salad, wash the basil and scatter over the picked leaves.
Drizzle the salad with olive oil and sprinkle over the cracked black pepper, serve with the basil pesto and crusty bread.
Cook's Tip
The Chocolate tomatoes may be substituted for any ripe tomato.