Baked Harissa Chicken Chops
Published 12th November, 2019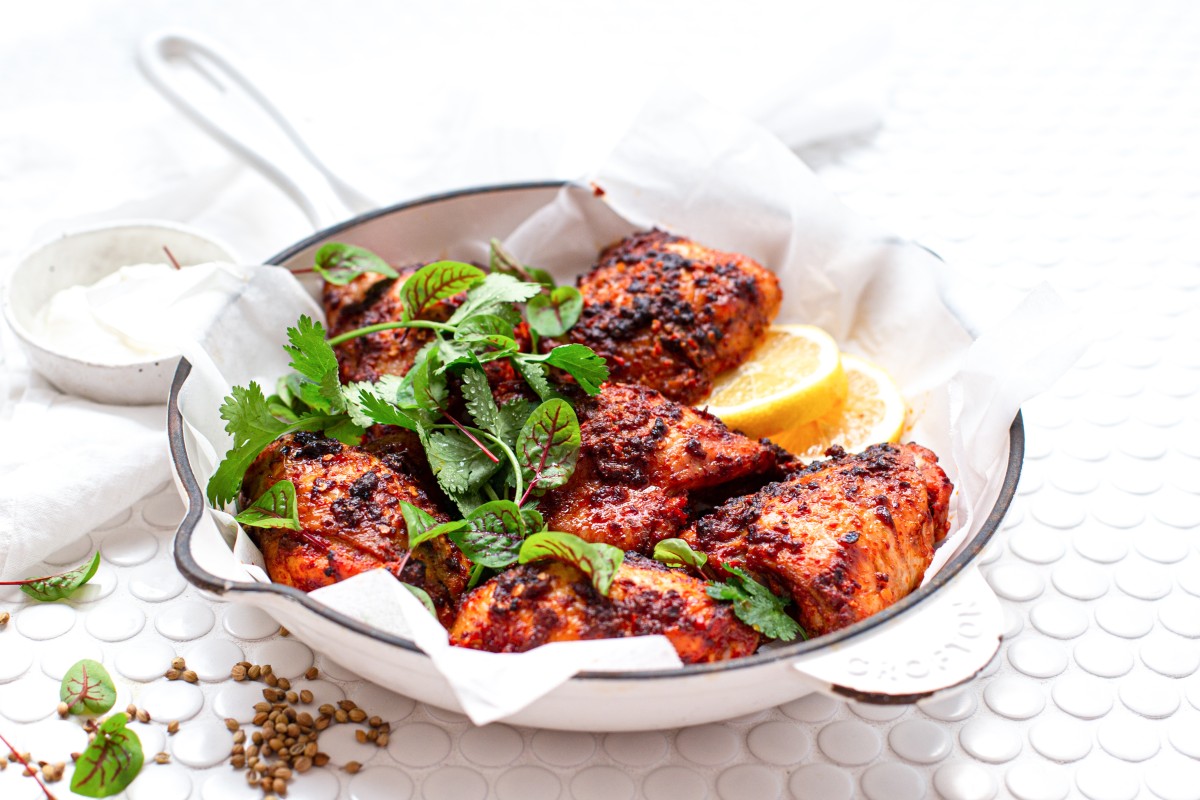 Cuisine: Australian Serves: 4
Preparation: 3 Hrs Cooking: 40 Mins
Ingredients
8-12 Barossa Fine Foods Free Range Chicken Chops
½ Cup Harissa Paste
1 tbls Olive Oil
Harissa Paste
300gm Roasted Capsicums
1 tbls Smoked Paprika
1 tsp Sweet Paprika
1 tsp Sea Salt
1 tsp Dried Chilli Flakes
5 Cloves Garlic
1 Fresh Red Chilli (optional)
2 tbls Olive Oil
2 Lemon Juice
Spice Mix
1 tbls Coriander Seeds
1 tbls Cumin Seeds
1 tsp Caraway Seeds
1 tsp Fennel Seeds
Method
For the spice mix, gently dry toast the coriander, cumin, caraway & fennel seeds in a small pan over a low heat, allow to cool then grind in a spice grinder or mortar & pestle.
Drain the roasted capsicums on paper towel, in a food processor blend together the capsicum, smoked and sweet paprika, peeled garlic cloves, sea salt, chilli flakes, fresh chilli (optional) spice mix, olive oil & lemon juice. Process until all ingredients are well combined. Pour into sterilised jars & refrigerate.
Pat the chicken chops dry with paper towel & place in a large bowl, add half a cup of harissa paste and the olive oil, toss well to completely coat the chicken pieces, refrigerate for 3 hours.
Preheat the oven to 180℃, line a baking tray with baking paper, arrange the chicken pieces on the tray allow room between each piece. Cook for 40 minutes or until the chicken is cooked.
Serve with the remaining harissa paste, lemon wedges & natural yoghurt, garnish with fresh chopped coriander.