Baked Eggs in Tomato Sauce with Black Pudding & Chickpeas
Published 30th March, 2021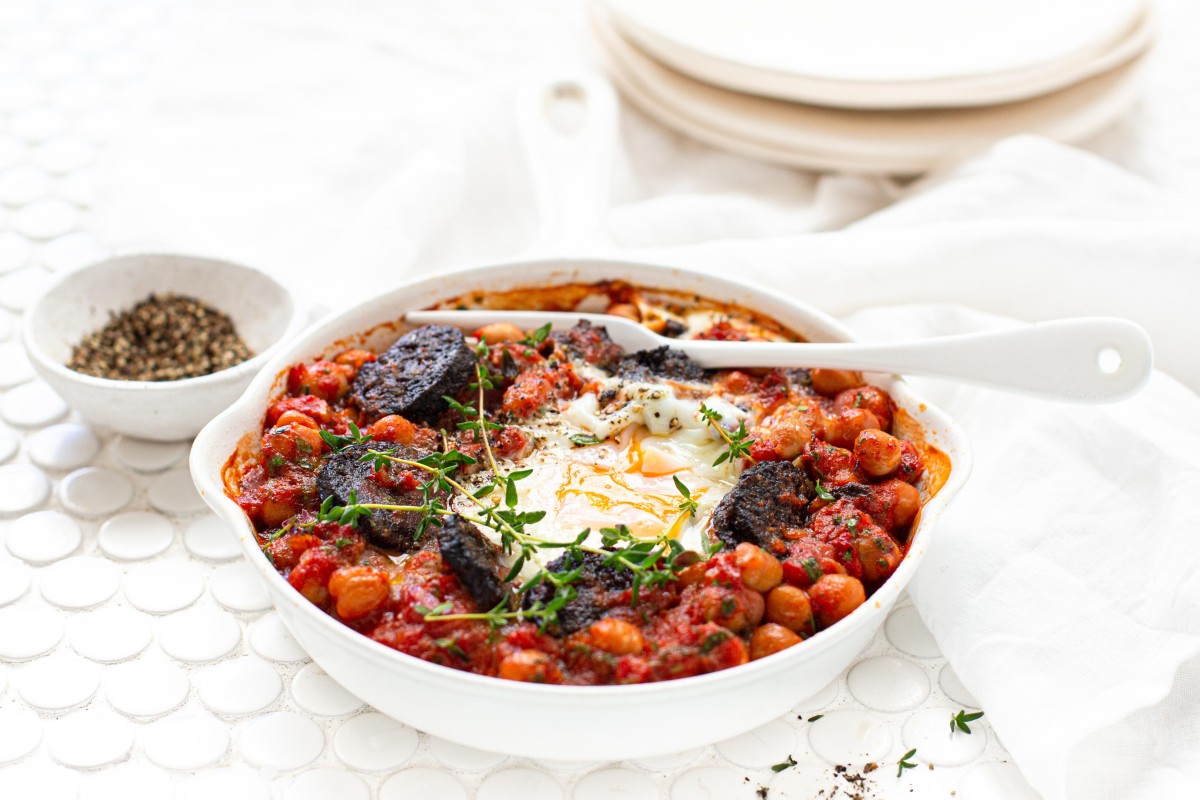 Cuisine: Australian Serves: 4
Preparation: 25 Mins Cooking: 20 Mins
Ingredients
1 Black Pudding
1 Small Brown Onion
2 Cloves Garlic
1 (400gm) Can Chopped Tomatoes
1 Cup Passata Sauce
3 tbls Tomato Paste
1 tsp Smoked Paprika
1 tbls Worcestershire Sauce
1 (400gm) Can Chickpeas or Butter Beans
Sea Salt
Black Pepper
2 tbls Parsley, finely chopped
1 tsp Thyme Leaves, finely chopped
4 Eggs
Extra Thyme, to serve
Method
Slice the black pudding, heat a large saucepan over a medium heat, add the olive oil. Cook the black pudding until it starts to brown and crisp, gently remove from the pan and drain on paper towel, set aside. Add the onions and garlic, cook until soft and fragrant, stir in the paprika and cook for one minute. Pour in the chopped tomatoes, passata, Worcestershire sauce and tomato paste, season with sea salt and black pepper. Allow to simmer for 5-10 minutes or until the sauce has thickened.
Preheat oven to 200℃
Add the chickpeas, black pudding, parsley and thyme, gently stir through. Transfer to a baking dish or divide equally into four oven proof dishes. Make an indentation with the back of a ladle and crack an egg into each hole.
Place the individual dishes onto a baking tray, cook in the oven for 5-7 minutes or until the egg white has cooked and the yolk is runny.
To serve, garnish with the extra thyme and cracked black pepper, serve with crusty bread.