American Style Pork Ribs with Barbecue Sauce
Published 19th August, 2020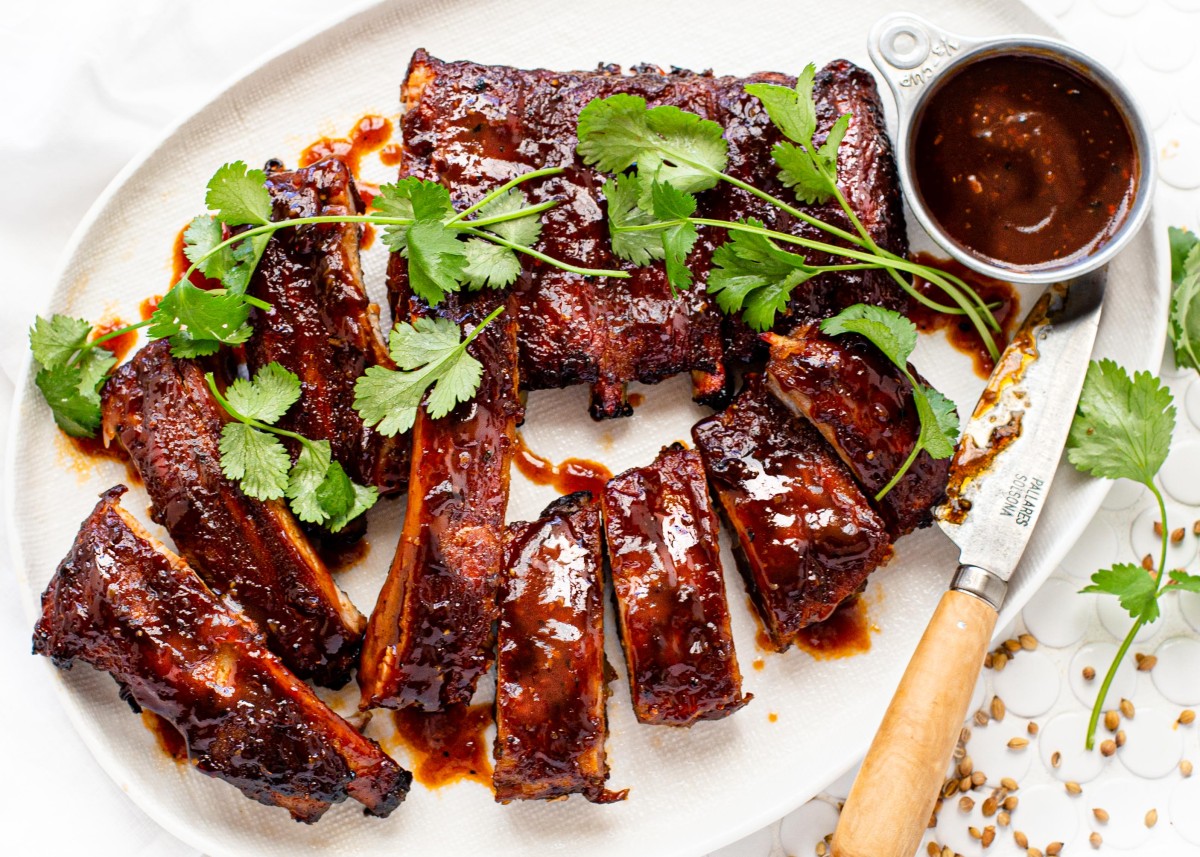 Cuisine: Australian Serves: 4
Preparation: 1 Hr Cooking: 2 Hrs 45 Mins
Ingredients
2-2.5kg Barossa Fine Foods American Style Pork Ribs
Rub
1 tbls 'Kangaroo Island' Garlic Granules
1 tbls Onion Powder
1½ tbls Smoked Paprika
½ tbls Sea Salt
1 tsp White Pepper, Ground
1 tsp Ground Coriander
Barbecue Sauce
½ Cup Barbecue Sauce
½ Cup Maple Syrup
⅓ Cup Tomato Ketchup
2 tbls Worcestershire Sauce
1 tbls Smoked Paprika
1 tsp Sea Salt
2 tbls Olive Oil
2 Cloves Garlic, minced
½ tbls Cracked Black Pepper
½ tbls Ground Coriander
1 tbls Sriracha Sauce (optional)
Method
In a large bowl combine the garlic granules, onion powder, smoked paprika, sea salt, white pepper and ground coriander, mix well.
Sprinkle all of the rub over the pork ribs and massage in well, allow to marinate for one hour in the fridge
Preheat the oven to 170℃
Line a large, deep baking tray with baking paper, place ribs into the tray and drizzle with the olive oil. Cover with a layer of baking paper and double wrap with foil. Ensure that the tray is securely wrapped and no steam can escape.
Cook in the oven for 2 hours, while the ribs are cooking prepare the basting sauce.
In a saucepan combine the barbecue, tomato & Worcestershire sauces, add the maple syrup, smoked paprika, sea salt olive oil, minced garlic, black pepper and coriander powder (& Sriracha sauce, if using) Mix well and gently bring to a simmer over a medium heat, allow to simmer for five minutes, reserve a third of the sauce for serving.
Remove the pork ribs from the oven, carefully place on oven trays lined with baking paper with the bone side facing upward. Generously glaze with the marinade. Increase the oven temperature to 220℃, cook for 5 minutes, remove from the oven and turn ribs over, baste the topside of the ribs well and return to the oven for 30 minutes, basting generously every 10 minutes.
Remove from the oven and allow to rest for 10 minutes before slicing in between the bones and serving.