Thai Beef Salad with Nam Jim Dressing
Published 28th January, 2020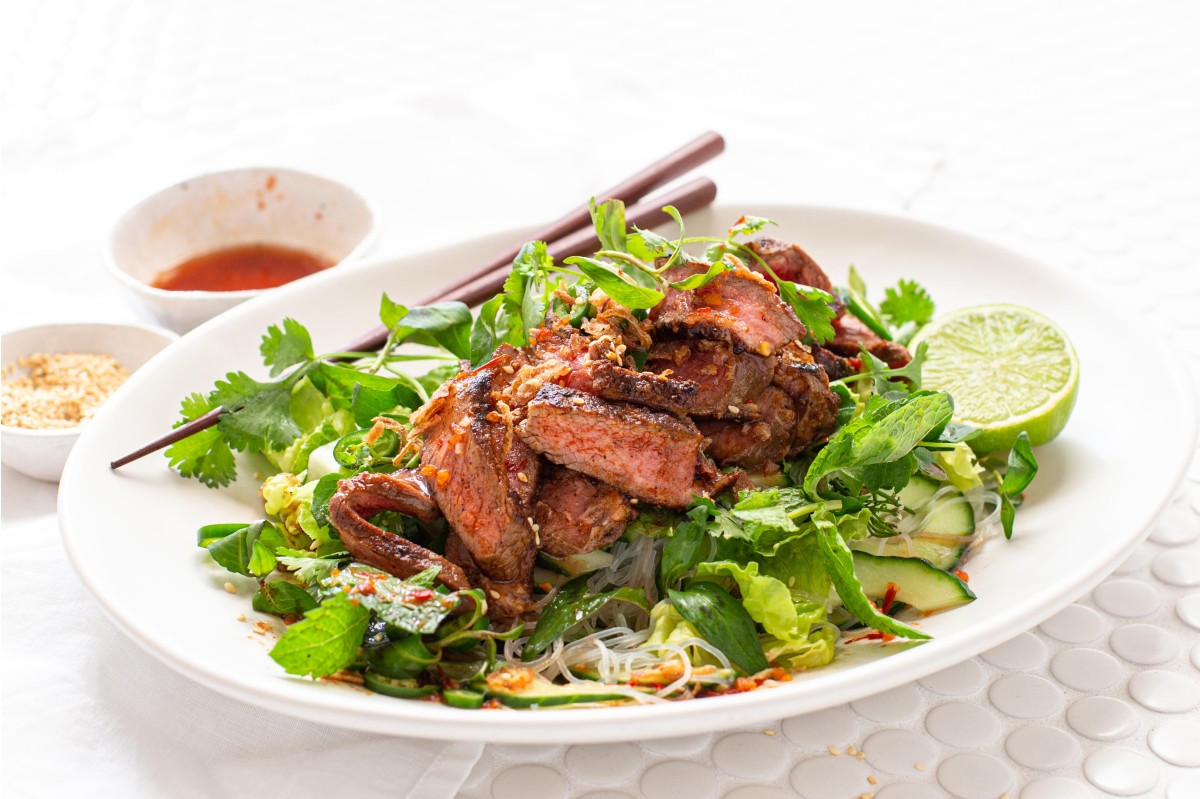 Cuisine: Thai Serves: 4
Preparation: 30 Mins Cooking: 10 Mins
Ingredients
600gm Barossa Fine Foods Rump Steak
1 tbls Fish Sauce
1 tbls Lime Juice
1 tbls Light Soy
1 tbls Palm Sugar, grated
1 tbls Ginger, minced
2 cloves Garlic, minced
2 small Packets Bean Thread Vermicelli noodles
½ Iceberg Lettuce
2 Lebanese Cucumbers
½ Bunch Mint
½ Bunch Coriander
½ Bunch Rau Ram (Vietnamese Coriander)
2 tbls Crushed Peanuts
2 tbls Fried Shallots
Extra Limes, to serve
NAM JIM DRESSING
1 tbls Garlic, minced
2 tbls Coriander, finely chopped
2 Spring Onions, finely chopped
1 Small Red Chilli, finely chopped
2 tbls palm sugar, grated
2 tbls Lime Juice
2 tbls Fish Sauce
Method
In a bowl combine the fish sauce, lime juice, soy, palm sugar, ginger and garlic, mix well. Trim the fat & sinew from the rump steak and add to the marinade, toss to coat and refrigerate for 30 minutes.
To prepare the noodles, place noodles in a heatproof bowl and cover with boiling water for 4-5 minutes, drain and set aside
Wash and cut the cucumbers in half lengthways and slice into thin slices, wash all herbs well to remove any sand and roughly chop. Shred the iceberg lettuce.
Heat a grill pan or barbecue plate over high heat and cook the rump steak for 3-4 minutes on each side, remove from heat and allow to rest for 5 minutes. Cut the beef into thin strips.
To assemble the salad, place the noodles on a large platter top with the chopped herbs, shredded lettuce & cucumber. Place the cooked and sliced beef on top, sprinkle with the chopped peanuts & fried shallots, serve with the Nam Jim dressing and extra lime wedges.
NAM JIM DRESSING
Combine all ingredients in a bowl and whisk until the sugar has dissolved and all ingredients are well combined.
COOK'S TIP
Fried shallots are available in Asian Grocers or speciality supermarkets