TexMex Burger with Charred Corn Salsa & Guacamole
Published 25th September, 2019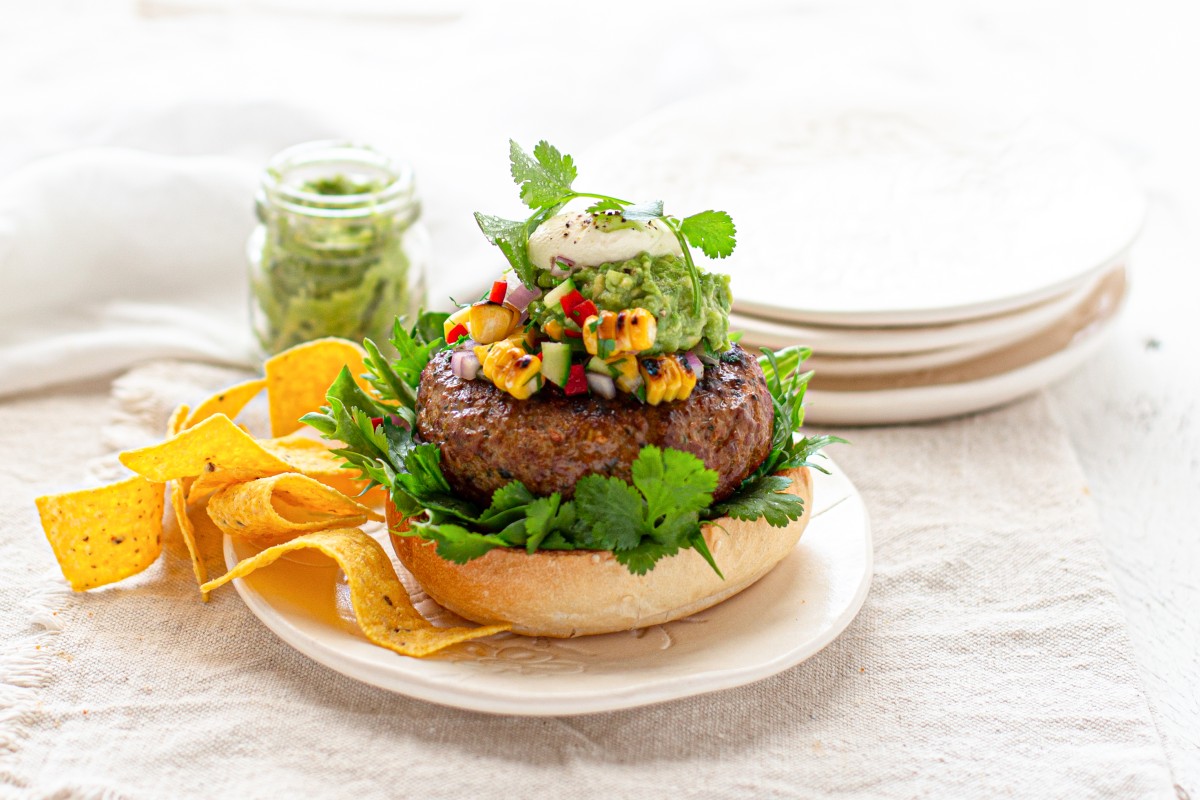 Cuisine: Mexican Serves: 4
Preparation: 30 Mins Cooking: 10 Mins
Ingredients
4 Barossa Fine Foods TexMex Burgers
4 Hamburger Buns, plain
Salad Leaves
½ Bunch Coriander
½ Cup Sour Cream
Spicy Tomato Sauce
Corn Salsa
1 Corn Cob
100g Spanish Onion
100g Red Capsicum
1 Small Lebanese Cucumber, deseeded
1 Whole Green Chilli
½ Bunch Coriander
½ Lemon
2 tbls Olive Oil
Sea Salt & Black Pepper
Guacamole
2 Ripe Avocados
½ Red onion, finely chopped
1-2 red chillies, finely chopped (optional)
½ bunch coriander, chopped
1 Lime, juiced
1 tbls Olive Oil
Sea Salt & Black Pepper
Method
Corn Salsa
Remove the husk from the corn cob, on a preheated BBQ cook the corn until the cob is cooked & the corn has started to brown and char, remove from the heat & allow to cool. Once cooled cut the corn from the cob and add to the finely chopped Spanish onion, red capsicum, coriander, Lebanese cucumber & green chilli.
Mix all of the ingredients together, add the olive oil & season with the juice from ½ a lemon, sea salt & black pepper.
Guacamole
Peel & place avocados in a bowl, add the onion, coriander & chilli. Mash with a fork, add the olive oil & lime juice & mix to combine. Season with sea salt & black pepper.
Burgers
Heat a grill pan over medium heat or a BBQ plate & cook the burgers for 4-5 minutes on each side until cooked through. Toast the buns, to assemble spread the bottom bun with the spicy tomato sauce, top with the salad leaves and some of the coriander, the cheese and jalapeño burger, corn salsa, guacamole and the sour cream, finish with the remaining coriander.
Serve with tortilla chips.