Spicy Korean Pork Fillet with Cucumber Salad
Published 12th October, 2021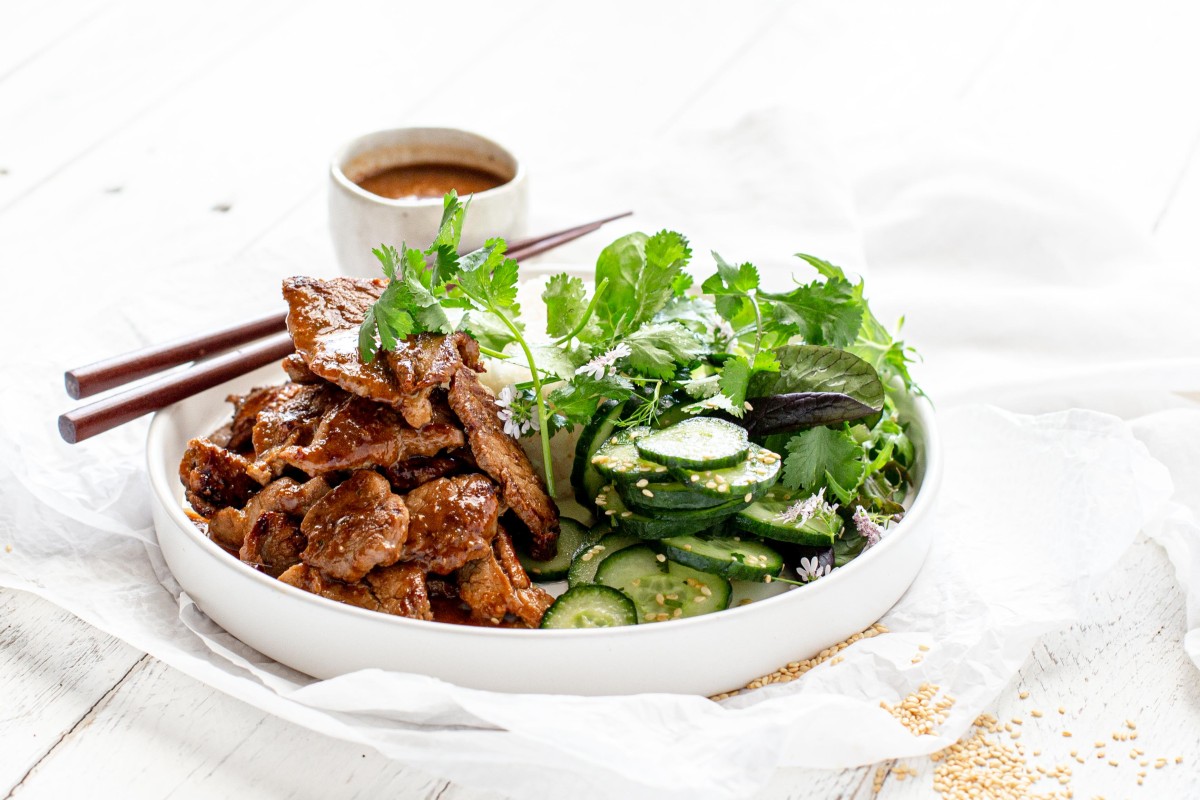 Cuisine: Korean Serves: 4
Preparation: 30 Mins Cooking: 15 Mins
Ingredients
2 Pork Fillets
3 Spring onions
1 Clove garlic
4 tbls Soy
2 tbls Korean hot pepper paste*
2 tbls Rice wine vinegar
3 tbls Honey
3 tbls Brown sugar
2 tbls Sesame oil
Mixed Lettuce Leaves, to serve
White Rice, to serve
Cucumber Salad
2 Cucumbers
1 Spring onion
½ Cup coriander, chopped
1 tsp Caster sugar
1 tbls Toasted sesame seeds
2 tbls Rice wine vinegar
1 tbls Mirin
1 tsp Sesame oil
Pinch sea salt
Method
For the marinade, place the spring onions, garlic, soy, hot pepper paste, rice wine vinegar, honey, brown sugar and sesame oil in a food processor and blend until combined. Reserve half of the marinade to serve with the pork.
To prepare the pork, with a sharp knife remove the silver skin and any fat, slice into ½ cm slices, cutting across the grain. Place pork in a bowl with marinade, mix until the pork is coated and place in the fridge to marinate for 30 minutes.
For the cucumber salad, slice the cucumber, spring onion add the coriander and sesame seeds, place in a bowl. Combine the vinegar, mirin, sugar and sea salt, mix and drizzle over the cucumber, set aside.
Heat an oiled grill pan or frypan over a medium heat, remove pork from marinade and cook for a few minutes each side.
Serve pork with the cucumber salad, mixed lettuce leaves, rice and the extra marinade, garnish with coriander and sliced spring onions.
Cook's Tip
Korean hot pepper paste is available at Asian supermarkets, if unavailable substitute with Sriracha chilli sauce. If you're preparing this for children you could use tomato sauce in the marinade instead.