Smoked Hock, Roasted Pumpkin & Basil Soup
Published 24th June, 2020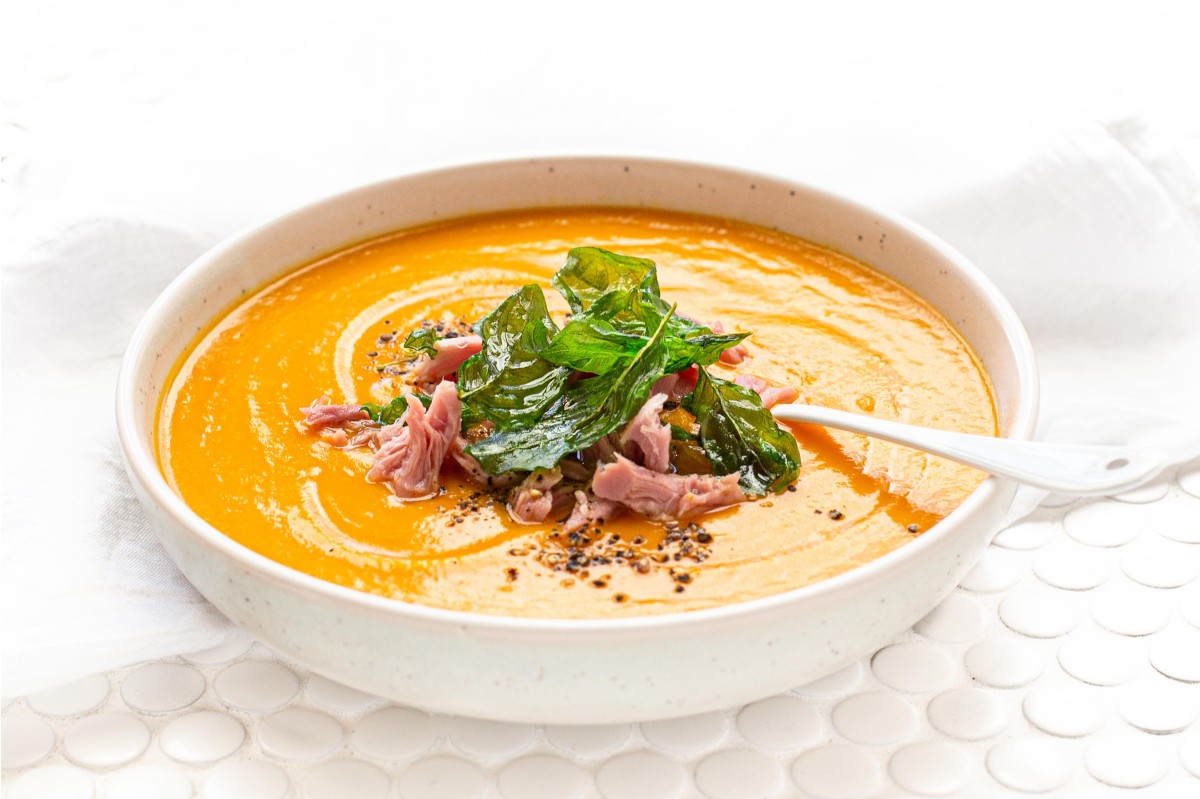 Cuisine: Australian Serves: 4
Preparation: 2 Hrs Cooking: 40 Mins
Ingredients
1 Kent Pumpkin
Olive Oil
1 tbls Butter
1 Brown Onion, finely chopped
2 Cloves Garlic, finely chopped
2 Large White Potatoes
1 ½ litres Smoked Hock Stock
100 ml Cream
Sea Salt
Black Pepper
Fried Basil Leaves
STOCK
1 Barossa Fine Foods Smoked Hock
4 litres cold water
5 Sprigs Thyme
2 Bay Leaves
1 Brown Onion, chopped
2 Whole Cloves Garlic
Method
To prepare the stock for the soup, place all ingredients in a large pot & bring to the boil, reduce heat & simmer partially covered for 1¾ hours. Remove hock from stock and strain, reserving the stock. Allow the hock to cool, then remove skin & shred meat, set aside.
Peel & deseed the pumpkin, cut into four centimetre cubes, drizzle with olive oil & season with sea salt. Roast in the oven at 180℃ until golden and tender.
While the pumpkin is roasting, peel and cut the potatoes into pieces. Melt the butter in a saucepan over a medium heat, sauté the onions and garlic until fragrant and soft, add the ham stock and potatoes, season with sea salt. Bring to the boil, reduce to a simmer.
When the potatoes are cooked add the roasted pumpkin, allow to simmer for a couple of minutes then blend until smooth with a stick blender. Return to the heat and stir through the shredded ham hock meat, allow to simmer for a few minutes then add the cream and stir through.
Taste and season with sea salt and black pepper, serve in bowls with the fried basil leaves.