Red Onion Tart Tatin with Persian Feta & Prosciutto
Published 13th November, 2019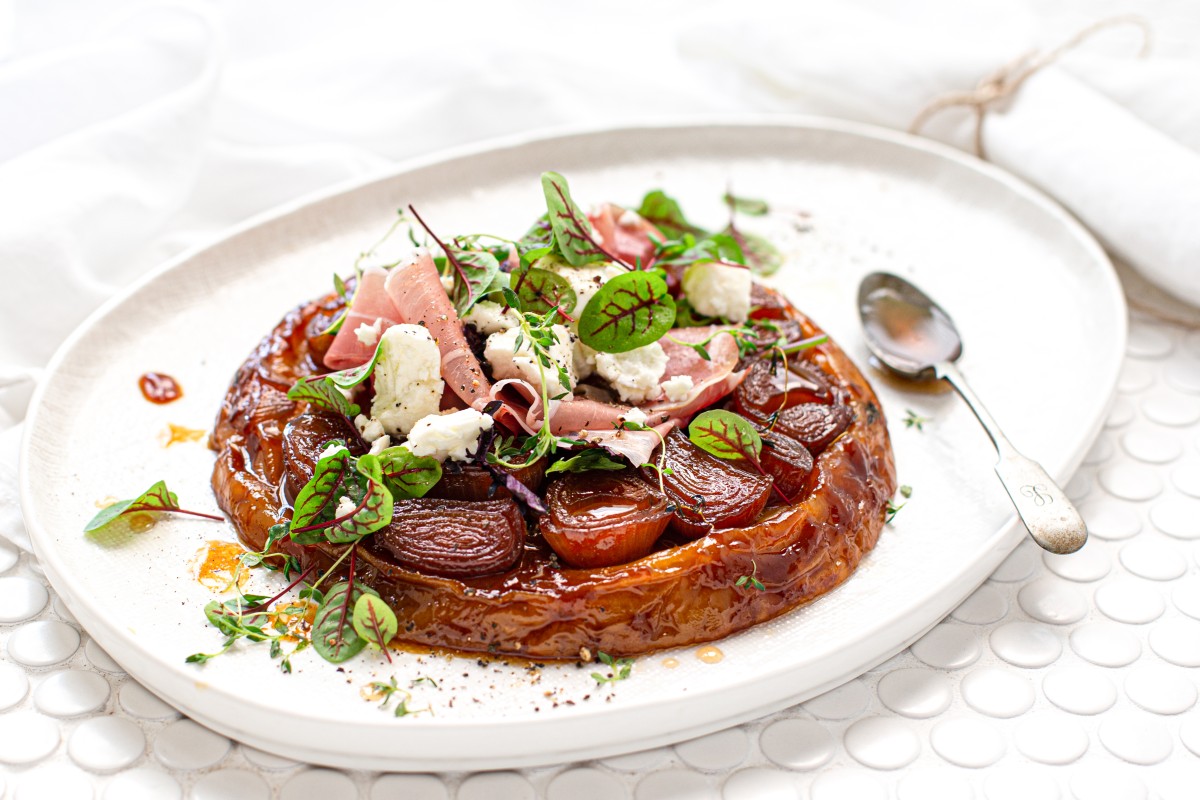 Cuisine: French / Australian Serves: 4
Preparation: 25 Mins Cooking: 35 Mins
Ingredients
1 tbls Olive Oil
1 tbls Butter
6 Small Red Onions, peeled
4 Thyme Sprigs
Sea Salt
1 tbls Vincotto
2 tbls Honey
1 Clove Garlic, thinly sliced
1 Sheet Careme Puff Pastry
100gm Persian Fetta
Black Pepper
Red Veined Sorrel Leaves, to garnish
Extra Thyme Sprigs, to garnish
6-8 Very Thin Slices of Prosciuttto
Method
Preheat oven to 190℃
Heat a heavy based, small frypan over a medium heat, cut the red onions in half, crossways. Add the olive oil & butter to the pan, place the onions in the pan, cut side down. Gently cook for 5 minutes. Add the vincotto, honey, thyme sprigs and garlic, season with sea salt and cook for 2 minutes. Remove from the stove top and bake in the oven for a further 15 minutes.
Remove the pan from the oven, cut the pastry into a circle the same size as the pan (use a plate the same size as the pan as a template) Carefully lay the puff pastry sheet over the onions and tuck the edges in around the onions, return to the oven and cook for 30 minutes or until the pastry is golden, puffed & cooked through.
Remove the tart from the oven, allow to stand for 10 minutes. Invert onto a serving platter, lay the prosciutto on top, crumble over the Persian feta and garnish with the sorrel leaves and thyme sprigs, sprinkle with cracked black pepper.
COOK'S TIP
Red veined sorrel is a leafy vegetable and is best eaten when the leaves are small, available in specialty grocers and markets, it has a lemony flavour. If unavailable substitute with mixed lettuce leaves.