Pork Scotch Steaks with Smokey, Chipotle Butter
Published 23rd May, 2022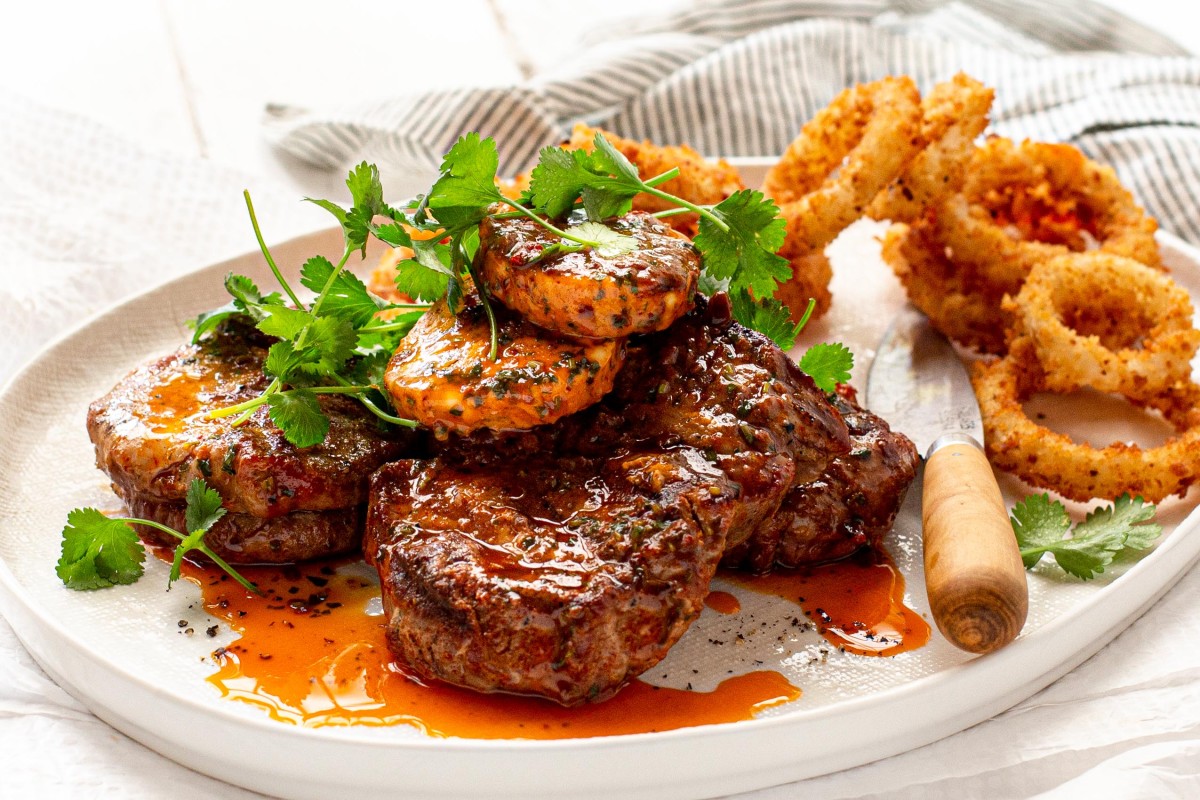 Cuisine: Australian Serves: 4
Preparation: 45 Mins Cooking: 10 Mins
Ingredients
750gm Pork Scotch Steaks
1 tsp Smoked Paprika
1 tsp Sea Salt
1 tbls Olive Oil
Coriander Leaves, to serve
Smokey Chipotle Butter
250gm Butter
3 tbls Chipotle in Adobo Sauce
¼ tsp Sea Salt
2 tsp Smoked Paprika
2 tbls Coriander, chopped
Onion Rings
2 Large Brown Onions
1 cup Plain Flour
Sea Salt
1 Egg
1 Cup Milk
1 Cup Panko Breadcrumbs
Oil for Deep-frying
Method
To make the smokey chipotle butter, allow the butter to soften (room temperature is perfect) Combine Butter, smoked paprika, chipotle in adobo sauce, sea salt, smoked paprika and chopped coriander in a bowl. Mix ingredients together until combined and the butter is light and fluffy. On a sheet of baking paper shape the butter into a log, roll up the paper and twist ends to secure. Refrigerate till the butter is firm. Remove from the fridge 5 minutes before serving.
To prepare the onion rings, peel the onions and cut into rings approximately ½ cm thick, in a bowl combine the flour, and a pinch of sea salt, dust the rings in the flour and set aside.
Add the egg to the flour and whisk in a little milk at a time to create a smooth batter (you may not need all of the milk) Dip the floured onion rings in the batter and shake off any excess, crumb in the breadcrumbs, then deep-fry until golden brown, keep warm.
Preheat a large frypan over a high heat or barbecue grill plate.
Season the pork scotch steaks with the smoked paprika and sea salt, drizzle with olive oil.
Cook the pork steaks for approximately 5-7 minutes on each side, rest for 5 minutes before serving.
To serve, slice the chipotle butter and place on top of the steaks, serve with the onion rings and a green salad.