Pork Saltimbocca with Soft Polenta
Published 1st May, 2020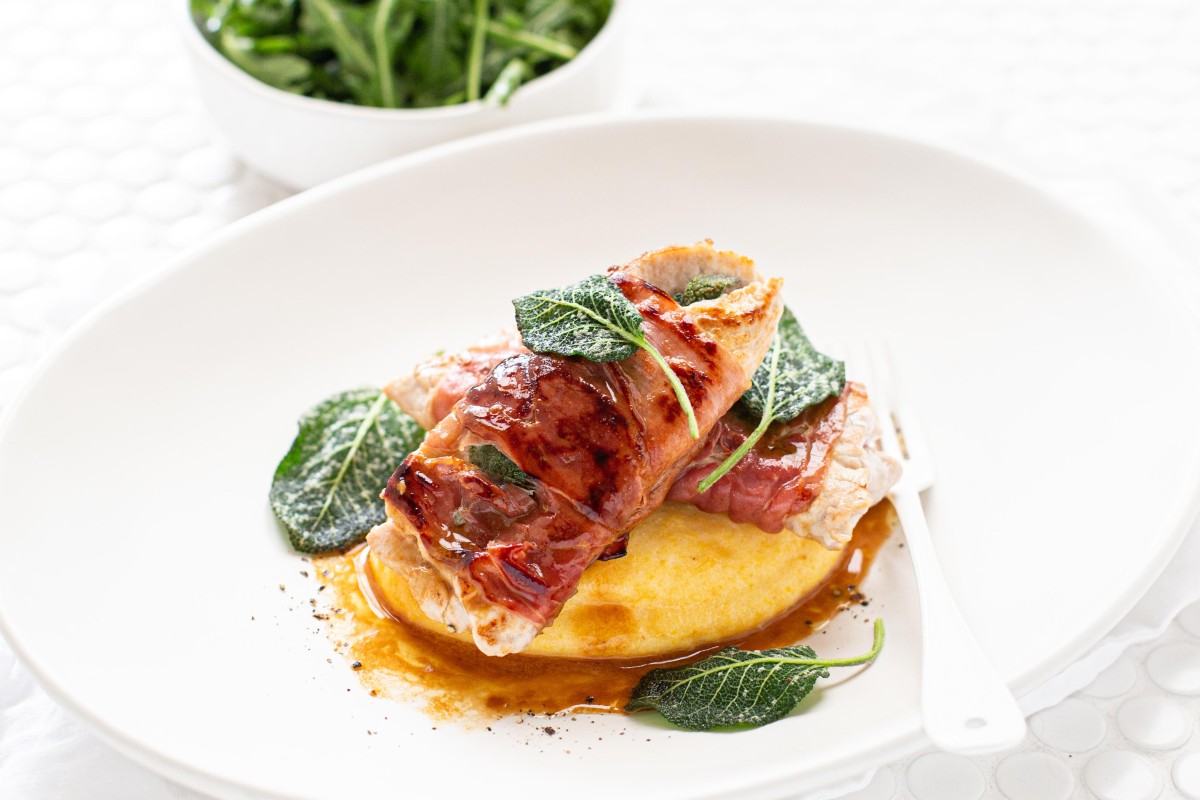 Cuisine: Italian Serves: 4
Preparation: 30 Mins Cooking: 10 Mins
Ingredients
500gm (8 pieces) Barossa Fine Foods Pork Sizzle Steaks
16 Slices Prosciutto
1 Bunch Sage
2 tbls Olive Oil
1 Cup White Wine
3 tbls Butter
Cracked Black Pepper
SOFT POLENTA
2 Cups Chicken Stock
2 Cups Milk
1 Cup Fine Instant Polenta
½ tsp Sea Salt
50gm Butter
Method
To prepare the pork, remove any fat from the sizzle steaks, place one steak between two sheets of cling film or Go-between (freezer film) with a meat mallet or rolling pin gently tap the steaks until 3-4mm in thickness, repeat for each steak.
To assemble, place a sage leaf or two on the pork steak, fold in half. Lay two slices of prosciutto on the bench, place a sage leaf on top of the prosciutto then the pork steak, carefully fold the prosciutto around the pork, repeat with each pork steak.
To make the polenta, in a large saucepan combine the milk, chicken stock and sea salt. Bring to the boil. Gradually whisk in the polenta, reduce heat and allow to cook, stirring frequently for approximately 10 minutes or until the polenta has thickened, stir in the butter. Keep warm.
Heat a large frypan over a medium heat, add the olive oil and 1 tbls of the butter to the pan, place the pork wrapped steaks into the hot pan, sage side facing down, cook for 3-4 minutes or until golden brown, turn and repeat on the other side. Remove from the pan and keep warm.
To make the sauce add the white wine and the rest of the butter to the pan and swirl over a medium heat until the sauce has thickened slightly.
To serve, place spoonfuls of polenta onto each plate top with the pork steaks and pour over the sauce garnish with extra sage leaves and serve with a rocket salad or steamed green beans.