Pork Loin Steaks with Beans & Mushrooms in XO Sauce
Published 18th January, 2021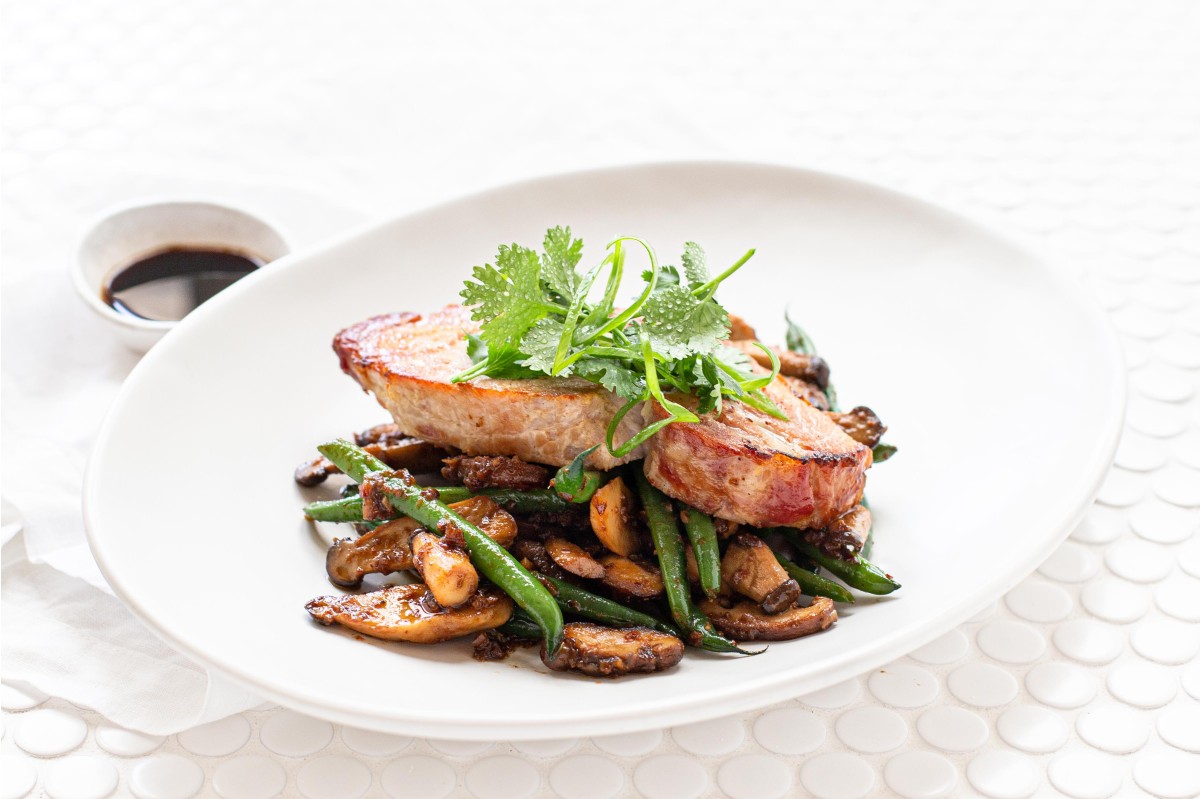 Cuisine: Asian Serves: 4
Preparation: 20 Mins Cooking: 15 Mins
Ingredients
4 Barossa Fine Foods Pork Loin Steaks
Sea Salt
2 tbls Vegetable Oil
2 Cloves Garlic, finely chopped
1 Small Red Chilli (optional)
400 gm Green Beans
200 gm Baby King Oyster Mushrooms
150 gm Shiitake Mushrooms
2 tbls Light Soy
3 tbls XO Sauce
1-2 Spring Onions, finely sliced
Fresh Coriander
Method
First, to prepare the beans and mushrooms. Top and tail the beans then blanch the beans in a pot of boiling water, refresh in cold water, set aside. Slice the shiitake mushrooms and any of the larger Baby King brown mushrooms.
Season the Pork Loin steaks with a little sea salt, heat a large, heavy based frypan over a medium to high heat. Add a little of the vegetable oil to the pan, cook the steaks in the pan for six minutes on one side without turning. Turn once and cook for a further two minutes on the other side. Remove the steaks from the pan and allow to rest while you cook the mushrooms and beans.
Using the same pan add the rest of the vegetable oil, add the garlic and sauté for one minute, add the shiitake and baby king brown mushrooms (and optional chopped chilli), sauté until golden brown. Add the blanched beans to the pan along with the soy, toss for a minute then add the XO sauce, cook for a further few minutes.
To serve divide the beans and mushrooms cooked in XO sauce between four serving plates, place a pork loin steak on top, garnish with the sliced spring onions and fresh coriander leaves, serve with steamed rice and extra soy.
Cook's Tip
XO sauce can be found in Asian Grocers