Pork Fillet Medallions with Charred Greens & Tarragon butter
Published 20th November, 2019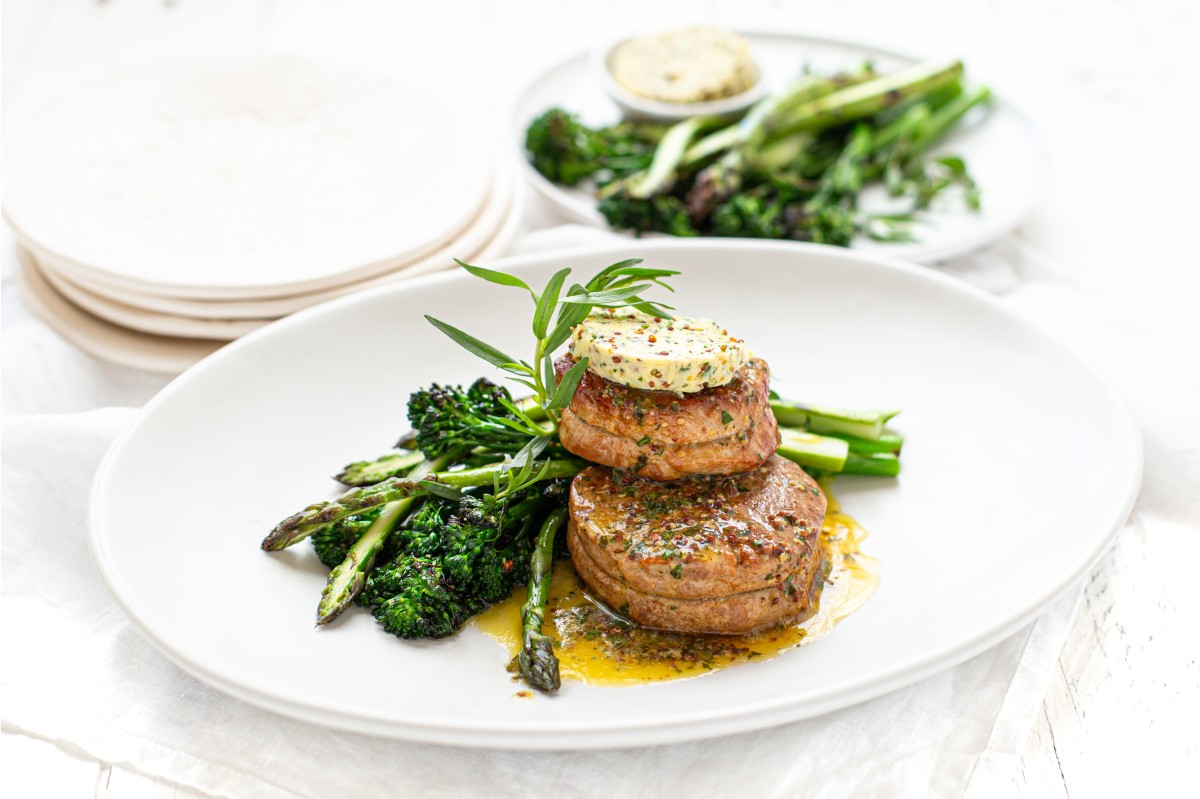 Cuisine: Australian Serves: 4
Preparation: 30 Mins Cooking: 15 Mins
Ingredients
2-3 Barossa Fine Foods Pork Fillets
Sea Salt
Black Pepper
Olive Oil
2 Bunches Asparagus
2 Bunches of Baby Broccolini
Tarragon Sprigs, to garnish
Tarragon & whole grain mustard butter
250 gm Salted Butter
2 tbls Wholegrain Mustard
1 ½ tbls Tarragon, finely chopped
½ tsp Sea Salt
Method
To prepare the pork fillet, trim the sinew from the top of the pork fillet, cut the pork fillet into 2-3 portions depending on the size of the pork fillet (we've cut ours into 8 cm portions, you will need two medallions per person) Butterfly each of these portions, tie with string to secure during cooking. Season with sea salt and cracked black pepper and drizzle with Olive oil.
Wash and trim the ends of both the asparagus and baby broccolini, if the asparagus spears are large cut in half length ways. Season with sea salt and drizzle with olive oil.
Heat the barbecue plate or a grill pan over a high heat, grill the pork for 4-5 minutes on each side or until browned and just cooked through, allow to rest for five minutes before serving
While the pork is resting chargrill the asparagus and broccolini until tender.
Remove the string from the pork medallions, serve with the greens and top with the wholegrain mustard butter and garnish with tarragon sprigs.
For the butter, allow the butter to soften (room temperature is perfect) Combine Butter, wholegrain mustard, tarragon, sea salt & black pepper in a bowl. Mix ingredients together till combined & the butter is light & fluffy. On a sheet of baking paper shape the butter into a log, roll up the paper and twist ends to secure. Refrigerate till the butter is firm.
COOK'S TIP
This Butter is fantastic to use on Grilled Pork, Chicken or Seafood to add extra flavour
Store in the fridge for 7 days or freeze for 2-3 months