Pork Char Siu Sliders with Cucumber & Herb Salad
Published 8th December, 2021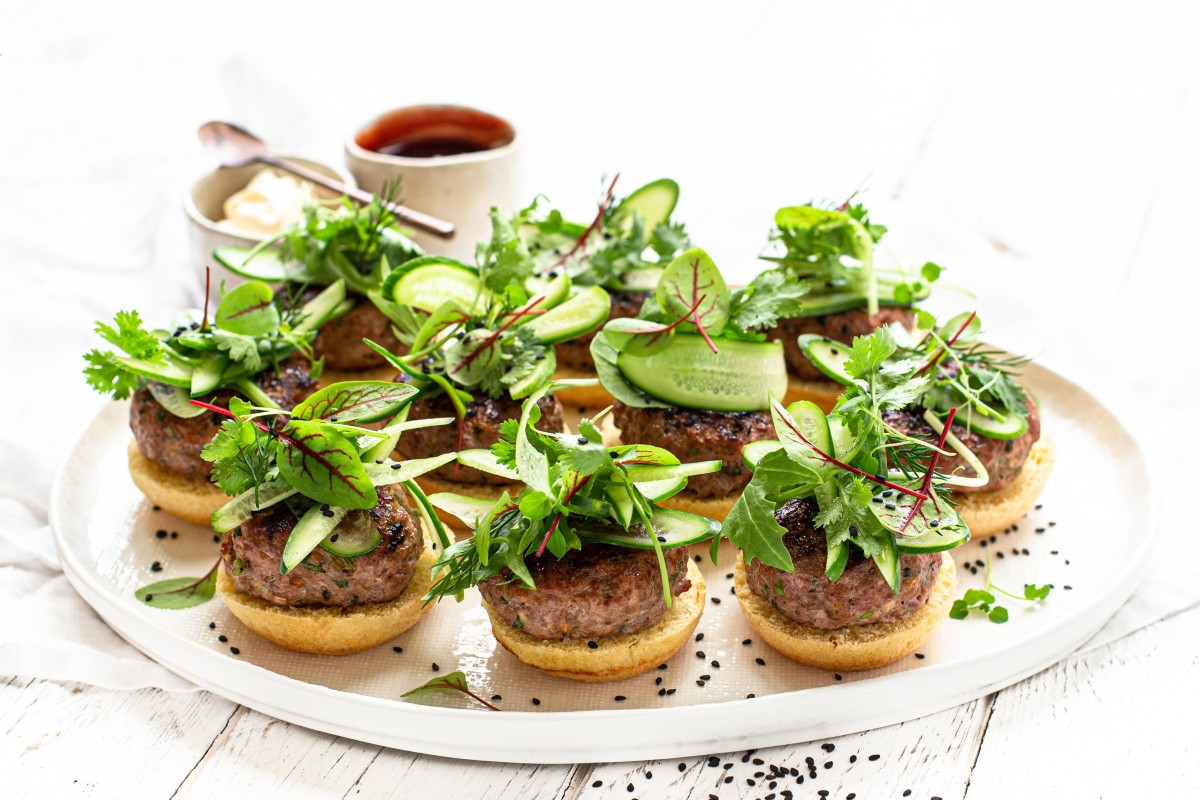 Cuisine: Australian Serves: 4
Preparation: 30 Mins Cooking: 15 Mins
Ingredients
700 gm Pork Mince
3 tbls Char Siu Sauce
3 Spring Onions
¼ Bunch Coriander
2 cm Knob Ginger
3 Cloves Garlic
1 tsp Sea Salt
1 tsp Ground Coriander
½ Cracked Black Pepper
Vegetable Oil
Mini Brioche Buns
Kewpie Mayonnaise
Cucumber Salad
1 Punnet Baby Cucumbers
¼ Bunch Coriander
¼ Bunch Mint
¼ Bunch Parsley
1 Cup Salad Asian Leaves
2 tsp Toasted Black Sesame seeds
Method
To prepare the burger mince, place the pork mince in a large bowl. Finely chop the spring onions and coriander, with a microplane or fine grater, grate the ginger and garlic. Add the spring onions, coriander, garlic, ginger, char siu sauce, sea salt, ground coriander and cracked black pepper to the mince, mix well to combine.
Using a spoon or your hands take 65-70 gm of the pork mince mixture and roll into balls then gently flatten, place on a tray lined with baking paper, cover with cling wrap and refrigerate for one hour before cooking.
While the burger patties are in the fridge make the salad. Thinly slice the baby cucumbers, wash the herbs well and pick the leaves add to the Asian salad leaves and toss well, refrigerate.
Preheat the oven to 180℃
In a large frypan over a medium heat, cook the burgers in batches until golden brown on both sides in a little vegetable oil, transfer to a tray lined with baking paper and finish in the oven for 10 minutes or until cooked through.
To assemble, heat the brioche buns for a few minutes in the oven, spread the base with kewpie mayonnaise, top with the burger and garnish with the cucumber salad, sprinkle over the sesame seeds and serve. May be served with extra mayonnaise & char siu sauce.
Cook's Tip
Char siu sauce and Kewpie mayonnaise can be found in Asian Grocers or in the International section of the supermarket.