Lamb Yiros with Yoghurt Flat Bread, Quinoa Tabouli & Hummus
Published 17th August, 2021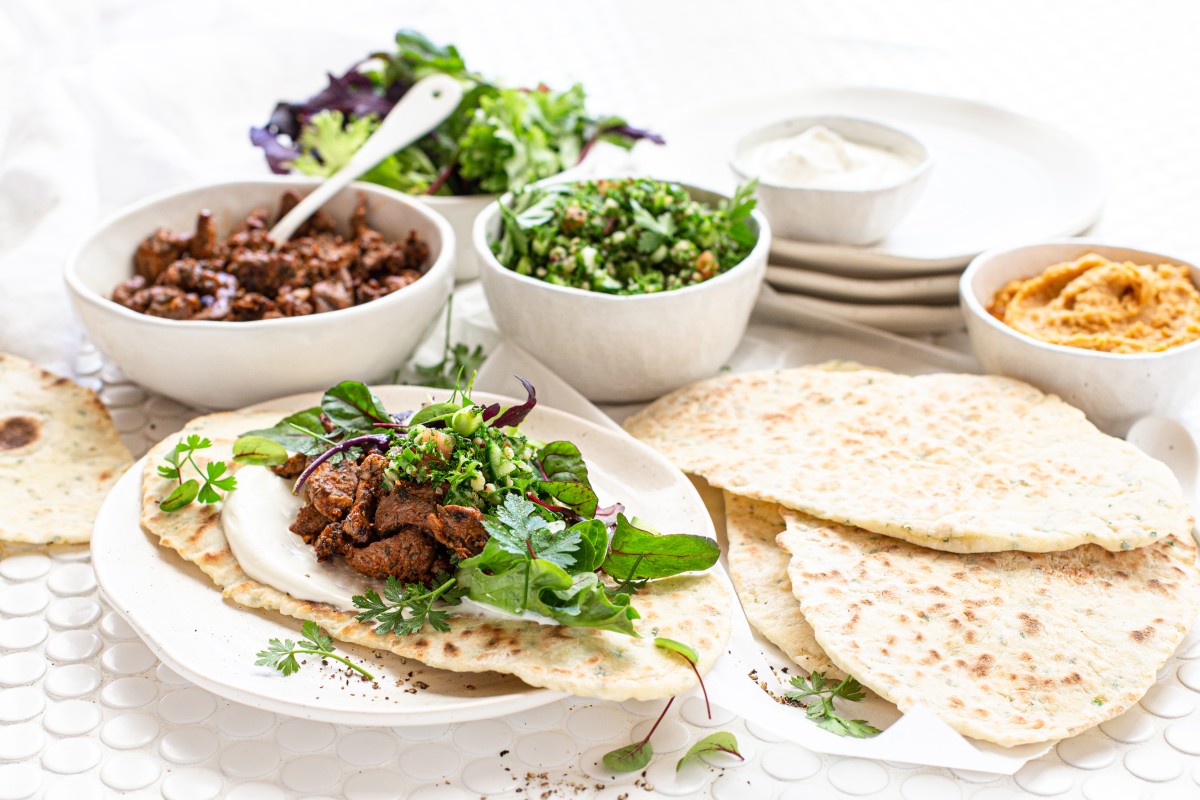 Cuisine: Greek Serves: 4
Preparation: 1 Hr Cooking: 30 Mins
Ingredients
400gm Barossa Fine Foods Lamb Yiros Meat
Olive Oil
Greek Yogurt, to serve
Mixed Leaves, to serve
Red Onion, sliced, to serve
Flat Bread
1 Cup Greek Yoghurt
1 ½ Cups Self Raising Flour
Sea Salt
2 tbls Flat Leaf Parsley
Hummus
1 (400gm) tin Chickpeas
2 cloves Garlic
2 tbls Lemon Juice
1 tsp ground Cumin
1 tsp Smoked Paprika
2 tbls Tahini
2 tbls Water
Sea Salt & Black Pepper
¼ Cup Olive Oil
Tabouli
½ Cup Quinoa, cooked
½ Cup Bulgar Wheat, cooked
2 Bunches Curly Leaf Parsley
½ Bunch Mint
2 Spring Onions, finely sliced
2 Tomatoes
1 Lebanese Cucumber
¼ Cup Olive Oil
1 tsp Lemon Zest
¼ Cup Lemon Juice
Method
To make the Hummus, place the drained chickpeas, garlic, lemon juice, cumin, paprika & tahini in a small food processor, blend until smooth, add the olive oil in a steady stream until combined. Season with sea salt & pepper * Add the water if the consistency is too thick.
Prepare the tabouli. Wash the parsley well and spin in a salad spinner, place the parsley in a food processor and pulse until finely chopped, place in a large bowl. Add the cooked quinoa and bulgar wheat to the parsley. Finely chop the mint, cucumber, spring onions and tomatoes, add to the parsley. Drizzle over the olive oil, add the lemon juice and zest. Mix well, taste and season with sea salt.
To make the flat bread, combine the yogurt, self raising flour, a pinch of sea salt and the chopped parsley in a large bowl, mix until a dough forms, kneed for a couple of minutes. Rest for five minutes. Divide the dough into equally portions (4 large or 8 smaller) roll each portion into a ball. Roll each ball out on a floured board with a rolling pin to a thickness of 2-3mm.
In a dry fry pan over medium heat, cook each flatbread for 2-3 minutes on one side and 1 minute on the other until puffed, lightly browned and cooked through.
Cook the lamb yiros meat in a hot pan or on a barbecue hot plate until cooked through. Serve with the flat bread, salad leaves, hummus, yogurt and tabouli.