Grilled Rump Steak with Smokey, Homemade BBQ Sauce & Onion Rings
Published 21st October, 2020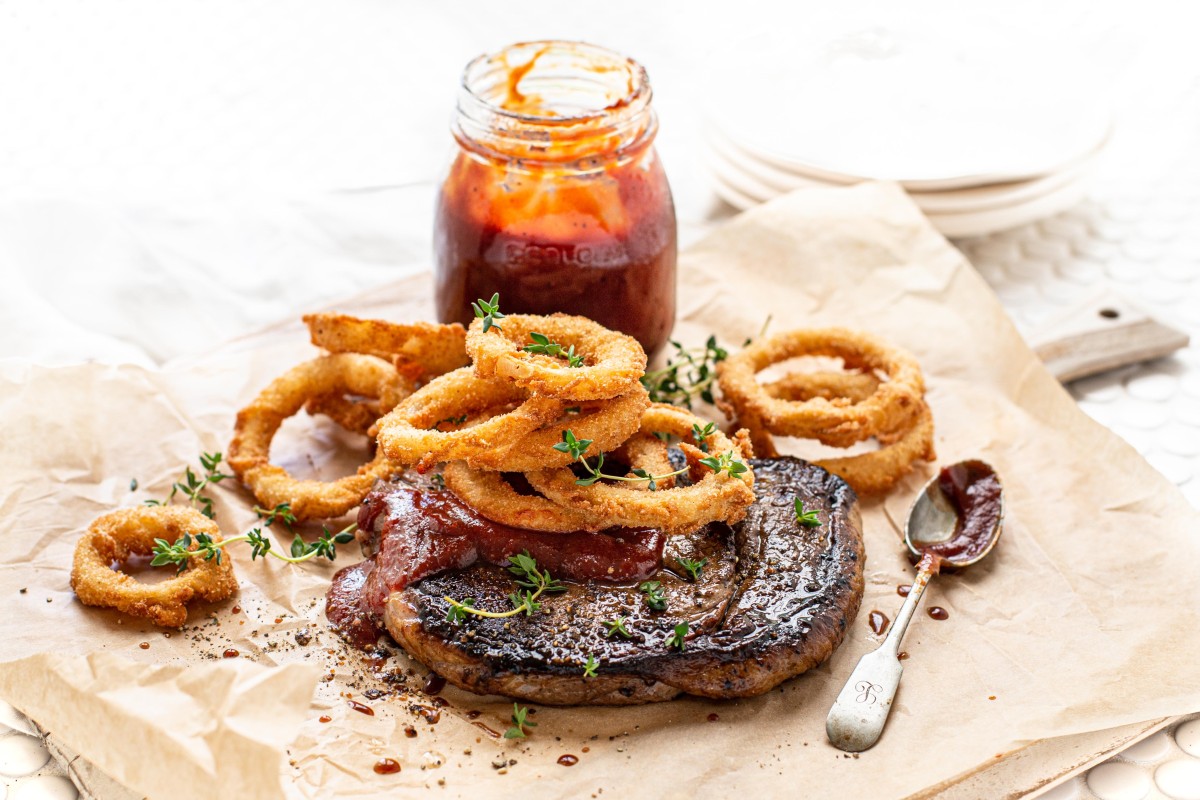 Cuisine: Australian Serves: 4
Preparation: 30 Mins Cooking: 30 Mins
Ingredients
4 Barossa Fine Foods Rump Steak
Olive Oil
Sea Salt
Black Pepper
Smokey Homemade Barbecue Sauce
2 Cups Tomato Sauce
½ Cup Apple Cider Vinegar
⅓ Cup Honey
¼ Cup Tomato Paste
¼ Cup Brown Sugar
¼ Cup Worcestershire Sauce
2 tsp Liquid Smoke
1 tsp Smoked Paprika
1 tsp Onion Powder
1 tsp Kangaroo Island Garlic Granules
½ tsp Cracked Black Pepper
½ tsp Sea Salt
Onion Rings
2 Large Brown Onions
1 cup Plain Flour
Sea Salt
1 tsp Baking Powder
1 Egg
1 Cup Milk
1 Cup Breadcrumbs
Oil for Deep-frying
Method
For the smokey BBQ sauce, place all of the ingredients into a heavy based saucepan, whisk together. Place the saucepan over a medium heat, bring to the boil and then reduce heat to a very gentle simmer.
Allow to simmer gently for 10 minutes, stirring every few minutes, to prevent the sauce from sticking to the bottom of the pan.
Pour into a sterilised glass jar or bottle. This sauce will keep well in the fridge for up to four weeks.
To prepare the onion rings, peel the onions and cut into rings approximately ½ cm thick, in a bowl combine the flour, a pinch of sea salt and the baking powder, dust the rings in the flour and set aside. Add the egg to the flour and whisk in a little milk at a time to create a smooth batter. (you may not need all of the milk) Dip the floured onion rings in the batter and shake off any excess, crumb in the breadcrumbs, then deep-fry until golden brown, keep warm.
To cook the steak, season the rump steak with sea salt and black pepper, drizzle with olive oil. Heat a heavy based grill pan over a high heat or a barbecue, cook the rump steaks for 4-5 minutes on each side Remove from the pan and allow to rest for 5 minutes before serving.
Serve with the onion rings, smokey barbecue sauce and a green salad.