Grilled Pork Loin Chops with Quick Pickled Red Cabbage
Published 21st December, 2021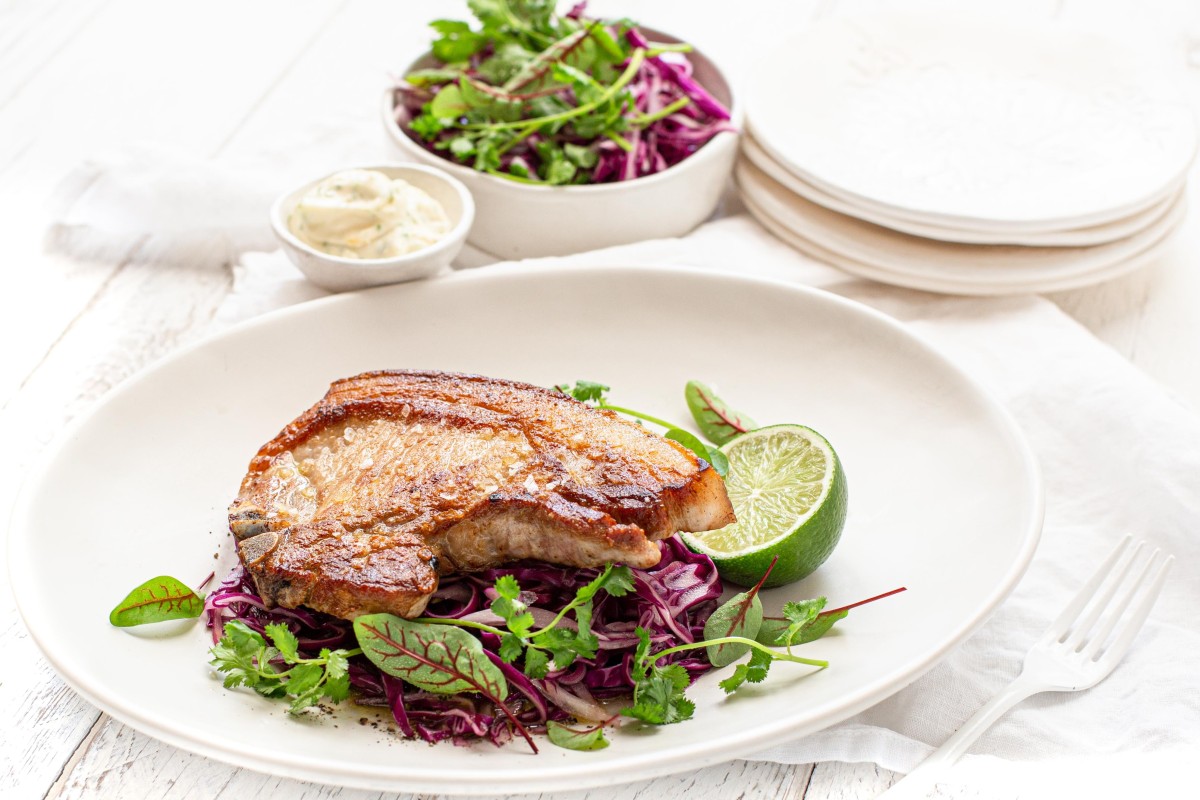 Cuisine: Australian Serves: 4
Preparation: 30 Mins Cooking: 15 Mins
Ingredients
4 Pork Loin Chops
Vegetable Oil
¼ Red Cabbage
1 Red Onion
½ Bunch Coriander
Extra Limes, to serve
Sea Salt
Black Pepper
3 tbls Olive Oil
Salad Dressing
2 tbls White Sugar
4 tbls Lime Juice
3 tbls White Vinegar
2 tbls Fish Sauce
Lime Mayonaise
1 Cup Good Quality Store Bought Mayonnaise
1 Lime, zested & juiced
Method
In a bowl combine the white sugar, lime juice, white vinegar and fish sauce, whisk well until all of the sugar has dissolved.
To prepare the salad, very finely shred the red cabbage, peel and finely slice the red onion and place both in a large bowl. Add the dressing to the salad, season with a little sea salt, toss well, cover and refrigerate for one hour.
For the lime mayonnaise, add the zest of the lime and juice to the mayonnaise and mix well.
To cook the pork loin chops, season the chops with a little sea salt on each side. Heat a large fry pan over a medium heat, add a tablespoon of vegetable oil, fry the pork loin chops for 4-5 minutes on each side or until golden brown and cooked through, remove from the pan and allow to rest for a few minutes before serving.
To serve, drain the salad in a colander, reserve ¾ of a cup of the liquid. Whisk the marinade together with the olive oil, taste and season with sea salt and black pepper then toss through the salad, roughly chop the coriander and mix through the salad.
Serve the salad with the Pork loin chops, lime mayonnaise and extra lime wedges.