Csabi Risotto filled Squid with Tomato Sauce
Published 30th March, 2021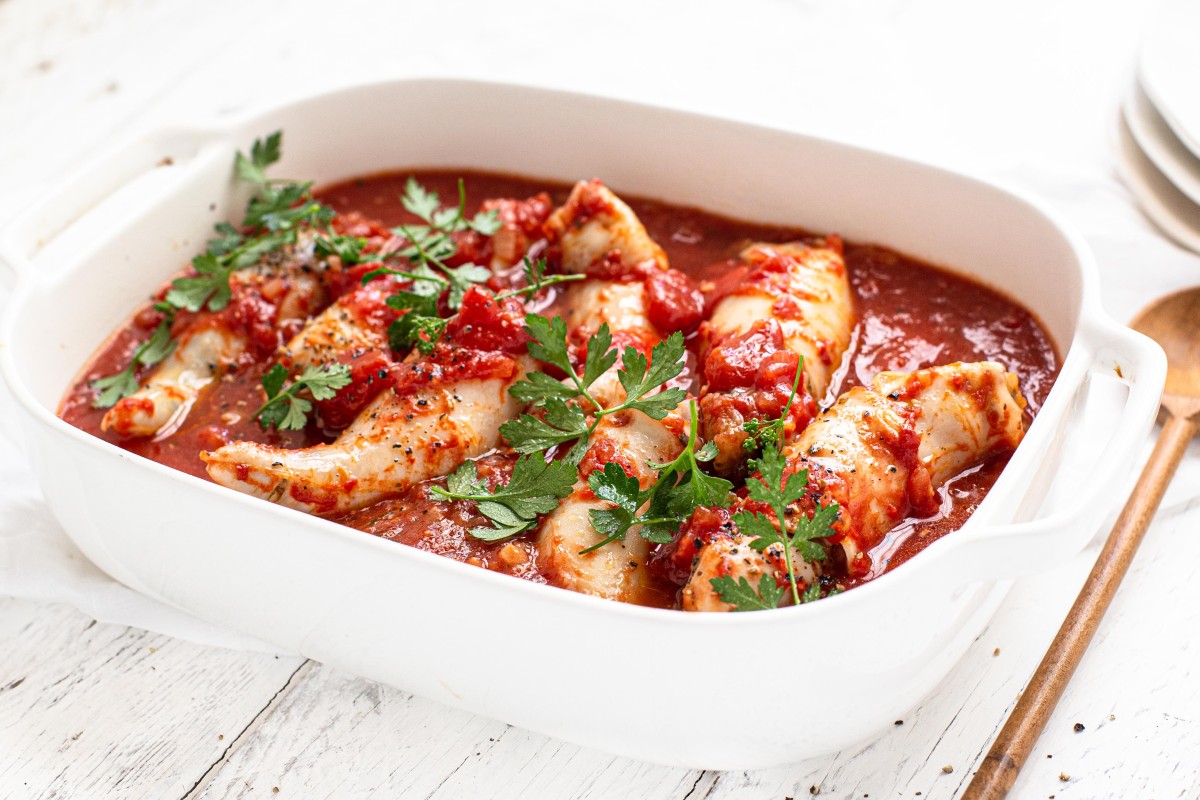 Cuisine: Australian Serves: 4
Preparation: 1 Hr 30 Mins Cooking: 20 Mins
Ingredients
4-6 Small-Medium Whole squid
1 Csabi
2 tbls Olive Oil
2 Cloves Garlic, finely chopped
½ Brown Onion
1 Cup Aborio Rice
½ Cup White Wine
2-3 Cups Fish or Chicken Stock
1 tsp Smoked Paprika
1 tbls Parsley, finely chopped
Sea Salt & Black Pepper
2 tbls Chopped Parsley
Extra Parsley Leaves, to serve
Tomato Sauce
½ Brown Onion, finely chopped
3 Cloves Garlic, finely chopped
1 tbls Olive Oil
½ Cup White Wine
2-3 Anchovies
2 tbls Tomato Paste
1 (400gm) Can Chopped Tomatoes
1 tsp Smoked Paprika
1 tbls Brown Sugar
½ tsp Cracked Black Pepper
Method
To prepare the squid, gently remove the head from the body, cut across the head underneath the eyes to seperate the tentacles in one piece. Discard the innards and the eyes, push the tentacles outwards, squeeze out the beak and discard. Slice the wings from the body. Remove the skin from the body by running your finger underneath the skin separating it from the flesh then peeling away the skin. Remove the skin from the wings and trim the hard flesh off with a sharp knife. Chop the wings and tentacles for the risotto. Set aside the hoods.
To prepare the tomato sauce, in a large heavy based saucepan over a medium heat sauté the onion and garlic in the olive oil until soft and fragrant, add the white wine, chopped tomatoes, anchovies, tomato paste, smoked paprika, brown sugar and black pepper. Mix well to combine, reduce heat and simmer for 10 minutes. Set aside.
Heat the fish stock in a small saucepan until hot, keep hot.
To make the risotto, place the olive oil in large saucepan over a medium heat, add the csabi and cook for one or two minutes, remove from pan and set aside. In the same pan add the garlic and onion, cook gently for a few minutes without browning. Stir in the rice, stir frequently and cook for a further few minutes until translucent.
Pour in the white wine and cook, stirring constantly until the wine has evaporated. Add a couple of ladles of the hot fish stock at a time, allow to simmer, stirring often until most of the stock has been absorbed. Repeat this step until the rice is al dente, approximately 15-20 minutes. Stir in the chopped tentacles and return the csabi to the risotto, add the chopped parsley and paprika, season with sea salt, mix well. Allow to cool.
Preheat oven to 180℃
Once the risotto has cooled, gently stuff each of the squid tubes with the mixture using a teaspoon, take care not to over fill. Secure the end of each tube with a toothpick. Spread a little of the sauce in a deep sided baking tray, lay the stuffed squid tubes on top and cover with the remaining sauce.
Cover with a sheet of baking paper then cover with foil, cook in the oven for 15-20 minutes or until the squid has cooked through. Remove from oven.
To serve, garnish with the parsley leaves and serve with a green salad.