Butterflied Roast Chicken with Streaky Bacon
Published 8th September, 2021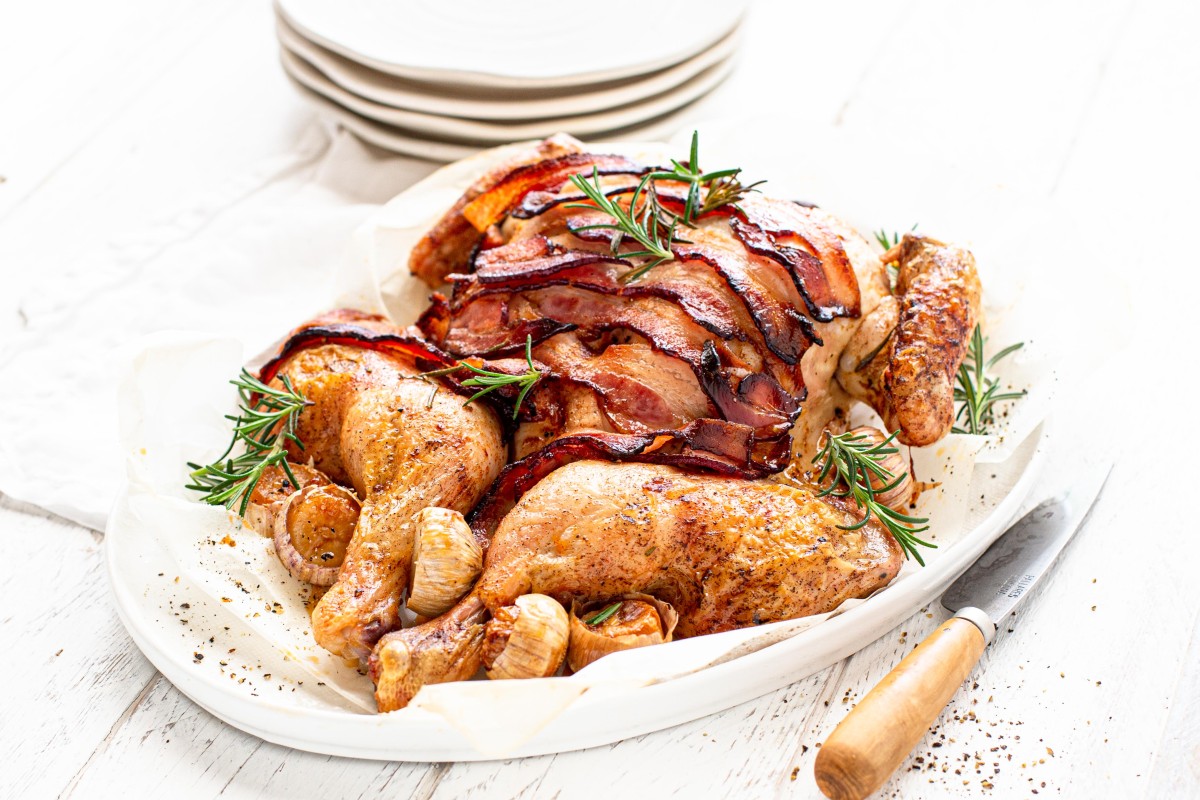 Cuisine: Australian Serves: 4
Preparation: 15 Mins Cooking: 1 Hr
Ingredients
1 Whole Chicken 1.6-2 kg
8 Slices Streaky Bacon (cut bacon thickness)
10-12 Cloves Garlic
Fresh Rosemary Leaves
¼ Cup Olive Oil
1 tbls Smoked Paprika
Sea Salt
Black Pepper
Method
Preheat oven to 180℃
Remove the chicken from the packaging and pat dry with paper towel. Place the chicken, breast side down on a chopping board. With a sharp chef's knife or with kitchen shears cut along both sides of the backbone, remove the backbone and turn the chicken over breast side up. Press down firmly on the breastbone to flatten the chicken. Place in a deep sided baking tray lined with baking paper.
In a small bowl combine the smoked paprika and olive oil, mix well and brush over the chicken, season the chicken with sea salt and black pepper.
Remove the rind from the streaky bacon and lay over the chicken breasts and legs, scatter over some of the rosemary leaves and drizzle with a little extra olive oil. Scatter the unpeeled garlic bulbs around the chicken.
Place the chicken in the preheated oven and cook for 45-55 minutes or until the chicken is cooked through and golden brown. Test with a meat thermometer, the internal cooked temperature needs to be 75℃. Baste the chicken several times with the paprika and olive oil mixture during cooking.
Remove from the oven and allow to rest for 5-10 minutes before serving, sprinkle with extra fresh rosemary leaves. Serve with gravy, roast potatoes and buttered peas.
Cook's Tip
If the streaky bacon is starting to cook to quickly, loosely cover with a sheet of foil lined with baking paper. Remove for the last five minutes to crisp up.